Stock exchange back to business Wednesday
The NYSE's trading floor will reopen, but markets are still testing a contingency plan.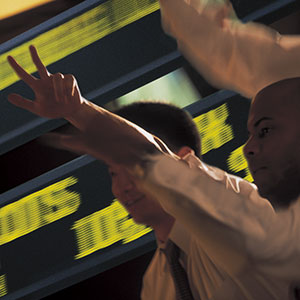 The Nasdaq tested its system on Tuesday and the New York Stock Exchange (NYX) expects to open its trading floor Wednesday as New York City confronts the damage left by Hurricane Sandy.
That hasn't stopped some in the financial community from adding more moisture to the mix by having a good cry about it.
The NYSE told the Wall Street Journal that it plans to open its floor to normal trading on Wednesday, but will still join Nasdaq (NDAQ), BATS Global Markets and Direct Edge in testing a backup plan. Reuters reported early Tuesday that the firms will see if they can run auctions through the NYSE's Arca platform, but that NYSE and others described the plan as "precautionary," given how relatively well the markets weathered the storm.
"We stress that, as of now, there has been no damage to the NYSE Euronext headquarters that would impair trading floor operations," NYSE said in a statement.
The market closed for weather for the first time since Hurricane Gloria hit New York in 1985. It was also the first multiday closure since the Sept. 11 terrorist attack on the World Trade Center in 2011 and the first multiday weather-related closure since the Blizzard of 1888. While Tuesday's closure is tough for hedge funds and mutual funds that end their fiscal year on Oct. 30, there's a chance they could work around U.S. market closures with help from international markets. There's a bit more motivation to get back to business on Wednesday, if only because traders price their portfolios on the last day of the month.
However, some are still stewing over the NYSE's decision to both close its trading floor and to move all trading to its electronic market. Regulators didn't like that idea because it had only been tested once, back in March, and was complicated by the storm's effect on both infrastructure and staffing.
Fortune expressed its still-raw feelings on the matter on Monday afternoon just as the storm's swells were reaching Lower Manhattan. It argued that electronic trading, which accounts for 90% of all trades, should have continued since the NYSE only handles about 11% of overall U.S. share trading, 40% of stock trades never pass through the exchange and its head of stock trading execution is in Chicago anyway. It added that many other trades are completed elsewhere, but routed through the NYSE system and that what "the last few years have proven is that others can do stock trading just as efficiently as the NYSE."
That's true. While the flash crash of May 2010 that zeroed out several stocks for a few minutes is still the recent standard for terrible technical glitches, Nasdaq's issues with Facebook's (FB) IPO  and Knight Capital's high-profile oops earlier this year showed others can botch stock trades and fry their systems just as efficiently as the NYSE.
Since 2000, trading on the NYSE was either halted or extended three times because of system problems. They caused more days of disruption than the deaths of two presidents during that same span.
"Both regulators and investors are sensitive to odd market moves -- individual investors have a distrust for electronic trading," Oliver Pursche, president of Gary Goldberg Financial Services, told CNNMoney.
Not to mention that the area around the exchange woke up Tuesday morning to Lower Manhattan and Hoboken, N.J., still under water, Breezy Point in Queens decimated by fire, patients from a New York University hospital displaced after power failed, millions still without power and more than 30 people killed by the storm. The markets will open on Wednesday, trades will happen and financial sector life will go on, but for a brief moment the blue-shirted babies will have to stop playing with their portfolios.
During a down period in the European and Chinese markets that could render a U.S. market closure an afterthought, giving the NYSE and others an extra day to dry out falls pretty far down the list of storm-related grievances.
More from Top Stocks

 I think people have forgotten that we are all Americans and that we are a team and as with all teams there are those who have strengths in different ways.  We used to be where the strong takes care of the young, the weak, the sick, and the old.  Now some want to cast out those who they feel are "unfit and unworthy."  
Our level of compassion is low because we think we are getting less of the "pie" and have gone into financial Darwinism.  This happens when wealth is removed from society (sequestered by the few away from the many) and we all fight for a smaller and smaller share.
 Once the election is over, it'll be sour grapes time in congress until they get voted out of office. They've gone from a game of sportsmanship and being a good loser to "getting even."  The electorate that voted these people in are getting what they wanted.  Since they ran on a far from center platform, they are expected to uphold their promises or they will be cast out of office.
Our political parties are so polarized that they barely speak to each other anymore.  Just like what happens here on this thread, the ranting, baiting and name calling doesn't make for a decent exchange of ideas.  Because of this polarization there is no middle ground anymore.
I don't expect those elected officials to behave any better than they are now.
Are you sure you want to delete this comment?
DATA PROVIDERS
Copyright © 2014 Microsoft. All rights reserved.
Fundamental company data and historical chart data provided by Morningstar Inc. Real-time index quotes and delayed quotes supplied by Morningstar Inc. Quotes delayed by up to 15 minutes, except where indicated otherwise. Fund summary, fund performance and dividend data provided by Morningstar Inc. Analyst recommendations provided by Zacks Investment Research. StockScouter data provided by Verus Analytics. IPO data provided by Hoover's Inc. Index membership data provided by Morningstar Inc.
ABOUT
Top Stocks provides analysis about the most noteworthy stocks in the market each day, combining some of the best content from around the MSN Money site and the rest of the Web.
Contributors include professional investors and journalists affiliated with MSN Money.
Follow us on Twitter @topstocksmsn.