How Apple could become a trillion-dollar company
Hint: It has everything to do with the iPhone and the iPad.

Investors continue to lap up
Apple
(
AAPL
). 
In the five weeks since the company released its bumper first-quarter earnings, the stock has seen tremendous buying interest, rallying more than 30%. Apple reached the enviable milestone of a $500 billion market cap last Tuesday.
As the stock inches closer to
our fair price estimate of
$550
, there is speculation as to whether Apple can
become
the world's first trillion-dollar company. Here we take a look at what it would take for Apple to reach these heights.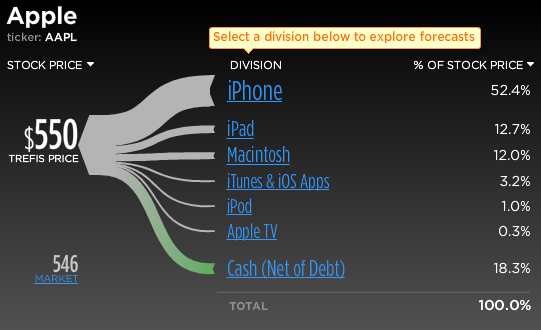 Summary of key drivers:
Before we go any further, let's first consider the historical trends of Apple's main drivers of growth.
1. Faster increase in iPhone market share (+25%):
We expect iPhone's share of the global mobile phone market to hit 13% by the end of our forecast period. However, the iPhone is Apple's flagship product and contributes more than 50% of our price estimate. So, even a small outperformance in respect to market share will have a huge impact on Apple's valuation.
The company has posted an average annual growth of close to 90% in iPhone sales over the last three years. Last quarter, the phone set a new record of 37 million unit sales, with the iPhone 4S playing a big role. If Apple continues to set the same scorching pace in coming years, the upside to our price estimate could be huge.
A number of factors could help Apple maintain its historical growth rates. Expanding operations in overseas markets, adding of new carriers and selling iPhones in emerging markets such as China present huge opportunities to increase market share. (See Apple can penetrate emerging markets by riding sidesaddle with more carriers.) Apple has already added two of China's three carriers to its list of iPhone carriers and a deal with China Mobile is in the cards after a recent Qualcomm announcement.

Developed markets may see little traction for competing smartphones such as the BlackBerry and the Lumia, further bolstering Apple's share. The release of a LTE-enabled iPhone 5 later this year could also see Apple beat previous quarterly records. These triggers could propel iPhone's market share higher than we currently forecast.

There could be upside of 25% to our estimates if iPhone market share exceeds our current end-of-period estimate by 4.4%.
2. Slower decline in iPhone pricing (+20%):
We currently forecast average iPhone prices to decline to around $400 by the end of Trefis forecast period as Apple enters emerging markets, where increasing competition forces Apple to cut prices beyond the customary price-slashing of older models.
However, iPhone's average pricing has increased over the last two years as continued demand for the newer as well as higher-end versions with more storage have supported prices while Apple has reduced prices for the older ones. Traditionally, Apple has targeted only higher-paying customers and not aimed for a mass market presence, unlike its competitors.
These factors could mean that iPhone pricing could decline at a slower rate than what we forecast. There could be an upside of 20% to our estimate for Apple stock if iPhone pricing remains resilient at the 2011 price of $630 till the end of the forecast period.
3. Slower decline to iPhone's gross margins (+20%):
We currently estimate that the iPhone's gross margins will decline to around 40% by the end of Trefis forecast period. However, if Apple manages to sustain higher iPhone pricing levels, its margins could also stay high.
Input costs are likely to remain constant or even decline as technology improves and Apple buys out smaller companies that help reduce its supply costs. Earlier this year, Apple announced that it had bought Israeli startup Anobit, a move that would bring down its NAND flash memory costs. Moreover, we have also seen Apple diligently manage its supply chain issues in the past. In the first quarter of last year, when the mobile phone industry was reeling from the supply-chain aftershocks of the earthquake in Japan, Apple managed to post better-than-expected​ iPhone sales. (see Apple avoids hiccups in supply chain, raising estimates on iPhone outlook).
If Apple continues to handle the pricing and input cost issues well, its gross margins may decline at a slower rate than what we forecast. If gross margins reach around 50% by the end of Trefis forecast period, there could be an upside of 20% to our price estimate for Apple stock.
4. Faster increase in iPad unit sales (+15%):
The iPad debuted in early 2010, spawning a new market segment of mobile devices and sending Apple's stock even higher. Many competitors have tried to enter this still relatively nascent market segment, but none have come close to threatening the iPad's dominance. Even the much touted Kindle Fire, a 7-inch Amazon tablet was released last quarter, made hardly a dent to the iPad, which set a new record of more than 15 million unit sales in a single quarter.
A big reason for the recent runup is Apple's March 7 media event, at which many observers expect a new iPad will be announced. The iPad is the second-most valuable business for Apple after the iPhone and accounts for just under 13% of our Apple price estimate, but if the nascent market sees an explosion in demand over the coming quarters, the iPad could command a bigger chunk.
Gartner estimates that the tablet market will grow to 326 million unit sales in 2015, or about a 50% average annual growth rate. If Apple is able to grow its iPad sales at only 35% annually, its sales at the end of 2018 would be around 330 million, nearly three times our current estimate of 120 million. That could add another 15% upside to our price estimate for Apple stock.
5. Slower decline in iPad pricing (+5%):
We currently forecast average iPad prices to decline to around $430 by the end of our forecast period. The iPad is part of a nascent market segment and subject to heavy competitive pressures from new entrants.
But even though the Kindle Fire and the Barnes & Noble Nook undercut the iPad's price by nearly half, the iPad's sales were hardly affected. If the iPad continues to find as many takers as it has in the past, there may not be a pressing need for Apple to decrease its prices.
These factors could mean that the iPad pricing could decline at a slower rate than what we forecast. There could be an upside of 5% to our estimate for Apple stock if iPad pricing declines slowly to reach about $530 by the end of Trefis forecast period.
6. A new iProduct (+5%)
So far, we have considered only Apple's existing products. What if Apple comes out with a new, innovative product such as the much rumored Apple TV set-top box? Since it will be a new product and we have no idea what impact this would have on Apple's valuation, we have not shown it in the illustration. Therefore, we are assuming only a small 5% upside. But the halo effect of the iPhone and the iPad on the next iProduct could be huge, and the consequent upside to our price estimate much more than the 5% assumed.
But therein lies the biggest risk to Apple's stock.
Apple's success has hinged on its ability to surprise the market with one innovative product after another. Should it fail even once, the market euphoria will die down. Also, don't forget the law of large numbers. Apple has so far bucked the trend by tapping nascent markets, or, as in the case of the iPad, by creating one.

But how long will the Apple juggernaut roll on? What we can say is that if Apple continues to rise as meteorically as it has in the recent past, the first trillion-dollar company may not be too far away.


Awful lot of future upside projections given Androids success in smart phones and pending release of Windows 8 smart phones and tablets. Just what IF some of those +5-25% projections turn out to be flat or half of what's projected. What if iPhone projections were flat? Oops there goes the margins and revenue.
Are you sure you want to delete this comment?
DATA PROVIDERS
Copyright © 2014 Microsoft. All rights reserved.
Fundamental company data and historical chart data provided by Morningstar Inc. Real-time index quotes and delayed quotes supplied by Morningstar Inc. Quotes delayed by up to 15 minutes, except where indicated otherwise. Fund summary, fund performance and dividend data provided by Morningstar Inc. Analyst recommendations provided by Zacks Investment Research. StockScouter data provided by Verus Analytics. IPO data provided by Hoover's Inc. Index membership data provided by Morningstar Inc.
ABOUT
Top Stocks provides analysis about the most noteworthy stocks in the market each day, combining some of the best content from around the MSN Money site and the rest of the Web.
Contributors include professional investors and journalists affiliated with MSN Money.
Follow us on Twitter @topstocksmsn.