Has the job market healed?
A run of steady payroll gains suggests the worst is over. A dive into the data suggests otherwise.
Here's some good news. The unemployment rate held steady at 8.3% in February, while payrolls jumped 227,000. That puts the three-month average at 244,000. For job seekers, on a number of measures, the performance over the past few months has been the best of the recovery to date.
So that's it, right? Time to unfurl the "Mission Accomplished" banner, tell the Federal Reserve to withdraw the trillions in cheap money it's injected into the financial system like morphine, and ask your boss for that long-postponed raise? Well, not quite.
It's true that job gains are always positive. But there is plenty of evidence we've yet to shake the post-recession job market hangover. There are also reasons to believe that, as in 2010 and 2011, economic momentum is set to fade later in the year as temporary factors -- including unseasonably warm weather, inventory accumulation, and savings rate drawdowns -- start to drag on growth.
Let's talk weather. Bank of America Merrill Lynch notes that the average nationwide temperature in February was 38.3 F, 5 degrees above last year's and 4 degrees above the average of the past five years. Averaging December through February, we just experienced the warmest winter since 1999-2000.
During winter, the government adjusts employment data by adding jobs to offset people stuck at home because of snow and ice. Over the past five years, roughly 485,000 people couldn't work in February because of weather. This month, this number was just 178,000.
Basically, the payroll number was artificially boosted by about 307,000 jobs.
Moreover, while jobs are jobs, the quality and the remuneration of those jobs are arguably more important. On this metric, the situation remains weak. Average hourly earnings were up 0.1% for the fourth month in a row. For the year, earnings were up 1.9% -- continuing a trend of 1.8% to 2% growth seen over the past two years. According to Philippa Dunne of the Liscio Report, this suggests that low-wage jobs are playing a disproportionately large role.
Given that consumer price inflation has averaged 3.1% over the past year, even people who can find jobs are simply falling behind the rising cost of living. In fact, real disposable income has fallen in two of the past three months. This has never happened in a nonrecession environment before.
No wonder the 2011 holiday shopping season was driven by withdrawals from savings and rising credit card usage. Obviously, this isn't sustainable.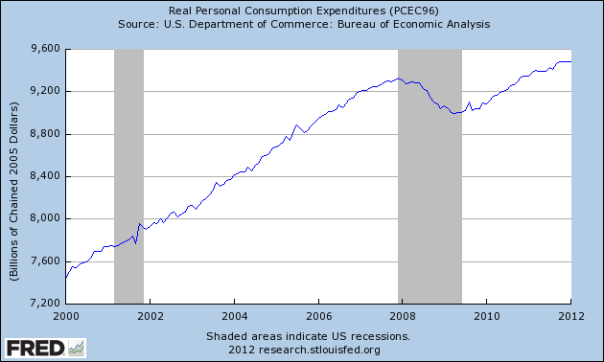 So it shouldn't come as a great surprise that, despite the employment growth of the past few months, the job gains aren't translating into increased consumer spending -- the vector by which all these jobs gains are supposed to result in higher economic growth. Real consumer spending has been flat over the last three months as shown in the chart above.
As a result, the team at Capital Economics believes the spending component of GDP (along with Friday's disappointing rise in the trade deficit because of high oil prices) could pull first-quarter growth down toward 1%. Wall Street economists are frantically cutting their growth forecasts in response.
This is below the economy's "stall speed" -- or the rate of growth that's needed to keep the unemployment rate from rising in response to a growing population. Not only that, but a dramatic fall in labor productivity and rising unit labor costs is making each new worker hired less profitable for employers. Both of these things will be a drag on the job market going forward.
Just look at what Bank of America Merrill Lynch economist Neil Dutta told his clients this morning:
"In other words, productivity is slowing sharply as companies have squeezed every drop of output possible out of their current workforce. Today's data implies that corporate profit margins are coming under pressure. Unless economic growth begins to accelerate, it is difficult to see how this rate of employment growth can be sustained."
One more thing. It's important to keep all of this in perspective. My preferred measure is the percentage of the population in full-time employment -- you know, the kind of jobs that people really want. Jobs with benefits, a modicum of security and maybe even a retirement plan. Jobs that encourage spending on big ticket items like new cars and new homes.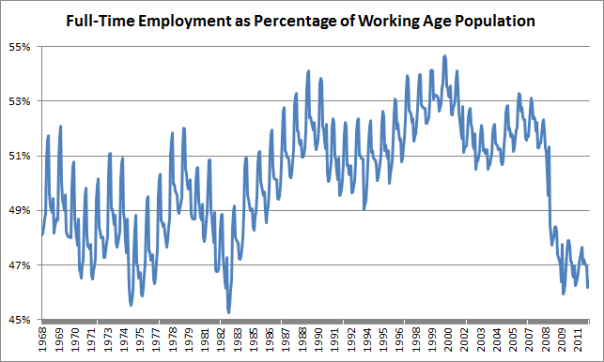 By that measure, we remain near recessionary lows and are at levels not seen since the early 1980s. And we are more than 10.6 million full-time jobs below our pre-recession peak despite the fact the working population has grown by 10.4 million workers.
Total full-time job deficit: 21 million. We need more and better jobs.

Check out Anthony's investment advisory service The Edge. A two-week free trial has been extended to MSN Money readers. Click here to sign up. Contact Anthony at anthony@edgeletter.c​​om and follow him on Twitter at @EdgeLetter. You can view his current stock picks here. Feel free to comment below.

DATA PROVIDERS
Copyright © 2014 Microsoft. All rights reserved.
Fundamental company data and historical chart data provided by Morningstar Inc. Real-time index quotes and delayed quotes supplied by Morningstar Inc. Quotes delayed by up to 15 minutes, except where indicated otherwise. Fund summary, fund performance and dividend data provided by Morningstar Inc. Analyst recommendations provided by Zacks Investment Research. StockScouter data provided by Verus Analytics. IPO data provided by Hoover's Inc. Index membership data provided by Morningstar Inc.
ABOUT
Top Stocks provides analysis about the most noteworthy stocks in the market each day, combining some of the best content from around the MSN Money site and the rest of the Web.
Contributors include professional investors and journalists affiliated with MSN Money.
Follow us on Twitter @topstocksmsn.