Cramer sees Obama winning in landslide
Only a few observers are taking a unique stand on the election, just as fewer analysts these days dare to make bold calls.
By Rocco Pendola
Two "news" stories passing like ships in the night:
The speed and intensity of the 24-hour news cycle render it difficult for most of us to make connections between seemingly unrelated articles. Over the weekend, however, I stopped and stared at two spectacles -- one that went viral, the other that went way under the radar -- long enough to make an association.
Led by Business Insider, the standard media hacks and even some otherwise credible outlets such as The Atlantic came together to skewer CNBC and TheStreet's Jim Cramer for predicting President Barack Obama will win Tuesday's election in a landslide with 440 electoral votes.
This is what 98.5% of the media do. A handful instantly produce the easy answer, and the rest follow like the uncritical "cut-and-paste, let's link to somebody else's work for page views" hounds that they are.
Few take the time to look for meaning, deeper messages or connections between seemingly unrelated events or concepts.
Almost everybody, in unison, branded Cramer a fool for being so far outside the lines of consensus.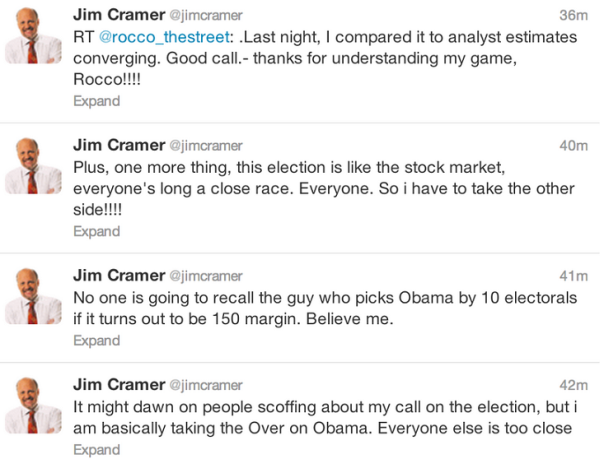 It's unfortunate that Cramer had to take to Twitter to explain himself, but such is life in a world that prefers dichotomy in lieu of nuance and black-and-white over 50 shades of gray (that last one might not be true, but you get the point).
In Barron's over the weekend, Jack Hough wrote a solid piece titled "When Bold Analysts Say Buy" that sheds unintentional light on the Cramer blowup.
Riffing on Wall Street analyst earnings estimates, Hough writes, "Bold forecasts have (become) scarce. . . . Estimates are more closely huddled together than at any time since 1986."
At the same time, research from the University of Texas shows that when revised estimates "move away from the consensus," they "are more likely to prove accurate than those that move toward it."
Hough pulls a few examples.
An analyst at Bernstein Research upped her 2013 earnings-per-share estimate on Humana (HUM), which reports Monday, to $9.20 a share, way above the consensus of $7.14. That's about as "extreme" as Cramer's call on the election.
At the micro level, we're talking apples and oranges. I get that.
From a macro perspective, however, if you follow the stock market and can't stand wishy-washy, lazy analysts who all come to the same conclusions sans unique flavor, you should appreciate how Cramer stands out against most everybody else who calls Obama vs. Romney neck and neck or pretty close.
They put themselves in a situation in which they can't be wrong. This is not about being credible or doing careful analysis.
The cats who put the popular vote at a split or go with 290 to 248 or 277 to 261 in the electoral college set themselves up not to fail. Even if they're wrong, they're right.
Who's going to take a pundit to task for missing Ohio and Minnesota or even Pennsylvania? If a miss there throws off your prediction, you walk away unscathed with the benefit of the doubt.
The same goes for Wall Street analysts who blend in with the crowd. They're making the safe bet.
I like to give Piper Jaffray analyst Gene Munster a hard time for being an Apple (AAPL) cheerleader. He probably deserves more credit than that.
He stands out, in part, because he's bold. And he's not afraid to walk the line between "objective analyst" and living, breathing human being with an opinion. There's a ton to be said about that.
While he might end up "wrong" on some of his more "extreme" Apple takes, he, along with Brian White at Topeka and Eric Jackson of Ironfire Capital, tend to stimulate the best conversation around one of the market's biggest battleground stocks.
And, more importantly, when it gets down to what really matters -- what Apple does over the long haul -- they have been consistently on the mark.
And, even more important than that, like Cramer, Munster, White and Jackson give all of the other guys -- unable to muster an original thought if their lives were on the line -- something to talk about.
At the time of publication, Rocco Pendola held no positions in any of the stocks mentioned in this article.
More from TheStreet.com
DATA PROVIDERS
Copyright © 2014 Microsoft. All rights reserved.
Fundamental company data and historical chart data provided by Morningstar Inc. Real-time index quotes and delayed quotes supplied by Morningstar Inc. Quotes delayed by up to 15 minutes, except where indicated otherwise. Fund summary, fund performance and dividend data provided by Morningstar Inc. Analyst recommendations provided by Zacks Investment Research. StockScouter data provided by Verus Analytics. IPO data provided by Hoover's Inc. Index membership data provided by Morningstar Inc.
ABOUT
Top Stocks provides analysis about the most noteworthy stocks in the market each day, combining some of the best content from around the MSN Money site and the rest of the Web.
Contributors include professional investors and journalists affiliated with MSN Money.
Follow us on Twitter @topstocksmsn.