What's next for Cyprus?
The fate of the tiny island nation, and indeed the future of the eurozone and the 2013 stock market rally, hangs in the balance this weekend.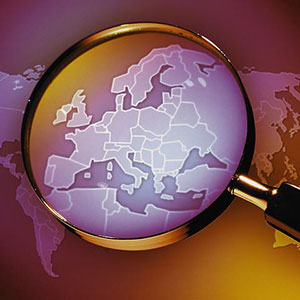 The situation in Cyprus is moving fast. First, a Plan A to tax deposit holders (mainly Russian wealth held offshore) was rejected by Nicosia because it would undermine the nation's finance-reliant economy. A Plan B to seek Russian assistance failed. A Plan C to raise money by raising the country's pension fund and pledge energy reserves was rejected by eurozone officials.
Now, we're on Plan D, which is essentially a more aggressive version of Plan A that would see wealthy Russians lose as much as 50% of their deposit wealth as the eurozone's requirement for depositor contribution (to a €17 billion bailout program) increased to €6.7 billion from €5.8 billion originally.
And to kick up the stakes, the European Central Bank has given Cyprus an ultimatum that could very well result in the country being forced to leave the euro. Here's what you need to know.
A few points of clarity are emerging as the Cypriot banking system, damaged by a slowing economy and the Greek debt restructuring, teeters on the edge of insolvency.
One, the European Central Bank has given the island country until Monday to find an alternative way to raise €5.8 billion toward a €17 billion bailout deal after the Cypriot parliament voted down a deposit levy scheme.
Two, Cyprus and the eurozone are preparing capital controls -- something normally seen in failed states -- to prevent bank runs when the country's banks reopen, maybe on Tuesday.
Three, Russia seems uninterested in offering further assistance (it already has an assistance loan outstanding to Cyprus), despite the fact most large, uninsured bank deposits in the country are held by Russians seeking the benefits of offshore banking.
Four, alternatives offered by leaders in Nicosia, such as nationalizing state pension assets and issuing bonds backed by offshore energy reserves -- aren't being supported by Berlin and Brussels. Moreover, Turkey says it will challenge Cyprus' claims on natural gas reserves if they are pledged as part of a bailout package -- adding another geopolitical element to the story.
And finally, the only plan that seems to have the support of eurozone officials will surely draw even stronger ire from the Russians: It would result in large (mostly offshore) depositors suffering losses of as much as 50% -- far beyond the 10% deposit tax that was originally proposed on large account holders.
This would happen as a part of a "good bank/bad bank" restructuring that would protect small, domestic depositors, with a deposit tax on top of it.
But again, it's unclear whether Cypriot politicians would support this idea, given their steadfast resistance to anything that could damage the country's image as an offshore financial center. Cyprus' economy is heavily dependent on its financial system, not unlike Iceland when it ran into trouble a few years ago.
Tensions are high. Protestors are in the streets. And we could very well be on the cusp of the first exit from the eurozone, an event that would shatter the illusion of irreversibility in the currency and immediately turn the market's attention toward possible exits by Greece, Spain, and Italy.
Indeed, during a conference call of the Eurogroup Working Group on Thursday, which consists of deputy finance ministers and treasury officials from the 17 eurozone officials, Cyprus decided not to attend. Officials noted that the country's absence was troubling and reflected wider confusion surrounding the situation.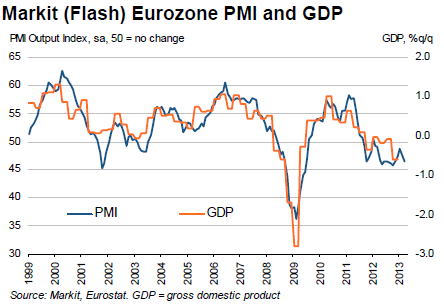 Of course, the broader point here is that even if Cyprus gets a bailout and stays in the eurozone, much damage has already been done. European leaders have shown an appetite for deposit levies, which will weaken confidence in already vulnerable in places like Greece and Spain. And as Thursday's flash PMI data showed, Europe's new recession is deepening.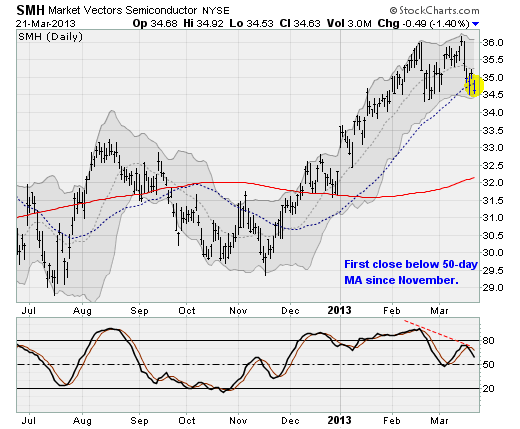 So things will get uglier before they get better, as leading areas like semiconductors, copper futures, and emerging market stocks seem to be warning. As a result, I continue to recommend positions like the ProShares UltraShort Europe (EPV) and a short against Spanish bank Santander (SAN) in my Edge Letter Sample Portfolio.
Disclosure: Anthony has recommended EPV to his clients.

Be sure to check out Anthony's new investment newsletter, the Edge, and his money management service, Mirhaydari Capital Management. A two-week free trial has been extended to MSN Money readers. Click the link above to sign up. Mirhaydari can be contacted at anthony@edgeletter.c​​om and followed on Twitter at @EdgeLetter. You can view his current stock picks here. Feel free to comment below. 
 
DATA PROVIDERS
Copyright © 2014 Microsoft. All rights reserved.
Fundamental company data and historical chart data provided by Morningstar Inc. Real-time index quotes and delayed quotes supplied by Morningstar Inc. Quotes delayed by up to 15 minutes, except where indicated otherwise. Fund summary, fund performance and dividend data provided by Morningstar Inc. Analyst recommendations provided by Zacks Investment Research. StockScouter data provided by Verus Analytics. IPO data provided by Hoover's Inc. Index membership data provided by Morningstar Inc.
ABOUT
Top Stocks provides analysis about the most noteworthy stocks in the market each day, combining some of the best content from around the MSN Money site and the rest of the Web.
Contributors include professional investors and journalists affiliated with MSN Money.
Follow us on Twitter @topstocksmsn.