Time to get back into for-profit schools?
Investors abandoned the sector following the Senate investigation, but now there could be some bargains out there.
By James A. Hyerczyk, guest columnist

Even before Sen. Tom Harkin (D-Iowa) concluded a two-year investigation of the for-profit higher education industry, the stock market appeared to already know the results. DeVry (DV) shares lost half of their value this year, and Education Management (EDMC) shares plunged more than 80%. Similarly, three other stocks I analyzed for this article all showed massive declines since the first of the year and even before.

As an investor, one has to decide if this investigation means the end for several of these companies or better times ahead, now that the problems have been identified and improvements can be made.
Sen. Harkin's investigative report centered on the colleges' business practices. His primary focus was on schools that charged excessively high tuition paired with low academic investments. In other words, they focus on the maximization of revenue rather than the educational enrichment of the student. This helped boost share prices, but failed to meet the needs of the student.
Not only did the report highlight the schools and their excessively high tuition and low academic return, it also called out the government for failing to protect students from predatory practices such as deceptive sales pitches and poor quality programs. To put it in terms of dollars and cents, the American taxpayer appears to have been short-changed to the tune of $32 billion.
According to the report, "American taxpayers are the single biggest investor in the for-profit colleges, yet the government holds their trust has little ability to ensure that they get the return investment they deserve: educational and career success for the students who enroll." The report went on to state that "Congress must place a much more rigorous regulatory structure that incentivizes the sector to make the financial investments necessary to result in higher student success."
This problem isn't new either. Several years ago a U.S. government investigation centered on beauty, heating and air-conditioning and modeling schools to name a few. At that time it discovered an industry that would offer high-priced education, the promise of jobs and the availability of 95% school loans. The pitch went something like this: "I can teach you to be a barber for $1,000. Give me $50 in cash and the government will lend you $950." The problem was that the barber school made $1,000, the student never finished school or never became employed and the taxpayer was on the hook for the loan.
Harkin's report in conjunction with the Senate Health, Education, Labor and Pensions Committee touched on the same issues centered on years ago: poor graduation rates, high rates of student loan default and the aggressive bamboozlement of low-income students.
One glaring issue that surfaced through the analysis of company internal documents was the ratio of sales staff or "recruiters" to the number of employees providing career advancement services and student support. 
Compared to other higher education institutions, for-profit schools spent more money on marketing and advertising than on student instruction. As Harkin remarked scathingly, "For-profit colleges charge exorbitant tuition, they provide an inferior education, they have sky-high dropout rates. So how do they recruit a steady stream of students? The answer is these are marketing machines."
To go along with new regulations enacted by the Obama administration to protect the student and taxpayer from future abuse, Harkin's report suggested improvements in data collection to track dropouts and job placements. The report also suggested stricter requirements for student loan eligibility.
The report concluded by citing the failure of Congress "to adjust the unique legislative framework that governs this sector of higher education to ensure that the demands of shareholders and investors do not overrun those taxpayers and students."
Looking at the performance of the stocks of two companies that report this week, Education Management (EDMC) and DeVry (DV), one has to conclude that prior to the start of this investigation, shareholders milked these stocks for all they could get. As a whole, this sector has been punished severely, but through diligent research investors could be looking at a good opportunity in a few of these stocks. After all, the sell-off in these two stocks could be indicative of "sell the rumor, buy the fact."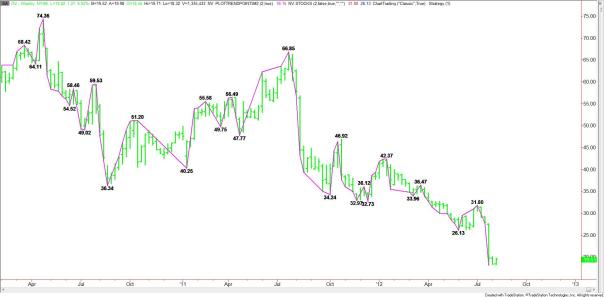 Since reaching major tops at $74.36 in April 2010 and $66.85 in July 11, DeVry has been hit hard by long liquidation and short-selling. On July 26, the stock reached a multiyear low at $18.15. Since then it has rebounded back to $20.42 but could also be forming a support base. As recently as July 2, the stock was trading as high as $31.80. Rather than just a common "dead cat bounce," the market appears to be forming a constructive support base, but will still need time to change the trend back to up.
Analysts have dropped the projected earnings of DeVry from 79 cents to 47 cents over the past month, according to Forbes. This accounts for the rapid decline since early July. Forbes also notes that nine of 15 analysts rate this stock as a "hold." In addition, the number of "buy" ratings is up slightly over the past 90 days.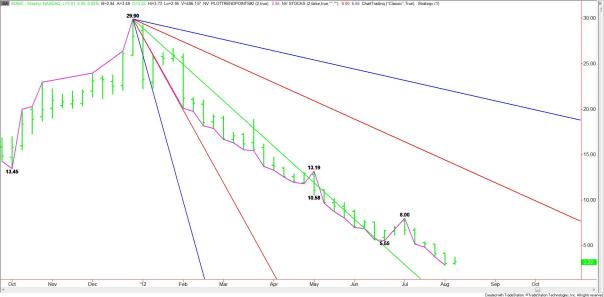 Education Management has also dropped dramatically since reaching a top at $29.90 in late December 2011. On Aug. 3, the market reached a new low for the year at $2.84. Although there is still no sign of a bottom, this stock may be worth watching to see if it can establish a solid support base.
On Aug. 6, the stock soared 9.63% to $3.31 after the company announced that John R. McKernan, Jr., will step down as chairman of its board of directors. Perhaps this week's earnings report is already priced in and shareholders are taking advantage of low prices and a better outlook for the company.
It looks as if investors got it right in dumping these stocks as the government investigated the sector. Now that the major problems have been identified, and stock prices have reached extremely low levels, it may be time for bargain-hunting investors to take a look for a few hidden gems. DeVry and Education Management are the two stocks mentioned in this article, but others include Corinthian College (COCO), Career Education Corp. (CECO), and Apollo Group (APOL).
James A. Hyerczyk has been actively involved in the financial markets since 1982, first in the futures industry, and then in the equity and Forex markets. Using W. D. Gann Theory as his core methodology, Hyerczyk incorporates combinations of pattern, price and time to develop his daily, weekly and monthly analysis. He also offers a free course.
DATA PROVIDERS
Copyright © 2014 Microsoft. All rights reserved.
Fundamental company data and historical chart data provided by Morningstar Inc. Real-time index quotes and delayed quotes supplied by Morningstar Inc. Quotes delayed by up to 15 minutes, except where indicated otherwise. Fund summary, fund performance and dividend data provided by Morningstar Inc. Analyst recommendations provided by Zacks Investment Research. StockScouter data provided by Verus Analytics. IPO data provided by Hoover's Inc. Index membership data provided by Morningstar Inc.
ABOUT
Top Stocks provides analysis about the most noteworthy stocks in the market each day, combining some of the best content from around the MSN Money site and the rest of the Web.
Contributors include professional investors and journalists affiliated with MSN Money.
Follow us on Twitter @topstocksmsn.