Futures lower on debt ceiling fears
Investors are concerned of yet another upcoming fiscal cliff.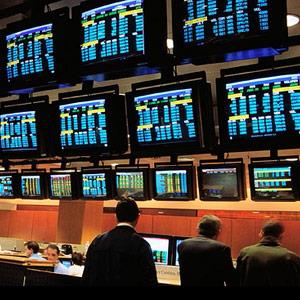 U.S. equity futures traded slightly lower, and European shares ticked down in early trade as investors feared the next upcoming cliff, that of the debt ceiling. Republicans look set to use the upcoming debate over increasing the debt ceiling to pass spending cuts and to even launch broad-based entitlement reform. The recent fiscal deal focused mainly on the tax side of the equation and did not address spending cuts.
In other news, former Italian Prime Minister Silvio Berlusconi struck a deal with political rivals to not run for Prime Minister in the upcoming elections in exchange for being nominated economy minister should the large Northern League Party wins.
Big banks were handed a gift by international regulators, who agreed to postpone the implementation of the Basel III rules another year. The move gives banks one more year to reach the required liquidity ratios and allows banks to include some previously not included assets in the so-called Liquidity Coverage Ratio (LCR), making it easier for banks to reach LCR levels.
Analysts at J.P. Morgan see a return to massive healthcare M&A in 2013. The bank sees deals not only increasing in quantity but in size as well.
S&P 500 futures fell 1.5 points to 1,460.10.
The EUR/USD was lower at 1.3038.
Spanish 10-year government bond yields rose to 5.09%.
Italian 10-year government bond yields rose to 4.297%.
Gold rose 0.31% to $1,654.00 per ounce.
Asian markets
Asian shares were mixed overnight with a slight downward bias as fears over the U.S. fiscal situation and the European economy weighed on markets. The Japanese Nikkei Index fell 0.83% and the Shanghai Composite Index rose 0.37% while the Hang Seng Index fell 0.01% in Hong Kong. Also, the Korean Kospi slipped 0.03% while Australian shares fell 0.14% on concerns that the RBA may not cut rates further.
European markets
European shares were mostly lower, but only marginally so, overnight on fears that the ECB will not do enough later this week to stimulate growth and pull the continent out of its debt crisis. The Spanish Ibex Index rose 0.06% while the Italian MIB Index fell 0.09% and Greek shares fell 0.05%. Meanwhile, the German DAX slid 0.53% and the French CAC fell 0.67% while U.K. shares were lower by 0.3%.
Commodities
Commodities were mixed overnight as well with oil prices showing weakness and metals remaining mixed. WTI crude futures fell 0.35% to $92.76 per barrel and Brent crude futures fell 0.25% to $11.03 per barrel. Copper futures fell 0.85% to $366.20 per pound on Chinese weakness and on fears that the RBA will not cut rates to weaken its currency in an effort to boost exports. Gold was higher and silver futures rose 0.8% to $30.18 per ounce.
Currencies
Currency markets were in clear risk-off mode overnight as yen strength and euro weakness dominated markets. The EUR/USD was 31 pips lower at 1.3038 and the dollar fell against the yen to 87.88, a drop of 0.31%. Overall, the Dollar Index rose 0.11% on strength against the euro, the Swiss franc, and the pound, despite weakness against the yen and the Canadian dollar. It is important to note that the AUD/USD rallied back above 1.05 in early trade despite the Aussie falling against the yen. The biggest loser was the EUR/JPY, which fell 0.56% to 114.57.
Premarket movers
Stocks moving in the premarket included:
Earnings
No notable companies are expected to report earnings Monday. Earnings season officially kicks off Tuesday, January 8, when
Alcoa
(
AA
) is set to report earnings.
Economics
On the economics calendar Monday, the Treasury is set to auction three- and six-month bills as well as STRIPS. Overnight, focus will be on eurozone retail sales and the eurozone unemployment rate as well as German factory orders data.
More from Benzinga
Click here for your free two week trial of Benzinga Pro!

Re-Tog...
Correct me if I am wrong...  didn't Obama make this speech?   
"The fact that we are here today to debate raising America's debt limit is a sign of leadership failure. It is a sign that the U.S. Government can't pay its own bills. It is a sign that we now depend on ongoing financial assistance from foreign countries to finance our Government's reckless fiscal policies. … Increasing America's debt weakens us domestically and internationally. Leadership means that "the buck stops here." Instead, Washington is shifting the burden of bad choices today onto the backs of our children and grandchildren. America has a debt problem and a failure of leadership. Americans deserve better."
Sorry, but if he is asking for yet another debt ceiling increase, it sounds like more "FAILED LEADERSHIP" to me and we deserve better than this lazy, arrogant, corrupt imbecile....

Yes something to that Affect.......But I'm tired of Washington, I'm tired of listening to them..
They have a tendancy the last several years to just take America or Americans down...
I'm trying not to let them RULE or RUIN my life, or what I have left of it...
And life is way too short, to be self consumed by Politics; Unless the case of Mental Unbalance.
I find that true of "many" of our so-called Leaders...And don't feel we have had "any leadership" that cares or gives a damn for the "average American" for over 30 years.......IMO.

Yes I agree 100%, that we need to get our debt and deficits under reasonable control...
With Quanitive Easing we have kept inflation to a minimum, but taking the pedal off will skyrocket that number, correct ??
So we are at a crux in the road, rock or hard place?
And cooler heads need to prevail in a slowing manner....And I still think we can make it out of the mess, but at this point it will take severals years to completely bail the boat...
AND yes, our kids are going to be paying the price..
Call for drastic spending cuts now....And beat our swords into plow shares.. 
Are you sure you want to delete this comment?
DATA PROVIDERS
Copyright © 2014 Microsoft. All rights reserved.
Fundamental company data and historical chart data provided by Morningstar Inc. Real-time index quotes and delayed quotes supplied by Morningstar Inc. Quotes delayed by up to 15 minutes, except where indicated otherwise. Fund summary, fund performance and dividend data provided by Morningstar Inc. Analyst recommendations provided by Zacks Investment Research. StockScouter data provided by Verus Analytics. IPO data provided by Hoover's Inc. Index membership data provided by Morningstar Inc.
ABOUT
Top Stocks provides analysis about the most noteworthy stocks in the market each day, combining some of the best content from around the MSN Money site and the rest of the Web.
Contributors include professional investors and journalists affiliated with MSN Money.
Follow us on Twitter @topstocksmsn.