6 stocks to sell in December
Shares of these companies are overbought or seeing heavy insider selling.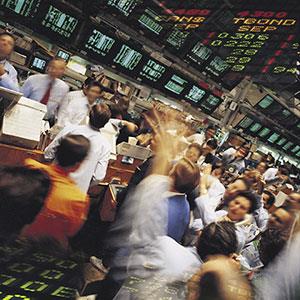 By Sam Collins

Despite an overwhelming lack of clarity from the politicians in Washington, the stock market has reacted well -- and that alone is bullish. And so, if the fiscal cliff problems can be solved before Christmas, the market could have a solid Santa Claus rally.
But since the outcome is far from decided, many holders of non-performing stocks and those that are overbought should sell and wait out the results of the political wrangling. 
Each day of dispute tightens the coiled spring of market volatility, and when it releases we expect a dramatic price move -- the problem is, it's impossible to predict the direction of that move.
Attention short sellers: Many companies are paying extra and/or extraordinary dividends before a tax hike takes effect in 2013. If you are short stock on the ex-dividend date, you are on the hook for that dividend since you have borrowed the stock from a lender who deserves the dividend.
Here is our list of stocks to sell in December:

Baker Hughes Inc.
Large-cap oil well services company Baker Hughes Inc. (BHI) topped at $81 in July 2011. The Gulf oil spill in April 2010 resulted in a drilling moratorium, which had a negative impact on the company's revenues and earnings. And even though the moratorium is now lifted, new permits have been slow in coming.

The stock fell to under $39 in June, but reversed and rallied to $51. But since then, the pattern has been bearish and the recent rally to its 200-day moving average failed at under $44.
Selling volume has been higher than buying volume, and the MACD internal indicator is arching down and could issue a sell signal soon. If you own BHI, sell it at the market. Short sellers should enter a stop-loss order at $44.50.


Click to Enlarge

Hewlett-Packard Co.  

Hewlett-Packard Co. (HPQ) has been the victim of strong competition, slow PC sales and a soft economy. Long-term debt has risen sharply, and despite rumors of splitting up the company's divisions, nothing of substance has occurred and insiders have been heavy sellers.
The stock is trading within a clear bear market channel. A recent rally has taken it from the bottom of the channel in November at $11.55 to its 50-day moving average at just above $14.
Sell HPQ at the market since it appears that the next move will be down for a test of its low.

Click to Enlarge

International Rectifier Corp.  
International Rectifier Corp. (IRF) is a leading supplier of power semiconductors. Sales and earnings are expected to decline in 2013, and negative earnings are expected for the second consecutive year.
The stock is trading in a clear bear market channel with resistance within pennies of its close on Dec. 7. Insiders have been heavy sellers of the stock. Its MACD is overbought, and buying volume has been lower on the recent rally than selling volume in early November.
Sell IRF at the market since its next move will likely lead to a test of its support at under $14.50.


Click to Enlarge

Intel Corp.  
Intel Corp. (INTC) is the world's largest semiconductor chip maker, but revenue and earnings are in a slump due to slow emerging market demand, soft enterprise PC sales, and stiff competition in the mobile phone sector. Earnings are expected to fall in 2013 for the second consecutive year.
The stock is in a pronounced bear market with a sharp increase in sellers in the last quarter. Insiders have joined in selling the stock.
Although the MACD internal indicator is flashing "buy," we must stick with the price trend, which tells us that November's low at $19.23 will be tested. Sell INTC at the market.


Click to Enlarge

Tiffany & Co.  
Lackluster performance for the fourth consecutive quarter has put new pressure on Tiffany & Co. (TIF) stock. And for the past three quarters, earnings and revenues have failed to meet analysts' expectations.
The stock is in a broad downtrend with a high at $65 and a low at about $50. Heavy insider sales and an MACD sell signal, as well as a breakaway gap down from its 200-day moving average, are convincing evidence that the stock is headed lower.
The next support for TIF is at $50. Sell or sell short TIF at the market.


Click to Enlarge

Yahoo  
Yahoo (YHOO) broke from a cup-and-handle consolidation in October and ran from $16.75 to over $19. However, profit-taking should be considered here since the stock is selling at almost 17 times next year's earnings and is over 20% above its 200-day moving average -- a clear case of over-valuation. The MACD indicator flashed a sell signal in the first week of December.
Shareholders who would like to take a chance on another move up should place a trailing 10% stop-loss order under the current price in order to protect against a violent reversal.


Click to Enlarge

More from InvestorPlace

Another comical article dictating to the masses what they should do with their money.  Yet there is no record of past results showing what would have happened to your money, if you'd followed their advice in the past!  Blindly take our advice and don't ask for past results, please!
Interestingly, HPQ is up today yet again (at least, so far).  Their CEO recently bought 1.5 million shares (Dec. 6th, apparently).  There are rumors that Carl Icahn may be accumulating shares.  H-P may get some of its money back on the Autonomy disaster (perhaps in a civil lawsuit).  A short squeeze appears to be developing in the stock since over 5% of shares outstanding have been sold short.  There also may be end-of-tax-year selling pressure on the stock that could let up come Jan. 1st.  H-P also recently debuted their new Spectre One desktop to compete with Apple's iMac.  To top all that off, the company is diversified globally and expected to earn $3.20 to $3.60 in FY '13!
This is definitely not a stock anyone should be quick to cut losses on or feel comfortable selling short.  With reckless "ad articles" like the one above, it's no wonder the masses end up losing money in the stock market.
Are you sure you want to delete this comment?
DATA PROVIDERS
Copyright © 2014 Microsoft. All rights reserved.
Fundamental company data and historical chart data provided by Morningstar Inc. Real-time index quotes and delayed quotes supplied by Morningstar Inc. Quotes delayed by up to 15 minutes, except where indicated otherwise. Fund summary, fund performance and dividend data provided by Morningstar Inc. Analyst recommendations provided by Zacks Investment Research. StockScouter data provided by Verus Analytics. IPO data provided by Hoover's Inc. Index membership data provided by Morningstar Inc.
ABOUT
Top Stocks provides analysis about the most noteworthy stocks in the market each day, combining some of the best content from around the MSN Money site and the rest of the Web.
Contributors include professional investors and journalists affiliated with MSN Money.
Follow us on Twitter @topstocksmsn.