Procter & Gamble: Less of a gamble than you think?
The consumer goods company is ready to reveal quarterly results Friday and all eyes will be on the bottom-line numbers.
It could be like the showdown at the OK Corral -- or maybe we should call it the P&G Corral.
Activist investor and hedge fund manager Bill Ackman said in an interview last week that he's expecting the board of Procter & Gamble (PG) to "do their job."
By that Ackman was referring to his overt lack of confidence in P&G CEO Bob McDonald, who Ackman believes has lost the confidence of his senior managers. "I think it's unlikely that Bob McDonald is the right person for the company based on his track record there," Ackman said in the interview.
It's not unusual for an activist hedge fund manager who owns directly or indirectly $2 billion in P&G shares, or roughly 1% of the company, to want to get his money's worth in any way possible. Just the drama alone that's been stirred up has helped PG shares higher, as the chart below illustrates.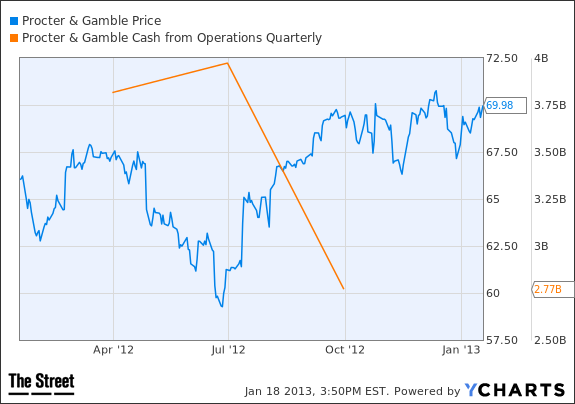 Perhaps Ackman is looking at the same distressing plunge in "Cash from Operations Quarterly" line in the chart above. It should also be noted that at least 35% of the outstanding "float" of PG shares are owned by institutions and mutual funds. The board of directors of PG has some powerful eyeballs looking over their shoulders, and the pressure is mounting with every passing day.
Ackman has accused the company of being "bloated" and lacking new ideas, new products and the innovative spirit that unleashes the true value locked into the company's book value, tangible net asset value and earnings power. He evidently believes the sum of the parts are greater than the whole PG.
The Cincinnati-based company and its issues with Ackman was the focus of a news story in the Business Courier, which serves the greater Cincinnati area. The Courier story quoted a PG spokesman who said, when asked about Ackman's comments, "The situation is unchanged." 
The spokesman, Paul Fox, was also quoted as saying, "The board has made it clear that it supports Bob [McDonald], the senior leadership team and our growth strategies. We are laser-focused on winning with our top 40 businesses, top 20 innovations and 10 developing markets while driving greater productivity and efficiency. Anything else is, frankly, an unnecessary distraction."
From this analyst's perspective, any shareholders who own $2 billion worth of a company should feel free to question the business policies and core competencies of the leadership of a publicly traded company. It's a great chance for PG's CEO and board to show what they're made of and not blow the challenge off as "...an unnecessary distraction."
In the world of business consulting, this showdown would be considered excellent grist for the mill. It could raise reasonable questions such as, "Does P&G have divisions and segments that could be spun off as profitable companies, thus rewarding existing shareholders with an immediate booster to PG's share price?"
When the company reports earnings and gives guidance on Friday, I anticipate a raft of announcements and the possibility of some insights into efforts to restructure the global giant whose product line sounds like a Hall of Fame of legendary brand names.
Let's begin with the less-famous "trophies" such as last year's European acquisition of Arbora & Ausonia, which makes diapers, Tampax tampons and adult incontinence products. This Spain- and Portugal-based company alone has sales of more than 500 million euros ($665 million) in Spain and 100 million euros in Portugal.
PG operates in five divisions: Beauty, Grooming, Health Care, Fabric Care and Home Care, and Baby Care and Family Care. The Beauty division provides antiperspirants, deodorants, cosmetics, hair care products, hair colors, personal cleansings, prestige products, professional salon products, and skin care products primarily under the Head & Shoulders, Olay, Pantene, SK-II and Wella brand names.
The Grooming division offers razors and blades, electronic hair removal devices, hair care appliances, and shaving products primarily under the Braun, Fusion, Gillette and Mach3 brand names. Every time I shave with my Gillette Fusion razor I realize what a quality product PG offers.
The Health Care division provides feminine care, gastrointestinal, incontinence, rapid diagnostics, respiratory, toothbrush, toothpaste, oral care, and other personal health care products, as well as vitamins/minerals/su​pplements primarily under the Always, Crest, Oral-B and Vicks brand names.
The Fabric Care and Home Care division offers bleach and laundry additives, air care products, batteries, dish care items, fabric enhancers, laundry detergents, pet care products, and surface care products mostly under the Ace, Ariel, Dawn, Downy, Duracell, Febreze, Gain, Iams and Tide brand names.
The Baby Care and Family Care division provides baby wipes, diapers and pants, paper towels, tissues, and toilet papers primarily under the Bounty, Charmin and Pampers brand names.
So we can plainly see why Ackman and a host of other PG investors are excited about the possibility of this diverse conglomerate spinning off a division or two for good measure and for shareholder delight.
The discussions by management and the revealing of PG's fiscal second-quarter 2012 numbers Friday should be quite the show, and may lead to quite the showdown. I'll be picking up more shares if the stock drops to $67.04 or lower. New investors may want to wait till after the big showdown before carefully accumulating shares.
At the time of publication the author had a position in PG.
 More from TheStreet.com
DATA PROVIDERS
Copyright © 2014 Microsoft. All rights reserved.
Fundamental company data and historical chart data provided by Morningstar Inc. Real-time index quotes and delayed quotes supplied by Morningstar Inc. Quotes delayed by up to 15 minutes, except where indicated otherwise. Fund summary, fund performance and dividend data provided by Morningstar Inc. Analyst recommendations provided by Zacks Investment Research. StockScouter data provided by Verus Analytics. IPO data provided by Hoover's Inc. Index membership data provided by Morningstar Inc.
ABOUT
Top Stocks provides analysis about the most noteworthy stocks in the market each day, combining some of the best content from around the MSN Money site and the rest of the Web.
Contributors include professional investors and journalists affiliated with MSN Money.
Follow us on Twitter @topstocksmsn.