Republicans are Chick-fil-A, Dems are Amazon?
A new survey digs into voters' politically polarizing preferences and finds Google and Fox News are among the top choices.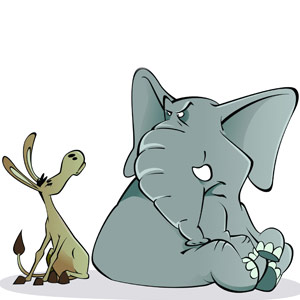 Mentioning PBS or Chick-fil-A in mixed company got pretty uncomfortable this year for reasons having nothing to do with a two-pickle Big Bird sandwich.
Both were among the Top 10 brands for Democrats and Republicans, respectively, on the YouGov Brand Index and gave America just what it needs just weeks before the presidential election: more ways to polarize each other into walking, voting caricatures. The YouGov BrandIndex calculated scores ranging from -100 to 100 by subtracting negative feedback from positive feedback on quality, value, general impression, satisfaction, reputation and willingness to recommend. From there, it's all pigeonholing.
Democrats firmly in President Barack Obama's corner this year made Google (GOOG) their brand of choice with a score of 65, with Amazon (AMZN) coming in second with 58.8 and PBS ranking ninth at 53.1. Mitt Romney Republicans, meanwhile, gave Fox News Channel (NWS) their top score at 64.5, with the History Channel a close second at 62.8 and Chick-fil-A coming in at No. 4 with 61.8.
The fast-food chicken chain finished out of Republicans' Top 10 last year, but anti-gay comments made by chain president Dan Cathay to the Baptist Press, the reaction they spawned and the reaction to that reaction vaulted it toward the top of the rankings. For Democrats, meanwhile, Chick-fil-A's score plummeted from 17.6 last year to -12 in 2012.
Not that Democrats are without their lightning-rod brands, either. General Motors (GM) didn't crack Democrats' Top 10, but was their fourth-biggest mover this year after "Osama Bin Laden is dead, GM is alive" became the catchphrase of their convention and auto bailouts became a cornerstone of the president's campaign.
So which group is making the most headway with foot-dragging, indecisive independents? If brands are any indication, independents are leaning right this year by embracing eight of the brands on the Republicans' list to just six in the Democrats' Top 10. However, independents' favorite brand -- Amazon, with a 57.3 score -- is one of the Democrats' favorite brands while falling off the radar for most Republicans.
If you're a candidate seeking some unifying common ground in the waning days of the campaign, get some quick photos of yourself starting the day with a bowl of Cheerios (GIS), working with Craftsman (SHLD) tools and washing linens in Clorox (CLX). While Republicans seemed to think bags of M&Ms were filled with the leftist agenda and Democrats considered a visit to Lowe's (LOW) tantamount to voting for Nixon, only Cheerios, Craftsman and Clorox on Democratic, Republican and independent brand lists.
Cereal, tools and bleach are fairly inoffensive products, but in a season commonly boiled down to latte-swilling hybrid drivers vs. gun-toting truck owners they're welcome common ground.
More from Top Stocks

LATEST POSTS
11 high-growth stocks to target in 2014
Finding companies set for solid profit increases at a reasonable price is always a winning strategy. By that standard, here are next year's most appealing firms.
ABOUT
Top Stocks provides analysis about the most noteworthy stocks in the market each day, combining some of the best content from around the MSN Money site and the rest of the Web.
Contributors include professional investors and journalists affiliated with MSN Money.
Follow us on Twitter @topstocksmsn.