Is fee pressure latest threat to 'old' network TV model?
It's unclear whether new networks will be able to charge fees, or if they will be forced to rely on advertising for revenue.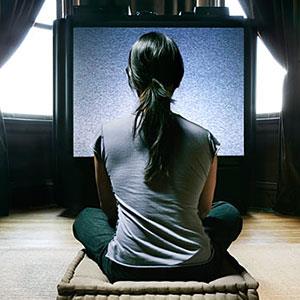 By Steven Birenberg
Al Jazeera's buyout of Current TV at the seemingly high valuation of $500 million triggered lots of discussion about the future of low-rated cable networks. 
The buyout was immediately greeted by an announcement from
Time Warner Cable
(
TWC
) about dropping the service, taking away 9 million subscribers. 
Time Warner has been at the forefront of aggressive affiliate fee negotiations with low-rated cable networks. The multiple system operator (MSO) is leading the charge to reduce or eliminate affiliate fees for low-rated networks. The pressure at the bottom end of the ratings table -- and the high end of your remote control/channel guide -- has been building for some time as cable networks affiliate fee and broadcast network retransmission fees have grown quickly. 
Cable network affiliate fees are growing in the 5% to 10% range and broadcast nets have gone from no retransmission to a multi-billion expense for multichannel video providers in just a few years. Retransmission fees should continue to rise rapidly as broadcast networks and their own affiliates catch up to the cable network model and fees reflect the high value of broadcast nets that still maintain leading viewership levels and lots of important regular and special programming. Cable network affiliate fees are rising at a slower rate but only because the base monthly fee is established at a higher rate since the model has been in place for many years.
Cable and satellite providers are feeling intense pressure from rising programming expenses, which put pressure on margins, as the industry has matured with penetration for multichannel pay TV north of 90% of households. The economic downturn and collapse in housing further pressured the industry, adding urgency for distributors to address rising programming expenses.
Over the past year, it has become clear that one focus of distributors is to reduce or eliminate affiliate fees for low-rated networks. This is especially the case for independent networks without the umbrella of parent companies that own the largest, highly-rated cable or broadcast networks. Current TV clearly falls in this category. Ovation is also in this boat. Time Warner Cable is dropping Ovation due to low ratings and a dispute over whether the network is actually meeting its stated programming strategy.
Multichannel distributors are also focused on low-rated networks from larger companies.
AMC Networks
(
AMCX
) is bearing the brunt of these efforts as affiliate fee negotiations are focused on WE and IFC, which get poor ratings. AMC, the flagship network, provides a lot of cover especially since it has "The Walking Dead," the highest-rated entertainment program on TV so far this season. AMC operates multiple channels but not so many that it can easily battle the distributors.
I suspect that this is headed toward a bifurcated market where large, fully distributed nets are able to sustain affiliate fee growth but low-rated, independent networks lose carriage or see lower affiliate fees. Within the entertainment conglomerates that own multiple networks, it may be hard to tell exactly what is going on. For example, negotiations over USA Networks may not be too difficult but at the same time
NBC Universal
(
CMCSA
) (
VIV
) will be looking for higher fees and broader carriage for a small network it owns like Trio. We may never know how the dollars are split, although my firm, SNL, will surely have the most accurate estimate in its cable network economics models.
I think there are two key things to keep our eyes on as this develops. First, will new cable networks be willing to go it alone, forgo affiliate fees, and build an economic model based solely on advertising revenue? Advertising Age recently noted a number of new networks are adopting this strategy. Will this strategy occur for the small networks of the giant conglomerates as well? Will these advertising-only networks be able to use the Web to build popularity and gain negotiating leverage for distribution? How will these new networks and distributors navigate the conflict between over-the-top and traditional viewing. Second, and probably more importantly for entertainment and media stocks, will any small, low-rated networks owned by the conglomerates lose affiliate fees and be forced to change their model to entirely or almost entirely advertising?
I suspect this will be a major story to watch in media in 2013. After the huge gains for media and entertainment stocks in 2013, I view this as a headwind for the stocks, adding to recently receding worries about cord cutting, over-the-top (online video TV viewing), and the larger worries about the entire economic model of multichannel TV.
More from Minyanville
Are you sure you want to delete this comment?
DATA PROVIDERS
Copyright © 2014 Microsoft. All rights reserved.
Fundamental company data and historical chart data provided by Morningstar Inc. Real-time index quotes and delayed quotes supplied by Morningstar Inc. Quotes delayed by up to 15 minutes, except where indicated otherwise. Fund summary, fund performance and dividend data provided by Morningstar Inc. Analyst recommendations provided by Zacks Investment Research. StockScouter data provided by Verus Analytics. IPO data provided by Hoover's Inc. Index membership data provided by Morningstar Inc.
ABOUT
Top Stocks provides analysis about the most noteworthy stocks in the market each day, combining some of the best content from around the MSN Money site and the rest of the Web.
Contributors include professional investors and journalists affiliated with MSN Money.
Follow us on Twitter @topstocksmsn.