Obama picks GE chief for economic panel
Jeffrey Immelt will advise a council that aims to get US companies hiring again.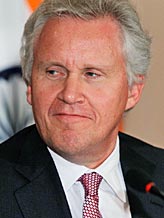 Is
Jeffrey Immelt
the right man to get the country's jobs situation back on track? President Barack Obama thinks so and
has named Immelt
, the chief executive of
General Electric (GE)
, to a new economic advisory panel.
Immelt is essentially the new Paul Volcker, as his panel replaces one previously led by the former Federal Reserve chairman. Immelt's immediate job is to figure out how to get U.S. companies to start hiring.
The pick certainly says a lot about Obama's thinking heading into the 2012 election. He needs to make significant headway with big business -- it doesn't get much bigger than GE -- and he must turn the employment picture around.
Immelt, a lifelong Republican, is entirely qualified for the job. He's already on the board of the New York Federal Reserve Bank, and he spent two years on the economic recovery board that Volcker chaired.
Post continues after video:
He's been chief executive for a decade at GE, which beat analyst expectations today in its fourth-quarter earnings. Shares are up nearly 6% as a result, to $19.47. That will help placate investors who have been clearly frustrated at the stock's performance over the years.
But I wonder exactly how much time Immelt will be able to devote to his new role. After all, he's continuing as chief executive of GE, which I imagine is more than a full-time job.
Bloomberg describes
Immelt as an "outside adviser" to the new panel.
Immelt simply won't have the time to roll up his sleeves and get deep into the jobs situation, which makes me think that role is more public-relations -- a stamp of big-business approval -- than anything else. Volcker privately complained that his panel was merely a public-relations tool for the White House, Bloomberg reported.
At any rate, the nomination paves the way for Immelt to jump from a lackluster, underperforming company to a new, more public role. Politics, perhaps? Immelt says former President Ronald Reagan is one of his personal heroes, and he has been an active contributor to political campaigns for years.
Reagan had "a very simple vision for the country," Immelt told Bloomberg. "He had a 'one-two-three, this is what we're going to get done' about him, and I think that's important for business leadership as well."

I suspect the author - Kim Peterson -  is right. Obama appointed him, but will he really listen, let alone implement his advice? Probably not.  If Jeffrey Immelt gives his 1-2-3 Reagan advice as: 1) Reduce the corporate tax rate. You can't have one of the highest corporate tax rates on the FACE OF THE PLANET, and expect busines to want to do business in America. Trying to get  American businesses to hire more workers is the wrong approach. You need more businesses becomming American (again). 2) Tort reform: We have the worst case load of litigation in the world, and frivilous lawsuits are the first that need to go. 3) Allow the proven success of Intracompany Unions to provide an alternative to uncaring, corrupt Trade Unions. Intracompany were outlawed in 1935, but are successfully used in other countries. Trade unions take up most of the top 10 slots for most powerful lobby organizations ever.
What businesses in the world want to come to the United States to face world record tax rates, world record litigation, and unwieldy, obsolete trade unions?
Obama has taught extreme classes on one world government, crisis creation, and the degradation of national sovereignty for years. Why would he turn conservative to actually solve problems? He won't.
Obama is in major suck up mode for votes. If he gets re-elected he will move back to the left just as he did the first time he was elected. I just hope that people  in this country are not fooled the second time around. The decisions Obama has made since the election are purely to get votes and not where his ideology lies.

Immelt (GE) has aggresively been moving our jobs to abroad.   I don't see how he is going to solve our unemployment issue without hurting GE's and other big businesses' profit.   Most likely, he would make the job situation worse in order to give big business a big favor.   I bet the job loss claim rate remains high, or becomes higher.
Are you sure you want to delete this comment?
DATA PROVIDERS
Copyright © 2014 Microsoft. All rights reserved.
Fundamental company data and historical chart data provided by Morningstar Inc. Real-time index quotes and delayed quotes supplied by Morningstar Inc. Quotes delayed by up to 15 minutes, except where indicated otherwise. Fund summary, fund performance and dividend data provided by Morningstar Inc. Analyst recommendations provided by Zacks Investment Research. StockScouter data provided by Verus Analytics. IPO data provided by Hoover's Inc. Index membership data provided by Morningstar Inc.
ABOUT
Top Stocks provides analysis about the most noteworthy stocks in the market each day, combining some of the best content from around the MSN Money site and the rest of the Web.
Contributors include professional investors and journalists affiliated with MSN Money.
Follow us on Twitter @topstocksmsn.