InvenSense: A double-your-money potential
Surf the mobile wave with this company that is poised for enormous growth in the foreseeable future.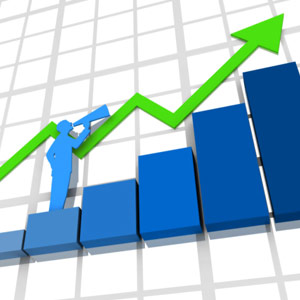 By Michael A. Robinson, Money Morning
A billion consumers will have smartphones by 2016, says a new report by Forrester Research. American consumers alone will own 257 million smartphones and 126 million tablets. Over the next three years, global spending on the mobile wave will grow to $1.3 trillion -- or 35% of the world technology economy.
Global PC sales totaled 76.3 million units during the first quarter of the year, according to researcher IDC. That sounds like a lot -- until you compare it with global smartphone shipments, which came in at 373 million units during the same period, says market research firm Strategy Analytics. That's about a 5:1 ratio ... and is what I call decisive.
But here's where you need to separate opportunity from hype. The best way to make big money from the mobile wave is to identify class-of-the-field supplier companies. These are the entrants who provide such key "enabling" technologies as software, applications, bandwidth, security and digital-payment systems.
Take the case of InvenSense (INVN), a double-your-money profit opportunity that meets all of my criteria for generating high-tech wealth.
The company is all about a critical area known as "motion sensing," a newly emergent subtrend that's fueling the mobile wave. And InvenSense's know-how doesn't just go into smartphones. You'll find it in tablet computers and a wide range of consumer electronics, including gaming consoles and smart TVs that connect to the Internet.
InvenSense forged its reputation on older tech -- in gaming consoles like those for Nintendo's original Wii. That's no longer a growth sector. But mobile is, and thanks to InvenSense's operational excellence, the "Wave" today accounts for 80% of the company's sales.
The main reason smartphones and tablets have exploded in popularity is that businesses and consumers can do so many things with them -- thanks to the mobile apps. The worldwide mobile apps market is projected to zoom from about $18 billion in 2012 to $56 billion in 2015, and InvenSense has two key technologies that make apps possible.
One is gyroscopes -- a big deal, because those tiny gadgets that you can't actually see are what allow you to turn your smartphone upside down and have the screen turn with it. InvenSense says that shipments of gyroscopes used in smartphones could grow to 358 million units next year, up from 49 million back in 2010.
The other InvenSense contribution is embedded compasses. I have several apps on my phone that need to know pretty much my exact location to fully function. And for that, you need an embedded compass.
InvenSense considers its technology to be so unique that it filed a patent-infringement lawsuit against STMicroelectronics (STM), claiming the Swiss company ripped off its motion-sensor technology.
But don't let that patent action -- which has become much more commonplace in recent years -- obscure the key point: InvenSense is a stock that has double-your-money potential.
At a price of roughly $13 a share, InvenSense has a market value of $1.1 billion. INVN has both a profit margin and a return on stockholders' equity (ROE) of 24%. It trades at a forward price-to-earnings ratio of only 14. It has $175 million cash on hand and no debt.
Thus, InvenSense has everything we're looking for in a strategic tech investment: It's in a hot sector, is operationally excellent and has great fundamentals.
It's also a fast grower. Based on my analysis, I'm forecasting the company will increase earnings at an average annual rate of 25% over the next five years. That means the stock could very well double in less than three.
Read more from Money Morning here...
More from MoneyShow.com
DATA PROVIDERS
Copyright © 2014 Microsoft. All rights reserved.
Fundamental company data and historical chart data provided by Morningstar Inc. Real-time index quotes and delayed quotes supplied by Morningstar Inc. Quotes delayed by up to 15 minutes, except where indicated otherwise. Fund summary, fund performance and dividend data provided by Morningstar Inc. Analyst recommendations provided by Zacks Investment Research. StockScouter data provided by Verus Analytics. IPO data provided by Hoover's Inc. Index membership data provided by Morningstar Inc.
ABOUT
Top Stocks provides analysis about the most noteworthy stocks in the market each day, combining some of the best content from around the MSN Money site and the rest of the Web.
Contributors include professional investors and journalists affiliated with MSN Money.
Follow us on Twitter @topstocksmsn.