Cloud computing: Where's the silver lining?
It's become one of the hottest tech and investment trends around, but it's not too late to find upside.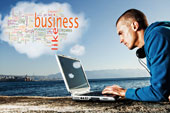 By Suzanne McGee, The Fiscal Times
For more than a decade, we've all been referring glibly to "cyber space" -- that place where misdirected e-mails end up; the home of countless websites peddling discount-priced Viagra; the source of music and movies that stream almost magically onto our tablet devices.

Now cyber space, under its proper name of "the cloud," has become one of the hottest investment trends around -- it even has its own exchange-traded fund, the First Trust ISE Cloud Computing Index Fund (SKYY) to prove it. Over the last three years, the index on which that ETF and other investment products have been based has soared 236%.
But it's been a bumpy ride; the index's volatility has nearly matched the level recorded by some of the International Securities Exchange's commodities-based indices. And the index now hovers 15.6% below its highs for the year. That doesn't necessarily make the sector cheap -- Rackspace Hosting (RAX), for instance, one of the key players in helping companies manage those software and services located in cyber space (a.k.a the cloud) rather than making big investments in on-site proprietary data storage, still trades at an astonishing 95 times its trailing 12-month earnings.
But just as the best strategy for making a fortune during the California Gold Rush was not to pan for nuggets among a horde of other optimists but to be the guy selling jeans and equipment to those wannabe miners, so it's worth thinking about different ways to profit from the explosion in the cloud-computing arena. After all, technology research giant Gartner forecasts that the demand for cloud computing services could be worth $102.1 billion in 2012, up from $68.3 billion last year. The trend isn't going away any time soon.
If you're risk averse, one of the best ways to play the idea is to follow Warren Buffett's lead and snap up some stock in IBM (IBM). True, as we mentioned Thursday, the giant tech firm is already up more than 25% so far this year, at least in part because it has been snapping up players in the cloud computing space. (Buffett's seal of approval, in the form of a $10.7 billion stake, didn't hurt a bit.)

IBM has already pledged to deliver $7 billion in annual revenue from its new cloud-based businesses by 2015, nearly double current levels. And it doesn't hurt that if the potential of the cloud business is tougher to realize -- or requires more investment than anticipated -- IBM has plenty of other businesses that will pull up the slack and still generate returns for investors.
Another strategy is to snap up a stake in the real estate side of things. After all, the data has to live somewhere, and Digital Realty Trust (DLR) is a real estate investment trust that has become one of the biggest developers of data centers from Main Street, USA, to overseas markets like Singapore. True, the data center market looks crowded and companies like Facebook, Google (GOOG) and others are building their own data centers. But the same speculation -- that greater supply and competition would drive down rents -- batted the REIT's share price 18 months ago, only for it to revive.

As a major player in the sector, Digital Realty could emerge as a consolidator or an acquisition target -- and in the meantime, as a REIT, it yields a very attractive 4% or so annually. Yes, the shares look pricey in absolute terms, but they are still less expensive than some pure plays like Rackspace. Buy on any dips, and not only will the price be lower but the yield will be higher.
Finally, there's the indirect approach. EMC (EMC) doesn't just market external storage systems -- it posted record third-quarter results based on revenue and profitability across all its business divisions -- but has a controlling interest in pure-play cloud computing "virtualization" heavyweight, VMware (VMW).

Analysts are bullish on VMWare itself; Oppenheimer and Wunderlich recently upgraded their recommendations to "outperform" and "buy," respectively -- and many expect the company's stock to continue recent gains and return to summertime highs of north of $107.75 from $84.30 Friday. Or there's EMC itself, which benefits from its stake in VMWare and trades at 21 times trailing 12-month earnings, less than half the valuation investors have given VMWare.
Dabbling in cloud computing stocks isn't likely to become straightforward and risk-free any time soon. There are too many clouds of the more traditional variety looming on the horizon, mostly in the form of fears that IT spending of all kinds may be on the verge of slowing down, fears that Oracle (ORCL) fueled last week when it announced weaker-than-anticipa​ted earnings for its fiscal second quarter. But the allure of the cyber cloud is irresistible, and the trend is likely to remain intact over the long haul. With a bit of creativity, investors can find ways to play it that give them exposure to the upside while limiting the worst of the volatility. 
Related Articles

DATA PROVIDERS
Copyright © 2014 Microsoft. All rights reserved.
Fundamental company data and historical chart data provided by Morningstar Inc. Real-time index quotes and delayed quotes supplied by Morningstar Inc. Quotes delayed by up to 15 minutes, except where indicated otherwise. Fund summary, fund performance and dividend data provided by Morningstar Inc. Analyst recommendations provided by Zacks Investment Research. StockScouter data provided by Verus Analytics. IPO data provided by Hoover's Inc. Index membership data provided by Morningstar Inc.
ABOUT
Top Stocks provides analysis about the most noteworthy stocks in the market each day, combining some of the best content from around the MSN Money site and the rest of the Web.
Contributors include professional investors and journalists affiliated with MSN Money.
Follow us on Twitter @topstocksmsn.