Mitsubishi UFJ's future isn't totally grim
The Japanese bank is getting near an attractive point for an entry, again.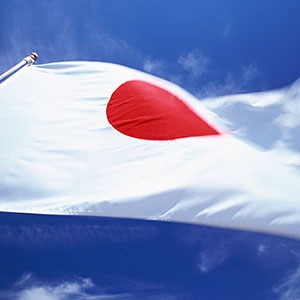 The drop in the New York traded ADRs (American Depositary Receipts) of Mitsubishi UFJ Financial Group (MTU) has been brutal. In just a bit more than two weeks the ADRs have plunged 22% from a high of $7.28 on May 15 to a close of $5.68 on Monday.

These ADRs are a member of my Jubak's Picks portfolio. I added them to that portfolio on March 26 at a price of $5.92. Because of that relatively low purchase price, my loss on this position is just 4.1% as of Monday's close.
But at that Monday close of $5.68 these ADRs now trade below my March price of $5.92. Which raises the musical question (sing along, please) of whether, since I liked these ADRs at $5.92, I still like them—or even like them more--at $5.68?
To answer that, I'll have to peel through several layers of explanation. Sort of like peeling an onion—but with fewer tears, I hope.
Layer 1:

Rising yields on Japanese government bonds, a strengthening yen and worries that the Bank of Japan had lost control of interest rates have all combined to produce a sharp correction after the Tokyo stock market's 80% rally. Banks have been among the hardest hit sectors on worries that rising interest rates would produce huge mark to market losses in their bond portfolios. The losses, the Bank of Japan felt it inexplicably necessary to say, could add up to 10% for major Tokyo banks and 20% for regional banks. Under the circumstances, you shouldn't be surprised to learn other big Tokyo banks have seen their shares take a loss almost identical to that suffered by the Mitsubishi UFJ ADRs 22% drop. Tokyo shares of Sumitomo Mitsui Financial Group, for example, are down 22% from their May 13 high through the Monday close.
Layer 2:

Japan's big banks have said that the Bank of Japan's monetary stimulus will make lending less profitable in the fiscal year that ends in March 2013. And banks have said a pickup in economic growth isn't likely to result in a big enough increase in loan volume to make up for the decline in profitability. Sumitomo Mitsui, for example, forecast that net income will drop 27% in fiscal 2014 from fiscal 2013. Mitsubishi UJF forecast an 11% drop. Mizuho Financial Group (8411.JP in Tokyo) also predicted an 11% decline in net income.
Layer 3:
Japan's big securities companies have signaled that they're expecting lower fee income in the next fiscal year as a falling stock market -- or at least one that doesn't match the 80% gains from the November 2012 lows -- results in lower demand for financial products such as investment trusts. Banks were counting on rising fee income to offset lower margins in their lending business. That now seems less likely.
So what do I wind up with, after peeling off these layers?
Despite their pessimism about lending margins and fee income, the future doesn't look totally grim for Japanese banks. In fact, the March projections for fiscal 2014 by the banks themselves were higher than those of market analysts. And the banks have backed up their belief in those projections by raising dividends. Both Sumitomo Mitsui and Mitsubishi UFJ raised dividends for fiscal 2014 in March. For Mitsubishi UFJ the increase was to 14 yen from 13 yen. That's the bank's second dividend increase in as many years—after Mitsubishi went five years without a dividend increase.
One layer up, Japan's biggest banks may have less exposure to climbing yields than the recent drop in share prices indicates. Many big banks hold their bond portfolios to maturity so they don't face mark to market losses, and many have kept portfolio maturities short. Mizuho, for example, has said that it plans to keep the maturity of Japanese of government bonds that it holds below three years.
And big Japanese banks have been reducing their holdings of government bonds, as the Bank of Japan increases its purchases. The biggest Japanese banks are more than comfortable accessing international markets to make up for a shortfall in domestic bond liquidity.
To sum up, I still like the big Japanese banks, such as Mitsubishi UFJ Financial Group, as a
way to participate in the recovery of the Japanese economy (even if it proves to be only temporary) and as a leveraged bet on the resumption of the Japanese stock rally after the end of the current painful correction. (Big Japanese banks are leveraged to any stock market rally because of their large portfolios of equities.)
I do recognize that the danger now is that I can't predict where the current correction will end—buying Japanese bank shares here does have an element of the classic attempt to catch a falling knife. And I do recognize that the next stage in the rally in Japanese stocks—if there is one—isn't likely to be as explosively profitable as the one that stretched from mid-November to mid-May.
In recognition of that I'd like to add to my position in Mitsubishi UFJ ADRs—or start one—at a price somewhat lower than my price back in March. The 200-day moving average sits at $5.38 on June 3. The low for the ADRs on the year was $5.23 back on January 23. I'd like to get a price near that level under these conditions.

Full disclosure: I don't own shares of any of the companies mentioned in this post in my personal portfolio. When in 2010 I started the mutual fund I manage, Jubak Global Equity Fund, I liquidated all my individual stock holdings and put the money into the fund. The fund did own shares of Mitsubishi UFJ Financial Group as of the end of March. For a full list of the stocks in the fund as of the end of March see the fund's portfolio.
MSN Money on Twitter and Facebook
Like us on Facebook: MSN Money and Top Stocks
Follow us on Twitter: @msn_money and @topstocksmsn
DATA PROVIDERS
Copyright © 2014 Microsoft. All rights reserved.
Fundamental company data and historical chart data provided by Morningstar Inc. Real-time index quotes and delayed quotes supplied by Morningstar Inc. Quotes delayed by up to 15 minutes, except where indicated otherwise. Fund summary, fund performance and dividend data provided by Morningstar Inc. Analyst recommendations provided by Zacks Investment Research. StockScouter data provided by Verus Analytics. IPO data provided by Hoover's Inc. Index membership data provided by Morningstar Inc.
ABOUT
Top Stocks provides analysis about the most noteworthy stocks in the market each day, combining some of the best content from around the MSN Money site and the rest of the Web.
Contributors include professional investors and journalists affiliated with MSN Money.
Follow us on Twitter @topstocksmsn.