Are Obama's employment gains for real?
After a poor debate performance, the president's re-election campaign gets a boost from a surprise drop in joblessness. But something doesn't seem right.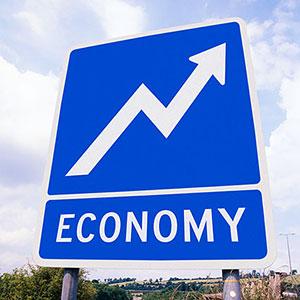 All of this seems just a little too perfect.  I'm not a tin-hat conspiracy theorist, but something doesn't smell right. On the face of it, the economy seems to be gaining traction despite terrible ancillary evidence, including pitiful reports on durable goods and factory orders. Friday's jobs report showed the unemployment rate dropping to 7.8%, thanks to a whopping 873,000 spike in household employment (vs. a 368,000 drop in August).
That's the largest one-month gain in 29 years, excluding the annual Census population adjustments. It also far exceeds the gains suggested by the 114,000 increase in payrolls, calculated based on a separate survey of businesses.
Is it election year statistical engineering, as suggested by former GE CEO Jack Welch on Twitter when he said the data are a response to Obama's debate performance? Or is the job market truly bouncing back?
Partisans are up in arms. Americans for Limited Government issued a statement saying the numbers used by the Bureau of Labor Statistics are wrong or manipulated. Labor Secretary Hilda Solis fired back that "it is insulting when you hear people just cavalierly say that somehow we're manipulating numbers."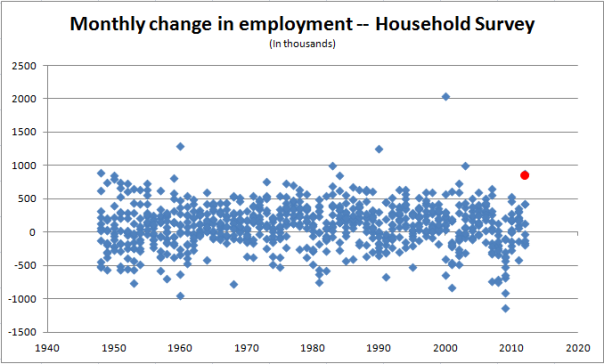 There are some irregularities. Superficially, there are things like the way the number of people who gained part-time employment for economic reasons (582,000) was precisely two-thirds of the 873,000 household survey increase. That's 66.666666% out to as many decimal places as you'd care to calculate. That seems a little too perfect.
There is also that gap between the household survey employment gains and the payroll gains on the establishment survey. At 759,000, it's the eighth-largest gap since 1948 and the largest gap since 2003.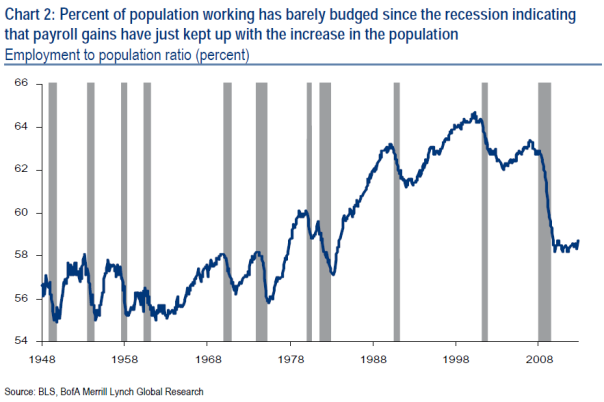 There's also the fact that the employment-to-popula​tion ratio, arguably a truer measure of the health of the labor market, has barely budged. Translation: The economy is adding only enough jobs to just offset population growth.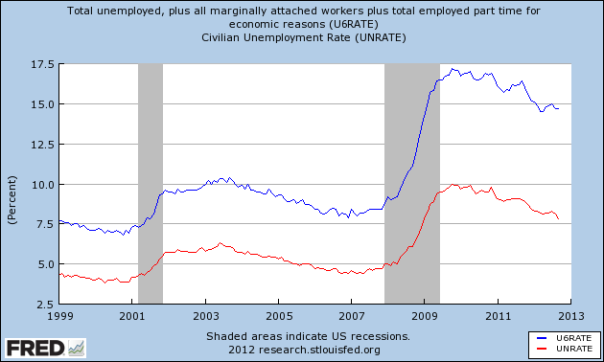 The broader U6 measure of unemployment was also unchanged, at 14.7%, because of the rise in part-time workers who would rather have a full-time job. The gap between the U6 and the standard U4 measure remains large.
The report also relied heavily on gains in education, which compensated for weaker-than-expected​ private-sector gains, as well as part-time positions. And the household survey, the source of the drop in the unemployment rate, is well-known for being very volatile and prone to seasonal adjustment errors. For instance, there has been a surge in part-time positions in September for each of the past three years, which suggests the BLS' models need tweaking.
Analysts at Merrill Lynch aren't convinced the gains are sustainable, given the economic drag likely from the "fiscal cliff" of tax hikes and spending cuts worth about 5% of GDP unless Congress acts before year's end. Already, political uncertainty has CEOs nervous, withholding capital investments and new orders. That will drag on employment in the months to come.
Unless payroll gains increase markedly, the drop in the unemployment rate won't be maintained -- the point made in the Merrill Lynch chart above.
Payroll gains of about 100,000 just won't cut it. According to Gluskin Sheff economist David Rosenberg, given that we're in the 39th month of an economic expansion, typical monthly payroll gains would be around 220,000. Also, 47% of private-sector companies either cut their staffing requirements or held them steady, up from 42% just three months ago. Fewer than 40% of manufacturers are hiring.
No surprise then that more than half the payroll gain was concentrated in two sectors: education/health and leisure/hospitality,​ which, combined, represent just a 25% share of overall employment.
Also, weekly wage gains were offset by higher costs at the gas pump and at the grocery store. Thus, despite the drop in the unemployment rate, Rosenberg expects Q3 GDP growth to still clock in around 1.5%. That just isn't fast enough.
Philippa Dunne of the Liscio Report notes that we've regained close to half -- 48% -- of the jobs lost between December 2007 and February 2010. At the current pace of job creation, it'll take 40 months to recoup all the losses.
The proof is in the pudding. If the job gains translate into higher spending and income data, and stronger September retail sales numbers, than the critics and skeptics will be proved wrong. If not, maybe Jack Welch, who knows a thing or two about tweaking numbers to maintain consistent earnings growth while at GE, was on to something.
For now, Wall Street seems unconvinced. Consumer stocks, such as those represented by the Retail SPDR (XRT) and the Consumer Discretionary SPDR (XLY), have been lagging the overall market since mid-September.

Check out Anthony's investment advisory service The Edge. A two-week free trial has been extended to MSN Money readers. Click here to sign up. Contact Anthony at anthony@edgeletter.c​​​​om and follow him on Twitter at @EdgeLetter. You can view his current stock picks here. Feel free to comment below.
 

DATA PROVIDERS
Copyright © 2014 Microsoft. All rights reserved.
Fundamental company data and historical chart data provided by Morningstar Inc. Real-time index quotes and delayed quotes supplied by Morningstar Inc. Quotes delayed by up to 15 minutes, except where indicated otherwise. Fund summary, fund performance and dividend data provided by Morningstar Inc. Analyst recommendations provided by Zacks Investment Research. StockScouter data provided by Verus Analytics. IPO data provided by Hoover's Inc. Index membership data provided by Morningstar Inc.
ABOUT
Top Stocks provides analysis about the most noteworthy stocks in the market each day, combining some of the best content from around the MSN Money site and the rest of the Web.
Contributors include professional investors and journalists affiliated with MSN Money.
Follow us on Twitter @topstocksmsn.