Hurricane blows into stock market history
Sandy prompts the first unplanned multiday trading shutdown since the Sept. 11 attacks.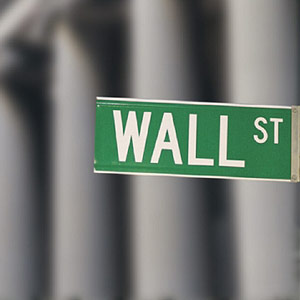 When the New York Stock Exchange and Nasdaq announce they're closing and don't know when they'll open again, that's when you know Hurricane Sandy has made it in New York.
Both markets were closed Monday in anticipation of the storm and will be closed Tuesday, as well, according to Reuters. 
The bond markets have already closed early, leaving only the folks in commodities to weather the storm. That puts Sandy in some pretty rare company when it comes to market-shuttering mayhem.
While the New York Stock Exchange has kept impromptu closures to a minimum since Aug. 8, 1885 -- when it honored President Ulysses S. Grant's funeral with its first special closure -- they're not a completely abnormal occurrence. 
The last event that resulted in an unplanned multiple-day shutdown was the terrorist attack on the World Trade Center in 2001, which closed the market from Sept. 11 until Sept. 14. Weather, however, hasn't halted trading since Feb. 11, 1994, when a snowstorm closed the market at 2:30 p.m. Storms haven't closed the market completely since Hurricane Gloria blew into town on Sept. 27, 1985, and haven't kept it shut for any length of time since the Blizzard of 1888 erased two days of trading.
That's remarkable hardiness, considering the market of the supposedly tough, gritty New York of the late '60s and early '70s either closed early or delayed opening because of weather-related issues 10 times. Markets closed for a full day only once in that stretch -- when heavy snow kept traders away on Feb. 10, 1969 -- but were scared into a 3 p.m. closure on Aug. 9, 1976, just for a hurricane watch.
Before you jump all over those New Yorkers for shutting financial institutions in the face of stiff wind and flurries, keep in mind that the market's history is riddled with far more frivolous closures. Back in 1889, it closed for three days to celebrate the 100th anniversary of George Washington's inauguration. It took a whopping four days off in 1892 to commemorate the 400th anniversary of Christopher Columbus' voyage. It's also closed or delayed openings at various points for a two-day parade for Admiral George Dewey after the Spanish-American war (1899), the coronation of the King of England (1902), an eclipse of the sun (1925), a parade for transatlantic flyer Charles Lindbergh (1927), a parade for General Douglas MacArthur (1951) and the first moon landing (1969).
The market has since tightened its closure policy and restricts full-day observances to the deaths of former presidents, while allowing occasional emergency closures for weather, computer glitches, utility outages and other unforseeable circumstances. Multi-day market closures are now almost unheard of. Before Sept. 11, the last time the market closed several days in a row was during the two-day V-J Day celebration marking the end of World War II in 1945.
As a market-stopping event, however, Sandy would be small potatoes even if it wiped out trading into Wednesday. Even under the most dire circumstance, Sandy's market impact couldn't come close to matching that of World War I. The hostilities in Europe closed the markets from July 31 through Nov. 27 in 1914 and restricted share prices until spring 1915. The markets subsequently closed for two days to let folks register for the draft, three days to turn off the heat and conserve fuel for the war effort, and another three days to celebrate the war's end and the return of American troops.
Call Sandy a perfect storm or Frankenstorm, but unless it's The Storm to End All Storms, the markets will move on.
More from Top Stocks

DATA PROVIDERS
Copyright © 2014 Microsoft. All rights reserved.
Fundamental company data and historical chart data provided by Morningstar Inc. Real-time index quotes and delayed quotes supplied by Morningstar Inc. Quotes delayed by up to 15 minutes, except where indicated otherwise. Fund summary, fund performance and dividend data provided by Morningstar Inc. Analyst recommendations provided by Zacks Investment Research. StockScouter data provided by Verus Analytics. IPO data provided by Hoover's Inc. Index membership data provided by Morningstar Inc.
ABOUT
Top Stocks provides analysis about the most noteworthy stocks in the market each day, combining some of the best content from around the MSN Money site and the rest of the Web.
Contributors include professional investors and journalists affiliated with MSN Money.
Follow us on Twitter @topstocksmsn.