New year brings 4 'golden crosses'
This signals long entry opportunities.
By Tom Aspray, MoneyShow.com
Many investors are likely aware of the term golden cross, which is defined as a short-term moving average (MA) crossing a longer-term moving average. Most often, this refers to the 50- and 200-day moving averages.
On Jan. 3, the 50-day MA for the SPDR Diamond Trust (DIA), the primary Dow-Tracking ETF, crossed above the 200-day MA. The 50-day had been below the 200-day since Aug. 24, 2011.
The performance measures for buying or selling based solely on golden crosses is dismal, but I do feel that they can help identify opportunities in the markets. It should be noted that the 50-day MA on the Spyder Trust (SPY) is still 1.6% below its 200-day MA.
I have also noticed that in many cases, stocks that form new bullish crosses are ones that are also outperforming the S&P 500, meaning they show positive relative performance, or RS analysis.
These four stocks also have positive volume patterns, which allows for clear entry and stop placement.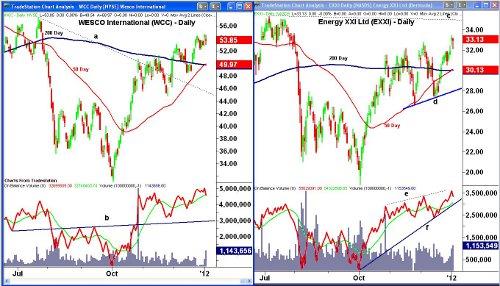 Chart Analysis: WESCO International (WCC) is a $2.3 billion wholesaler of industrial equipment. The stock hit a high of $64.90 in early 2011 and dropped as low as $31.06 in early October.
The daily downtrend, line a, was broken in early November, and after a setback, it surged back above
WCC has overcome the 61.8% Fibonacci retracement resistance from the early-2011 highs
The moving averages are now just below $50, which represents first support
The last swing low is at $48.46 with the late-November low at $44.77
The on-balance volume (OBV) broke through resistance at the end of October and is leading prices higher. The weekly OBV (not shown) is also positive
Energy XXI Limited (EXXI) is a $2.5 billion oil and gas equipment and services company. It operates in Louisiana and Texas, as well as offshore in the Gulf of Mexico. EXXI traded as high as $37.20 in May 2011.
EXXI shows very strong relative performance, as it has performed four times better than SPY since the October lows
There is minor support now at $32 with the moving average support now at $30.13
There is much stronger support, line d, in the $28 area
The daily OBV made new highs on Monday (line e) and has been very strong since the October lows
The weekly OBV (not shown) formed a bullish divergence at the October lows and is above its weighted moving average (WMA)
It should be noted that on a seasonal basis, crude oil typically bottoms in February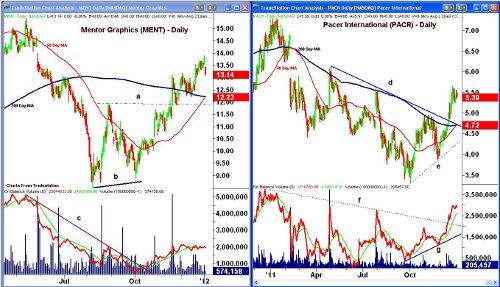 Mentor Graphics
 (
MENT
) is a $1.4 billion technical and system software company. Its automation systems help to design, test, and analyze electronic hardware. The stock peaked in February 2011 at $16.56, but by August, it had lost almost 50% of its value.
The 50- and 200-day MAs are now at $12.23
The daily chart shows an apparent double-bottom formation (line b) that was confirmed by the move through resistance at line a
Due to the double bottom, the $11.90 area now becomes good support, and it also corresponds to the 38.2% Fibonacci retracement support level
Daily OBV moved through its downtrend, line c, just after the October lows, but it is slightly lagging the price action currently
Weekly OBV (not shown) is above its rising weighted moving average
Pacer International (PACR) is a $188 million freight transportation and logistics company based in Ohio. PACR had a high in 2010 of $9.45 but traded as high as $25.25 in 2008.
There is a high short interest in PACR with a current short ratio close to 32. That means it would take 32 days of average daily volume just to cover the short positions
The daily downtrend (line d) was broken in the middle of December. Minor support is now in the $5 area
The moving averages provide further support at $4.72 with the daily uptrend, line e, at $4.30
Daily OBV has also broken its downtrend, line f, and is acting stronger than prices
What It Means: The biggest problem faced when trying to invest or trade based on crosses of the 50- and 200-day MAs is buying right on the cross. This generally requires that a wide stop be used, which then makes the risk/reward unfavorable.
Typically, I look to buy on a pullback towards the 200-day MA and often look at a level that is 0.5% to 1% above the 200-day MA. A stop under the prior swing low will often create a favorable risk/reward trading plan.
How to Profit: For WESCO International (WCC), buy at $50.28 with a stop at $48.22 (risk of approx. 4%). If filled, sell half the position at $59.44.
For Energy XXI Limited (EXXI), buy at $30.44 with a stop at $28.28 (risk of approx. 7%). If filled, sell half the position at $36.32.
For Mentor Graphics (MENT), buy at $12.42 with a stop at $11.88 (risk of approx. 4.3%). If filled, sell half the position at $14.52.
Pacer International (PACR) has the highest risk with the highest potential return. Go 50% long at $5.09 and 50% long at $4.84 with a stop at $4.38 (risk of approx. 11.8%). If filled, sell half the position at $6.45.
ABOUT
Top Stocks provides analysis about the most noteworthy stocks in the market each day, combining some of the best content from around the MSN Money site and the rest of the Web.
Contributors include professional investors and journalists affiliated with MSN Money.
Follow us on Twitter @topstocksmsn.