Can we all just make some money now?
Bernanke simply kicked the can down the road. With his Fed-speak behind us, it's time to focus again on individual stocks, leaving others to pontificate on the big picture.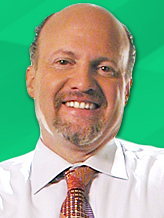 What did people want from Ben Bernanke? Did they want him to say, "I am an idiot and I can't get the job done, so go find someone else?" Did they want him to tell us that the Greek worries are ridiculous and we shouldn't be fearful of a contagion? Did we want him to say we are on the eve of destruction?
No, I know what they wanted him to do. They wanted him to wave a magic wand that would force Congress and the president to stop profligate spending, including war spending, cut back entitlements, issue long-term U.S. government debt to take advantage of the low long-term rates and stave off a liquidity event, solve the pension problems, raise age limits for Social Security, and speed up the stalled housing foreclosure process and buy 2 million vacant homes to torch them.
Big wish list.
In truth, it would have been better if Bernanke had called out the bad guys rather than saying that he's given all he's got, like some sort of Scotty trying to save the Enterprise from being sucked into a black hole.
He should have said that unless we refinance our country with long-term debt while we simultaneously cut back on long-term entitlements, Greece will be us. We will have our debt downgraded, and we will have problems that can be solved by the IMF, not us. He wouldn't say we are living beyond our means.
It would also have been better for him to say something about how his methods have not succeeded beyond stopping deflation or, better, have not succeeded yet in creating jobs.
Instead, alas, he kicked the can! He talked about how 2012 will be better, something that's hard to fathom, given that the trajectory has turned for the worse.
The good news, though, is this World Series of Fed-speak is over for a while, which allows us to concentrate on finding companies that aren't levered to the morass we face in this country. That means finding companies like Jabil (JBL), which is making a fortune at the moment despite having Research In Motion (RIMM) and Cisco (CSCO) as two of its biggest clients.
That means finding a FedEx (FDX) that is reinventing itself as a global supply-chain facilitator for big and small and the entire Internet. It means examining whether CarMax (KMX) is sustainable and, if it is, buying some up here. It means starting to value Bed Bath & Beyond (BBBY) like the legitimate retailer that it is.
In other words, it means getting back on the microeconomic horse, even as the others -- who don't care about individual stocks and think the whole world is a giant ETF led by the banks -- insist we stay focused on macro events.
I say let them pontificate. They are great at that. We have a lower but more gratifying mission: trying to make money.
At the time of publication, Cramer had no positions in the stocks mentioned.
Jim Cramer is co-founder and chairman of TheStreet. He contributes daily market commentary for TheStreet's sites and serves as an adviser to the company's CEO.
Follow Cramer's trades for his Charitable Trust.
Related Articles

As far as I can tell the only thing that has been accomplished is spending billions to bail our banks  when they should have been putting people behind bars.  Record bonuses being paid to CEO's for being part of the problem.  What's wrong with this picture?  And although the bailout of the Auto industry was good just to preserve what little manufacturing jobs we have it did nothing to address the lack of meaningful jobs for others.  So if you worked for the auto company that was good for you, but what about everyone else.  The extension of the unemployment benefits for 2 years was also a farce, it was  a lopsided social that did nothing to help those who were unemployed that were not eligible for unemployment.  Also not fair.  They could have used that money to stimulate job growth in the US and that would have made more sense.  By extending unemployment benefits just created a reason for 2 million Americans not to look for low paying jobs.  I suppose it did help those who only qualify for low paying jobs otherwise they would have had to compete with the other 2 million for what little that was out there.  It's all just a big dog and pony show if you ask me.
Are you sure you want to delete this comment?
DATA PROVIDERS
Copyright © 2014 Microsoft. All rights reserved.
Fundamental company data and historical chart data provided by Morningstar Inc. Real-time index quotes and delayed quotes supplied by Morningstar Inc. Quotes delayed by up to 15 minutes, except where indicated otherwise. Fund summary, fund performance and dividend data provided by Morningstar Inc. Analyst recommendations provided by Zacks Investment Research. StockScouter data provided by Verus Analytics. IPO data provided by Hoover's Inc. Index membership data provided by Morningstar Inc.
ABOUT
Top Stocks provides analysis about the most noteworthy stocks in the market each day, combining some of the best content from around the MSN Money site and the rest of the Web.
Contributors include professional investors and journalists affiliated with MSN Money.
Follow us on Twitter @topstocksmsn.