My favorite tobacco stock is ... Intel?
Sure, INTC sells semiconductors, but the unassailable moat and huge dividends sure smell like Big Tobacco.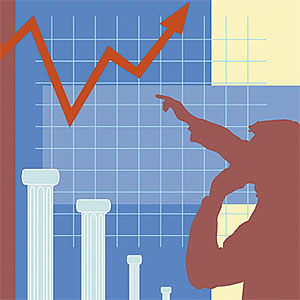 By Charles Sizemore

Yes, you read that correctly. My favorite "tobacco stock" is Intel (INTC).

Lest you think I've lost my mind, I am aware that Intel does not sell or market cigarettes or other tobacco products. Intel is the world's premier designer and manufacturer of computer processors.

But while Intel is not a tobacco company, it most certainly is a tobacco stock … or at least, it shares many of their characteristics.

If you've read some of my past posts, you probably are familiar with my reasons for liking tobacco stocks over the long haul, even if I recommend avoiding them at current prices (see The Price of Sin and Time to Stop Bogarting Cigarette Stocks). Because of the social stigma associated with "vice investments" like tobacco, alcohol and firearms, many institutional investors shun them, either by choice or by socially responsible investment mandate. This causes sin stocks to be priced as perpetual value stocks, with the low valuations and fat dividends that this entails.

It's hard to find a scale by which Intel would be considered socially irresponsible, so in this particular respect, Intel has nothing in common with tobacco stocks. But let's take a look at some of the other characteristics that make tobacco stocks -- and Intel -- interesting.

Tobacco companies have gargantuan barriers to new competition; what Warren Buffett might call an unassailable moat. Given the legal and political risk and the size and scale needed to deal with both, it would be next to impossible to start a new tobacco company now. You would need infinitely deep pockets and decades' worth of political connections. As a result, Big Tobacco has become an entrenched oligopoly in which a handful of players -- such as Altria (MO), Reynolds American (RAI) and Lorillard (LO) -- completely dominate.

But even if you could start a new tobacco company, why would you? It's not exactly a business with a bright future. In the developed world, tobacco is a business in steady but terminal decline.

This brings me back to Intel.

I'm actually in the minority among investors at the moment in that I see a bright future for Intel, which is the largest semiconductor manufacturer in the game -- by a lot. No, INTC hasn't figured out mobile yet, but it will. As mobile devices become more and more sophisticated, they will need the power that only Intel can provide. And then there's the server business, which accounts for roughly a quarter of Intel's revenues. Ironically, while Intel has yet to really break into mobile, its server business has benefited handsomely as the mobile revolution has created greater demand for cloud services.

Yet this is not how the market views Intel right now. No, Intel is a company resigned to gentle decline, as its core PC market inevitably shrinks. From the way Intel bears talk, PC users are disappearing from polite company faster than smokers, forced to type on their physical keyboards in alleys behind buildings or in doorways.

For the sake of argument, let's assume they're right.

Intel still would be a buy at current prices.

As Big Tobacco has proven for decades, companies in declining industries can make excellent investments under the right conditions. If you have a dominant market position, a conservative balance sheet and ample cash flow for share repurchases and dividends, you can do quite well by your investors -- even in a shrinking market. It has worked for Big Tobacco investors, and it will work for Intel investors, too.

At just 9 times earnings, Intel is priced significantly cheaper than any major tobacco stock, and its dividend is competitive at 4.3%. I might add that Intel's dividend has risen by over 40% in the past two years, and it still only accounts for 37% of (depressed) earnings.

Buy Intel and reinvest your dividends. If I am right, Intel will regain its place among America's most reputable growth stocks. But even if I'm wrong, Intel is positioned to offer "tobacco-like" returns for the foreseeable future.

Note: The "Intel is a tobacco stock" concept was conceived during a podcast interview with InvestorPlace Editor Jeff Reeves in which we each discussed our picks in the 10 Best Stocks of 2013 contest. Jeff's choice was Intel; mine was German luxury carmaker Daimler (DDAIF).

Charles Lewis Sizemore, CFA, is the editor of the Sizemore Investment Letter, and the chief investment officer of investments firm Sizemore Capital Management. Sizemore Capital is long INTC and DDAIF. Sign up for a FREE copy of his new special report: Top 3 ETFs for Dividend-Hungry Investors

More from InvestorPlace

DATA PROVIDERS
Copyright © 2014 Microsoft. All rights reserved.
Fundamental company data and historical chart data provided by Morningstar Inc. Real-time index quotes and delayed quotes supplied by Morningstar Inc. Quotes delayed by up to 15 minutes, except where indicated otherwise. Fund summary, fund performance and dividend data provided by Morningstar Inc. Analyst recommendations provided by Zacks Investment Research. StockScouter data provided by Verus Analytics. IPO data provided by Hoover's Inc. Index membership data provided by Morningstar Inc.
ABOUT
Top Stocks provides analysis about the most noteworthy stocks in the market each day, combining some of the best content from around the MSN Money site and the rest of the Web.
Contributors include professional investors and journalists affiliated with MSN Money.
Follow us on Twitter @topstocksmsn.