Ailing Sears dropped from S&P 500
Despite its recent struggles, the retailer maintains a positive outlook.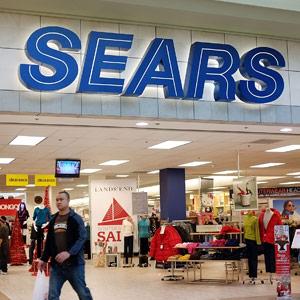 By
Joe Young
Since Sears Holdings' (SHLD) public float has fallen below the 50% threshold required for inclusion in the S&P 500 -- and stayed that way for some time -- the company is being replaced by LyondellBasell (LYB) as of Sept. 4.
Shares of Sears have tumbled more than 8% in afternoon trading, while LyondellBasell is up almost 4% on the news.
Sears' removal from the S&P 500 follows news that the retailer is trying to separate its Hometown and Outlet businesses. Sears Holdings will no longer have any ownership rights over the Hometown business, which will become a separate, publicly traded entity.
Recent financial results for Sears showed second-quarter EBITDA improved substantially due to gross margin expansion that was only slightly offset by lower sales. Same-store sales for the quarter decreased across the board -- Sears was down 2.9%, while Kmart brand was down 4.7%. Bank of America noted that the largest decline was in consumer electronics as a result of price compression.
Recent drought conditions have also lowered lawn and garden equipment sales, but smaller inventories have meant fewer clearance sales. Although it was not a great quarter for Sears, initiatives announced earlier in 2012 did result in improved inventories -- the goal was a $600 million reduction, despite lower sales -- and the company has boosted liquidity on asset sales and reduced overhead.
Sears has time to improve through the end of 2012, despite being removed from the S&P 500. Asset sales and restructuring efforts may enable the company to regain ground against competitors Wal-Mart (WMT) and Home Depot (HD), which reported domestic sales up 2.2% and 2.6%, respectively. 
With the separation of businesses and the removal from the S&P 500, what can investors expect near-term? Despite its struggles, the company is making efforts to hold onto market share. Sears did witness gross margin increases in the second quarter, thanks to JC Penney's (JCP) recent problems. According to ISI Group, 78.5% of Sears stores are within a five mile radius of a JC Penney store. JC Penney has recently been trying to broaden its offerings, but also reported less-than-desirable second-quarter results.
Despite concerns about Sears' wellbeing, we should see an upswing in the 2012 holiday season and possibly the company's eventual return to the S&P 500.
More from Benzinga

Sears deserves what it gets. There in store service is very poor. On several different occasions I went into stores asking for help. It either took forever to get service or never got any at all. My last time there was about four months ago. I went in to by 2 cameras for work. No sales person showed up for fifteen minutes. I went to the next department service area and asked for help. They told me they would be right there. After another 20 minute wait I went back to the other department again and let them know that I have been waiting for help over a half hour. They said they couldn't do anything about it that it was not there department but they would call again. I waited another 15 minutes and left. I had problems in the past but this one broke the camel's back so to say. Be one day late on your credit card payment with them, after having one for over 10 years and the jacked up the rates. It's ok to blow you off, but when it's in reverse they are like vultures ready to swoop in and tear you apart. They need to restructure with a complete change of management and philosophy first. Then maybe they would have a chance.

Sears website is very bad.  They should take clues from Amazon or Costco.  I was a regular customer buying 1-2 items per months from Sears.com before, but ever since they released new site, I am constantly getting errors during checkout, couple of weird time-out's errors and blank pages.  Seems like too low quality site to have for such a big company.

Sears where I live has very little going on until the weekend comes, then its like Mexico up in there. I wont shop there for anything other than the optical department.  Sad, poor quality products, and even worse customer service has brought Sears to its knees. I mean who really needs Sears, except people with Sears credit card. I have found it much cheaper elsewhere.

Bad management that ran Kmart into the ground declared bankruptcy then sold off 98% of Kmart's real estate holdings at markets high (2005-2006), bought up Sears and now doing the same with Sears. Just wait half a year Sears will go into bankruptcy protection and same management will use it to offload real estate.  Those people have no souls, they do not care about their employees, they want company to fail in order to profit.
Are you sure you want to delete this comment?
DATA PROVIDERS
Copyright © 2014 Microsoft. All rights reserved.
Fundamental company data and historical chart data provided by Morningstar Inc. Real-time index quotes and delayed quotes supplied by Morningstar Inc. Quotes delayed by up to 15 minutes, except where indicated otherwise. Fund summary, fund performance and dividend data provided by Morningstar Inc. Analyst recommendations provided by Zacks Investment Research. StockScouter data provided by Verus Analytics. IPO data provided by Hoover's Inc. Index membership data provided by Morningstar Inc.
ABOUT
Top Stocks provides analysis about the most noteworthy stocks in the market each day, combining some of the best content from around the MSN Money site and the rest of the Web.
Contributors include professional investors and journalists affiliated with MSN Money.
Follow us on Twitter @topstocksmsn.