Trends in gold, copper, oil echo sell-off in S&P 500
If you have to trade, keep position sizes small and define your risk, which is elevated at this time.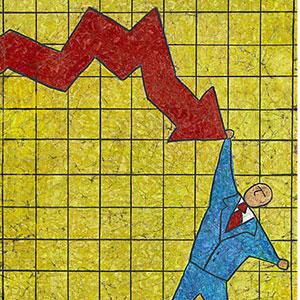 By Chris Vermeulen 
For the past several weeks, everywhere I looked all I could find was bullish articles. After the fiscal cliff was patched at the last second, prices surged into the start of 2013 and have since climbed higher all the way into late February.
I warned readers that this runaway move to the upside, which was characterized by a slow grinding move higher on excessively low volume and low volatility, would eventually end violently. I do not have a crystal ball, this is just based on my experience as a trader over the years.
Unfortunately when markets run higher for a long period of time and just keep grinding shorts, what typically follows is a violent sell-off. I warned that when the sell-off showed up, it was likely that weeks of positive returns would be destroyed in a matter of days.
The price action in the 
S&P 500 Index 
(
$INX
) since Feb. 20 has erased most of the gains that were created in the entire month of February already, and lower prices are possible, if not likely. However, there are opportunities to learn from this recent price action.
There were several warning signs over the past few weeks that were indicating that a risk-off type of environment was around the corner. As a trader, I am constantly monitoring the price action in a variety of futures contracts in equities, currencies, metals, energy, and agriculture to name a few.
Besides looking for trading opportunities, it is important to monitor the price action in commodities even if you only trade equities. In many cases, commodity volatility will occur immediately prior to equity volatility. Ultimately the recent rally was no different.
As an example, metals were showing major weakness overall with both gold and silver selling off violently. However, what caught my eye even further was the dramatic sell-off in copper futures, which is shown below.
Copper futures daily chart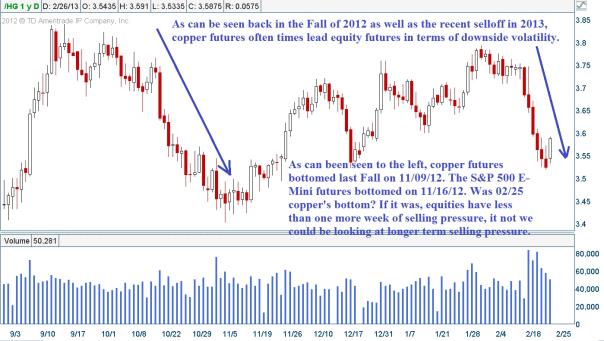 As can be seen above, copper futures had rallied along with equities since the lows back in November 2012. However, prices peaked in copper at the beginning of February and a move lower from 3.7845 on Feb. 4 down to recent lows around 3.5195 on Feb. 25 resulted in roughly a 7% decline in copper prices over a three-week period.
As stated above, commodity volatility often precedes equity volatility. As can be seen above, copper futures appear to be reversing and many times commodities will bottom ahead of equities.
I want to be clear in stating that equities will not necessarily mirror the action in commodities or copper specifically, but some major volatility was seen in several commodity contracts besides just metals. Oil futures were also coming under selling pressure as well.
Oil futures daily chart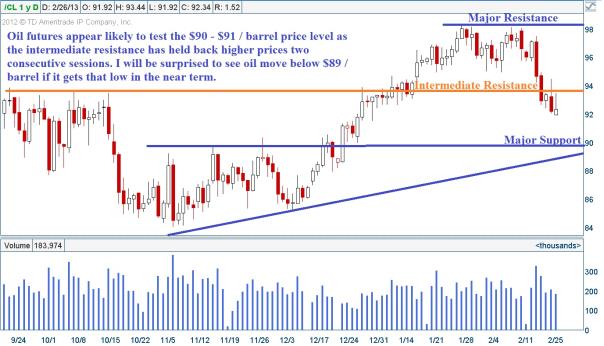 As can be seen above, oil futures topped right at the end of January and then sold off briefly only to sell off sharply lower a few weeks later. Oil futures gave back roughly 6% to 7% as well, which is quite similar to copper's recent correction. I have simply highlighted some key support/resistance levels on the oil futures chart for future reference and for possible price targets.
In equity terms, since Feb. 20 the S&P 500 futures have sold off from a high of around 1,529 to Monday's low of 1,481.75. Thus far we are seeing a move lower of about 3.10% since Feb. 20 in the S&P 500 E-Mini futures contract. While I am not calling for perfect correlation with commodities, I do believe that a 5% correction here not only makes sense, but actually would be healthy for equities.
S&P 500 E-Mini futures daily chart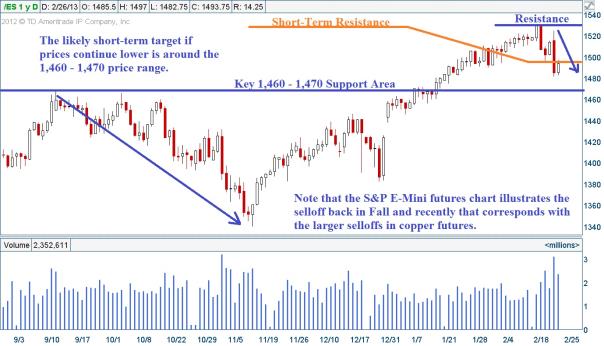 If we assume the S&P 500 E-Mini contracts were to lose 5% from their recent highs, the price that would correspond with that type of move would be around 1,453.
As shown above, while 1,453 does represent a consolidation zone in the S&P 500 which occurred in the beginning of January 2013, there is a major support level that corresponds with the 1,460 to 1,470 price range.
I am expecting to see the S&P 500 test the 1,460 to 1,470 price range in the futures contract, however the outcome at that support level will be important for future price action. If that level holds, I think we likely reverse and move higher, and we could even take out recent highs potentially. In contrast, if we see a major breakdown below 1,460 I believe things could get interesting quickly for the bears.
I am watching the price action closely as I am interested in what kind of retracement we will get based on Monday's large bullish engulfing candlestick on the daily chart of the S&P 500 futures.
The Fibonacci retracement of the Feb. 25 candlestick can be seen below.
S&P 500 E-Mini Futures Hourly Chart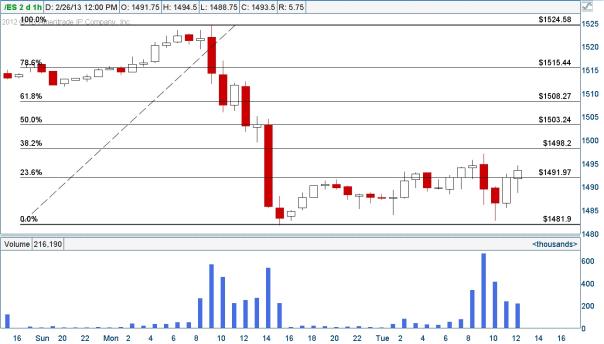 At the time of this writing (Feb. 26) we have not been able to crack the 0.382 Fibonacci retracement area. This is generally considered a relatively weak retracement and can precede a strong reversal which in this case would be to the downside in coming days.
It is always possible to see strength on Wednesday and a move up to the .500 retracement level. As long as price stays under the .500 Fibonacci retracement level, I think the bears will remain in control in the short-term. However, should we see the highs from Feb. 25 taken out in the near term, the bulls will be in complete control again.
Right now I think it is early to be getting long unless a trader is looking to scale in on the way down. I think the more logical price level to watch carefully is down around 1,460 to 1,470 on the S&P 500. If that level is tested, the resulting price action will be critical in shaping the intermediate and long-term price action in the broad equity indexes.
If you have to trade, keep position sizes small and define your risk. Risk is elevated at this time.
More from Minyanville



Gold, Gold, Gold!!
Keep thinking it's a good deal... that's the same flawed thought process that everyone had back in the early 80's when the Hunt brothers tried to manipulate the market. The minute gold soared to $800 an ounce every jerk in the universe touted the same line of bull you're hearing now. So many reasons to put your money into precious metals - you know what happened? The minute the sane people figured out what was going on Gold and Silver went on a long slide back to where they were before the feeding frenzy. The only ones who made out were the ones who got in early- you might as well wait until this feeding frenzy is over.

Yup the Far East and India sure do like them Golden Wedding gifts....
And us U.S.'ans, buy a lot of that stuff too..
Funny when I heard, that Germany was taking a lot back to the Motherland or is it the Fatherland..??
Never realized they stored that much here in the U.S.
Maybe things are more stable there now ??
Or they have built bigger, stronger vaults lately ??
Maybe other reasons.... 
Are you sure you want to delete this comment?
DATA PROVIDERS
Copyright © 2014 Microsoft. All rights reserved.
Fundamental company data and historical chart data provided by Morningstar Inc. Real-time index quotes and delayed quotes supplied by Morningstar Inc. Quotes delayed by up to 15 minutes, except where indicated otherwise. Fund summary, fund performance and dividend data provided by Morningstar Inc. Analyst recommendations provided by Zacks Investment Research. StockScouter data provided by Verus Analytics. IPO data provided by Hoover's Inc. Index membership data provided by Morningstar Inc.
ABOUT
Top Stocks provides analysis about the most noteworthy stocks in the market each day, combining some of the best content from around the MSN Money site and the rest of the Web.
Contributors include professional investors and journalists affiliated with MSN Money.
Follow us on Twitter @topstocksmsn.