Bernanke is smarter than your average bear
The Fed chief may not have everything figured out, but after 2 years of great stewardship, he deserves the benefit of the doubt.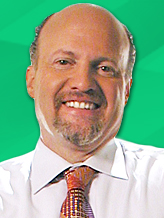 You have to like a market that makes sense, that does what it is supposed to when big macro events occur that are good for earnings.
Which is why I liked last week. We have a dollar that is going down so fast that the big international companies will be able to beat numbers year over year so strongly that it makes you want to buy everything from United Technologies (UTX) and Ingersoll Rand (IR) to Johnson & Johnson (JNJ) and IBM (IBM).
Last year at this time the euro was falling apart, taking with it the chances for companies like Eaton (ETN) and Honeywell (HON) -- which had expanded aggressively overseas, especially in Europe -- to beat the numbers. Now only those companies with no international winds at their back -- read the banks and the retailers -- are going to be laggards.
Health care has enough overseas exposure, and it had been behind the market for so long that people will lap it up as the specter of government intervention has faded into the rearview. And the weakness of the president means that no one in Congress is going to hector companies like UnitedHealth (UNH) and get away with it.
I know there are many people who like to fret about what a weak dollar means. I will, too, if Federal Reserve Chairman Ben Bernanke pulls the rug out from his bond buying and bonds plummet. Those two things can happen. Many are betting right now that they will happen. But those who have taken that bet are running up against the natural forces of a weak dollar.
And they are losing.
This week, of course, could be different because of the possible termination of QE2. But my feeling has been that the Fed chief is smarter than the average bear. He sees all of this and -- not that he has it all figured out -- I think after two years of great stewardship the man deserves the benefit of the doubt.
At the time of publication, Cramer had no positions in the stocks mentioned.
Jim Cramer is co-founder and chairman of TheStreet. He contributes daily market commentary for TheStreet's sites and serves as an adviser to the company's CEO.
Follow Cramer's trades for his Charitable Trust.
Related Articles

Bernanke is perhaps the least brilliant Chairman the Federal Reserve has had in a long while.
If he had used the $9 trillion dollars he loaned US banks during the greatest recession to instead build manufacturing plants and hire Americans and let them be able to pay their house notes and pay their taxes instead of defaulting on their houses and not paying their taxes and instead taking huge unemployment and food stamp payments. We could have been over this great recession by now and moving ahead of China in manufacturing. 
Look prices of goods in the US are marked for people making about $120,000 a year. Considering half of Americans are making less than $26,500 dollars down from $32,000 dollars in 2006 dollars or $39,000 in 2011 dollars. That is down more than thirty percent in just 5 years. This means that the American economy is too far down the road of ruin to ever recover now. Half of the people working today have lost 1/3 of their buying power and things have just gotten more expensive. 

It is clearly obvious that Obama and Bernanke and Geithner are secret agents from a foreign power (read Russia or China) bent on the total destruction of the US economy and when that goes our military power is gone also. Plus add in the fact that we had Bush who allowed our military troops to be killed off or seriously wounded (read head trauma or limbs missing) in Iraq and Afghanistan and 3/4 of our tanks and trucks with no replacement of them. Now we are wasting missiles in Libya which would be better used in Iran or China or Russia in the years to come.
Cramer is also on the side of the foreign powers as he is cheering them on as they destroy the US economy. During W.W.II we knew how to deal with traitors. We put them on the front lines with weapons that did not work and let the enemy deal with them.


I would have to agree. He has avoided going to prison for endorsing criminals and a failure to perform. It is now 3 years and nothing has improved yet he has convinced other stock market criminals like Cramer that he is OK. When the US finally does begin a real recovery then everyone will say it is because of what they did. The only thing is that the economy ALWAYS cycles. It is only when we have competent leaders that the cycle ends in a short time. Unlike this cycle.
It takes more to be a bull the being full of bull. As we leave QE2 heading into the great bear market of 2011, I think this bear can say it best.
Are you sure you want to delete this comment?
DATA PROVIDERS
Copyright © 2014 Microsoft. All rights reserved.
Fundamental company data and historical chart data provided by Morningstar Inc. Real-time index quotes and delayed quotes supplied by Morningstar Inc. Quotes delayed by up to 15 minutes, except where indicated otherwise. Fund summary, fund performance and dividend data provided by Morningstar Inc. Analyst recommendations provided by Zacks Investment Research. StockScouter data provided by Verus Analytics. IPO data provided by Hoover's Inc. Index membership data provided by Morningstar Inc.
LATEST POSTS
Meet Alibaba's new billionaires
Despite its size, the IPO will create just two new members of the 10-figure club from its executive ranks. A few others could net hundreds of millions.
ABOUT
Top Stocks provides analysis about the most noteworthy stocks in the market each day, combining some of the best content from around the MSN Money site and the rest of the Web.
Contributors include professional investors and journalists affiliated with MSN Money.
Follow us on Twitter @topstocksmsn.