Retail spending uptick nothing special
Gas prices strip September sales of their political punch.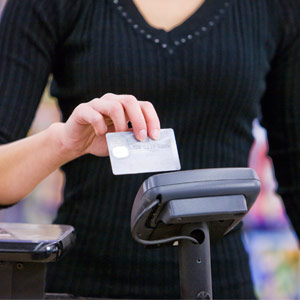 Americans are shopping again, but neither candidates nor retail companies can sink too much confidence into September sales numbers.
Overall retail sales rose 1.1% to $412.9 billion, according to the Census Bureau. That's 5.4% more spent at registers than during the same period last year, but it doesn't add much momentum to the 1.2% jump in August.
That seems to fall in line with the the University of Michigan/Thompson Reuters (TRI) consumer sentiment index, which October rose to 83.1 for October and hit its highest level since September 2007. Viewed through the rosiest of lenses, it also looks like a side effect of the latest Bureau of Labor Statistics findings that reduced the unemployment rate from 8.1% to 7.8% and added 873,000 jobs in September. Anyone who's had to fill up before a commute or had to look at the fuel receipts for a month's worth of shipments knows better.
A 2.3% rise in spending at gas stations helped consumers burn through a lot more cash in September. Gas prices in September were 21 cents higher per gallon on average than they were just a year before, with Americans paying just less than $3.78 a gallon last month.
The prices of those gallons of gas trickle into the costs of several other consumer goods, which makes the full scope of rising gas prices a bit tougher to gauge. It also makes it tough for presidential candidates and other political hopefuls to seize on consumer spending numbers for help in the polls or as a harbinger of doom from the incumbent.
In the early days of the financial crisis, just before President Barack Obama's election in 2008, September retail sales plummeted $32 billion from August to $351 billion and dropped $3 billion from a year before. Those numbers didn't help John McCain's campaign at the time, but they were also somewhat skewed by the impending economic downturn that plagued Obama's first term.
Just before the 2010 midterm elections that swept a Republican majority into the House of Representatives, September retail sales dropped nearly $17 billion from August to $347 billion, but were $22 billion higher than the same month in 2009. Amid the greater financial crisis, however, year-over-year spending gains meant little compared to economic uncertainty that kept spending below 2008 levels.


Even the recent pile of positive economic data hasn't helped the president or hurt rival Mitt Romney. The challenger was behind by as many as four points at the end of September, according to Real Clear Politics, but closed the gap with a strong performance in the first debate. Even though much of the new economic data has been released since, it hasn't pulled the president and Romney out of a statistical dead heat.

It's not as if there aren't politically attractive nuggets tucked among the retail numbers. Car sales improved 9.3% from last year and reached the highest level in four years. Improved financing, higher used-car prices and pent up demand helped bailed-out automakers General Motors (GM) and Chrysler boost sales 3.4% and 23.9%, respectively, year-over-year. Also, with a 5.6% increase in food and beverage spending, it could be argued that increased confidence and expendable incomes are giving people more reason to get in their new cars and head out to dinner.
For those more inclined to high-five the free hand of the market, electronics and appliance stores saw a 4.5% sales bump since August and a 3.6% boost since last September. It helped that Apple (AAPL) released the iPhone 5 in the middle of the month, but online stores and independent developers got a piece of the action as well. Online sales spiked 15% since last September as more folks spent expendable income on their latest tech toy and apps for it.
The retail picture's politically muddled at best, but even a resolved presidential election won't stop a similar debate about holiday spending from taking place a few months from now.
DATA PROVIDERS
Copyright © 2014 Microsoft. All rights reserved.
Fundamental company data and historical chart data provided by Morningstar Inc. Real-time index quotes and delayed quotes supplied by Morningstar Inc. Quotes delayed by up to 15 minutes, except where indicated otherwise. Fund summary, fund performance and dividend data provided by Morningstar Inc. Analyst recommendations provided by Zacks Investment Research. StockScouter data provided by Verus Analytics. IPO data provided by Hoover's Inc. Index membership data provided by Morningstar Inc.
ABOUT
Top Stocks provides analysis about the most noteworthy stocks in the market each day, combining some of the best content from around the MSN Money site and the rest of the Web.
Contributors include professional investors and journalists affiliated with MSN Money.
Follow us on Twitter @topstocksmsn.