Dump your losers for a good cause
Gifting stock you no longer want is a real win-win for the holidays.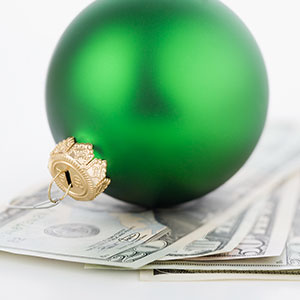 By Marc Bastow


End-of-year financial planning isn't just for your tax return preparation, it can also be a great time to work on your retirement planning.
Of course, some planning moves cover both buckets. And because we still have no idea how the fiscal cliff is going to play out, developing a few investing strategies heading into the holiday season is worth the time.
One such strategy is a review of your portfolio. That's critical to tax and retirement planning, particularly because the tax laws may change depending on what the ultimate fiscal cliff outcome is. Shaving off some long-standing appreciated stocks may make sense if you believe capital gains taxes will rise from the current 15%. And, of course, harvesting losers will save you up to $3,000 against those gains.
Also, any number of financial gurus are suggesting you run away from dividend stocks, but I'm not one of them for reasons laid out here on InvestorPlace.
While thinking about what to do with the stock portion of your portfolio, here's an idea that might have some merit from a tax and retirement perspective -- and that has the added benefit of "feeling good" during the holidays. Find those dogs you really don't want to keep and instead of selling them for the measly $3,000 tax shelter, donate them to your favorite charity.
Gifting stocks (or mutual fund) shares that you've owned for more than one year boosts the savings on your tax return because the charitable-contribut​ion deduction is the fair-market value of the securities on the date of the gift, not the amount you paid for the asset. If the stock is underperforming, you get the benefit of a full deduction for the sale value. If it's been a winner, you never have to pay tax on the profit.
Here's an example. As a past participant in Pitney Bowes' (PBI) employee stock purchase program, I now own shares that I can't value for tax purposes because I can't access the cost basis data. My guess is that I'm underwater on the shares. I don't want to cash them in without a basis, so I plan to gift them by year-end.
Voila! No guess on the gain or loss, full deduction on the current value of the shares and a feel-good day for me.
I suspect lots of retirees are in such a situation, with poorly performing stocks that you've owned for years but have fallen on hard times and might not recover in your lifetime. Names like JCPenney (JCP), Hewlett-Packard (HPQ), Best Buy (BBY) and RadioShack (RSH) come to mind right away.
Why not dump them in a philanthropic way? Tis the season for giving, and getting a little, too, makes it all the better.
Marc Bastow is an Assistant Editor at InvestorPlace.com. As of this writing he is long PBI, but not for much longer.
More from InvestorPlace
Has anyone summed up the current scenario for America yet?
-The Fiscal Cliff literally guarantees higher taxes, but we aren't getting anything of value for all the taxes we pay now. We're paying for war overseas, sleaze in elected Offices, corporate dominance and financial corruption. When you fully destroy the Middle... all you end up with is a Black Hole.
-Why work when the wages paid are insufficient for labor and skill, yet excessive and ridiculous for the deadbeats on top; who have yet to demonstrate that they can legitimately run it. If there is such a thing as "talent" why hasn't it recovered jobs and done more than gamble in the markets? 
-Go ahead and quote all the Laws we Americans must know. Pack a lunch. Even our law-makers can't so why isn't massive law reform in play right now? Does Congress want us to know the law or is it the objective to keep Law Business the most lucrative of all enterprises in America?
-Why pay our mortgages? We spent decades doing proper maintenance and improvement just so Generation X and Y could buy next door, live like movie stars... then go bust- short sell and move uptown to a mansion without obligation for the debt they abandoned. All banks do today is crank out bad credit, sell it to the Fed for more funds, rinse and repeat. Do you realize that 1 in 5 homes now are in foreclosure, repossessed or sold vacant? 1 in 3 of those defaulted homes get sold to the same landlords who are systematically buying up America at fire sale prices and renting them back to those who lost them?
We HAD government before George HW Bush got into it. From the time he ran the CIA, through his arranging of NAFTA and involvement in Big Oil until now... every aspect of America has fallen prey to nefarious practices, corruption and decay. We don't want or need a New World Order, folks. We want the same opportunities our forefathers had. No one has the right to purpetuate anti-prosperity through inheritance. Live... but when you go... go broke. Your kids are handicapped by your wealth. Better to have earned and lost, than to inherit and become a pariah that ruins your nation.  
Who ultimately ends up with the shares in the charity? You write this stuff and it sounds good to the socially mesmerized brainless crowd but ultimately, a charity director can take the gifted share in lieu of compensation. If he/she already has other shares and the gift was donated because it is too small for transacting, you have "donated" to a grubber, not a charity.
Are you sure you want to delete this comment?
DATA PROVIDERS
Copyright © 2014 Microsoft. All rights reserved.
Fundamental company data and historical chart data provided by Morningstar Inc. Real-time index quotes and delayed quotes supplied by Morningstar Inc. Quotes delayed by up to 15 minutes, except where indicated otherwise. Fund summary, fund performance and dividend data provided by Morningstar Inc. Analyst recommendations provided by Zacks Investment Research. StockScouter data provided by Verus Analytics. IPO data provided by Hoover's Inc. Index membership data provided by Morningstar Inc.
ABOUT
Top Stocks provides analysis about the most noteworthy stocks in the market each day, combining some of the best content from around the MSN Money site and the rest of the Web.
Contributors include professional investors and journalists affiliated with MSN Money.
Follow us on Twitter @topstocksmsn.