IPhone, iPad will guide Apple earnings
The company once known for a variety of products now sees just 2 gadgets as revenue and profit drivers.
Apple (AAPL) is all set for its fourth-quarter earnings extravaganza Thursday, but the quarterly blockbuster investors have grown accustomed to is slowly becoming a two-star show.
Apple investors should have exactly two questions going into this latest earnings report: How did the iPhone 5 sell and how much is that iPad Mini going to cost us? That's a remarkably brief Q&A for a company that generated $35 billion in revenue in its third quarter alone, but that's pretty much the state of things in Cupertino. The iPhone and the iPad -- products that didn't exist five years ago -- have the company's fate attached to their touchscreens.
The iPhone 5 is going to grab a big, glaring portion of the spotlight this quarter, but maybe only in a cameo role. Remember, the latest iPhone was launched little more than a week before the quarter ended. The company sold more than 5 million of the new iPhones during its debut weekend, but that didn't include online pre-orders. Apple's iPhone partner
AT&T
(
T
) is already crowing about its 1.3 million third-quarter iPhone sales, which doubled the total sold by rival
Verizon
(
VZ
).
Sales of the iPhone have already climbed steadily from 17 million in Apple's fourth quarter last year to 26 million in the company's fiscal third quarter. Analysts seem to think total iPhone sales will fall between 26 million and 27 million this quarter, but the big question is whether their average selling price will eclipse the $659 spent per phone in the last holiday quarter or will fall closer to last quarter's $624. The latter suggests folks are spending more on old iPhone versions, which would be worrisome for folks at 1 Infinite Loop. However, history suggests the iPhone's fourth-quarter average price will fall somewhere in between, as it did last year when a blend of old and new fetched $640 per phone.
Expect China to have a big say in that matter, as the world's largest smartphone market by volume, but one that still has 3G coverage for less than 20% of its smartphones. Apple's already taken $18.1 billion in revenue from China in its first three quarters, which is 36% more than the $13.3 billion revenue produced there during the same period last year and conservative compared to the 48% growth in China's spending last quarter alone. That'll put a lot of cash on the table when 3G finally takes hold.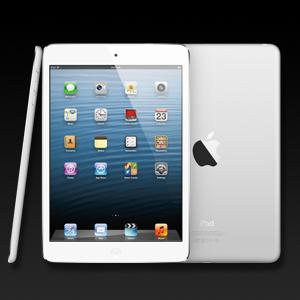 Not that finding new revenue's really been a problem for Apple. The iPad created $20.4 billion in revenue for Apple last year alone. That lagged Macs and iPhones, but last quarter the iPad's $9.2 billion revenue doubled that of the keyboard-encumbered,​ touchscreen deprived Mac desktops and laptops. That's without selling a single tablet in China, where Apple just introduced the iPad in its fourth quarter.
Opening up China will boost the numbers a bit, but the newly introduced iPad Mini could complicate matters. While a smaller, $329 iPad fills a market niche, it also creates more overhead by creating yet another size to produce and lowers an average price per unit that's already dropped from $654 in the third quarter of 2011 to $538 last quarter. That doesn't factor in manufacturing problems at a Foxconn plant in Brazil that delayed the Mini's release or increased competition from sub-$200 mini tablets from Google (GOOG) and Amazon (AMZN). Apple enjoyed increases in its gross margin, operating margin and profit margin last quarter compared to the fourth quarter of 2011, but Apple fanboys will be watching those margins closely to see just how Mini the new iPad's impact will be.
So, really? That's it. A company once known for its broad array of products all along the tech spectrum is now a two-gadget wonder? Looks that way. Mac sales dropped nearly 20% in the third quarter from fourth quarter 2011. Last quarter, Apple sold 3 million MacBooks and 1 million desktops for a combined $4.9 billion in revenue, compared to 17 million iPads and $9.2 billion in sales during the same period. As Macs saw revenue drop 3% year over year, iPad sales rose by nearly 40%.
Analysts suspect that a reboot in July may jumpstart Mac numbers a bit, but the newest MacBook's release on Tuesday was an iPad afterthought and news from the keyboard sector still isn't great. Earlier this month, a report by IHS iSuppli predicted that the PC market is expected to shrink by 1.2% to 348.7 million units this year from 352.8 million in 2011 as the public rejects ultrabooks and other updates. A Gartner report, meanwhile, says worldwide PC shipments totaled just 87.5 million units in the third quarter of 2012. That's an 8.3% drop from the same period last year.
It could be worse for Macs: They could be the lowly iPod. The pride of Apple a decade ago, the iPod's since been relegated to a phoneless iPhone and a glorified watch face. Sales of the iPod have declined in every quarter this year compared to last year while the average selling price dropped from $176 in third-quarter 2011 to just $157 at the same time this year. The iPod still creates roughly $4 billion in revenue for the company each year, but it has a much harder time getting there than when America's TV screens were filled with dancing, iPod bedecked silhouettes listening to U2, the Fratellis and Feist.
Earnings day is the iPhone and iPad's show to run. The Macs and iPods will be just fine watching from the cheap seats.
More from Top Stocks

DATA PROVIDERS
Copyright © 2014 Microsoft. All rights reserved.
Fundamental company data and historical chart data provided by Morningstar Inc. Real-time index quotes and delayed quotes supplied by Morningstar Inc. Quotes delayed by up to 15 minutes, except where indicated otherwise. Fund summary, fund performance and dividend data provided by Morningstar Inc. Analyst recommendations provided by Zacks Investment Research. StockScouter data provided by Verus Analytics. IPO data provided by Hoover's Inc. Index membership data provided by Morningstar Inc.
ABOUT
Top Stocks provides analysis about the most noteworthy stocks in the market each day, combining some of the best content from around the MSN Money site and the rest of the Web.
Contributors include professional investors and journalists affiliated with MSN Money.
Follow us on Twitter @topstocksmsn.