Wal-Mart is not Target
Just because they are fierce competitors doesn't mean these two big-box retailers are the same kind of investments. Should investors own both?
As the stock market drifts sideways, many wonder if the "fiscal cliff" or the looming tax threat will motivate more selling. Smart investors are preparing for a rally and are watching to see if the S&P 500 ($INX) can move back above 1,400.
This is an exciting week, filled with market-moving data and some really big, large-cap companies stepping into the earnings confessional. Two retailers that report on Thursday, Nov. 15, are as different as their market-cap sizes.
Wal-Mart (WMT) and Target (TGT) are indeed competitors, but they are distinctly unique.
Target wants to create a different shopping experience than Wal-Mart. When you walk into a Target store you sense many of those differences. Target wants customers to feel a more qualitative ambiance than walking into a warehouse like Costco (COST) or a relatively bland "Everyday Low Price" Wal-Mart store.
Target is targeting a slightly more sophisticated consumer who wants bargain prices but also seeks sensory pleasures when they walk into the store. That's one reason our local Target has a Starbucks inside the store entrance, and as I reported recently, shoppers love that aromatic and delicious steaming-hot liquid caffeine.
The market cap for Target is very different as well. Target's market cap is a little over $41 billion, which certainly qualifies it as "large cap." Yet compared to WMT's gargantuan $242 billion market cap, well, Target is a porpoise and Wal-Mart is at least a humpback whale.
Investors are excited about the companies' earnings reports as they're bellwethers of both big retailers-for-the-ma​sses as well as harbingers for the all-important holiday shopping season, which officially doesn't begin until the day after Thanksgiving. We all know it has already begun this year.
Analysts have an average estimate earnings-per-share (EPS) expectation for WMT at around $1.07, which would represent an 11% increase from the same year-ago quarter. They're also looking for revenue to come in at nearly $115 billion for the quarter. That would be a year-over-year increase of around 4.3%.
Might Wal-Mart surprise on the upside or the downside? The answer is unequivocally a tentative "yes," but no one is sticking their neck out and making any firm predictions. You know what happens to "turkeys" this time of year when they stick their necks out?
The average EPS estimate among analysts for TGT is 78 cents, which is slightly below last year's 82 cents. Anything above 78 cents should help move TGT's stock price to the upside. Analysts' average estimate concerning quarterly revenue is $16.93 billion, slightly ahead of last year's $16.40 billion.
It will be very interesting to see if the wallop felt by super-storm Sandy will impact these numbers positively or negatively. If either company misses, they can always blame Sandy, the elections, or even the price of gasoline, which, thanks to Sandy, is down significantly in the past two weeks.
Here's a one-year look at how the stock prices of WMT and TGT have performed. Notice that WMT has corrected a little more than 8% from its 52-week high, while TGT has only corrected around 5%. When you factor in how much WMT has gone up in share price since early May, when WMT and TGT were trading at around the same price, you'd have to call WMT the total-return performance winner so far.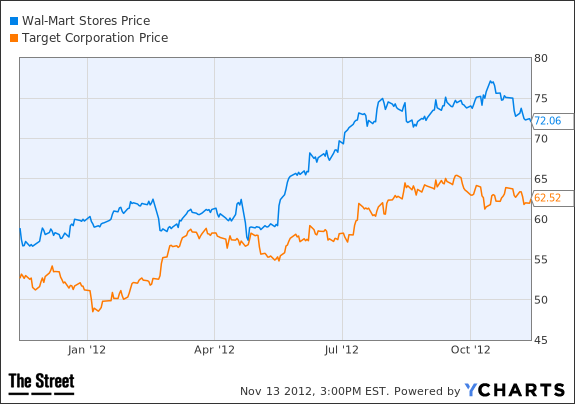 When it comes to paying dividends, this year had been a draw between the two companies. Target pays a yield-to-current-pri​ce of 2.3%, which represents a payout ratio of only 28%. Wal-Mart's yield is currently around 2.21% based on a share price of $72. That represents a slightly higher 32% payout ratio.
Now let's compare the very important trailing 12-month operating margin. Wal-Mart's weighs in with a 5.94% operating margin. Not too shabby! Target, though, has an operating margin of 7.43%. At first glance that doesn't seem significant, but it points to the fact that Target's operating margin is a whopping 25% higher than Wal-Mart's. That's a meaningful difference.
Yet when you look at the very important cash from quarterly operations, Wal-Mart is the first-prize winner! To illustrate this, take a gander at the chart below. Wal-Mart's overhead and cost of doing business is more sizeable than Target's, but as the chart demonstrates, Wal-Mart's operating cash is almost six times greater!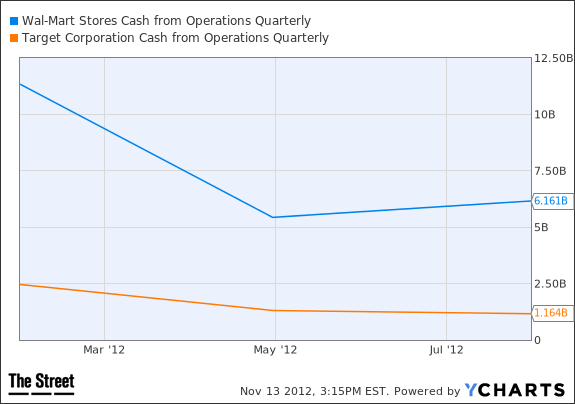 So in which of these two shining stars in the "big box retailing" constellation should we be investing? The simple answer from my perspective is "both." They are both "best in breed," yet one "pony" just happens to be much bigger than the other.
Wal-Mart is the reigning champion among the discount variety stores, and still is the single biggest employer in America (2.2 million employees) outside of the federal government. Target employs 365,000 folks and growing, which is in itself an important point.
Wal-Mart is a member of a very exclusive "club." It's one of the 30 corporate powerhouses that comprises the Dow Jones Industrial Average ($INDU), and must be owned by every fund that claims to represent the DJIA.
The most recent quarterly figure concerning total-cash-per share finds TGT with $2.23 per share and WMT with $2.38. So from a balance sheet perspective, WMT has a slight advantage as well.
Yet considering everything, I don't want to wager that one company will outperform the other in the year ahead, so I'm planning on owning both before the month of November is over. You might want to do the same.
At the time of publication the author held no positions in any of the companies mentioned.
More from TheStreet.com
DATA PROVIDERS
Copyright © 2014 Microsoft. All rights reserved.
Fundamental company data and historical chart data provided by Morningstar Inc. Real-time index quotes and delayed quotes supplied by Morningstar Inc. Quotes delayed by up to 15 minutes, except where indicated otherwise. Fund summary, fund performance and dividend data provided by Morningstar Inc. Analyst recommendations provided by Zacks Investment Research. StockScouter data provided by Verus Analytics. IPO data provided by Hoover's Inc. Index membership data provided by Morningstar Inc.
ABOUT
Top Stocks provides analysis about the most noteworthy stocks in the market each day, combining some of the best content from around the MSN Money site and the rest of the Web.
Contributors include professional investors and journalists affiliated with MSN Money.
Follow us on Twitter @topstocksmsn.