Futures down on Chinese data, sequester
Market to open lower as budget cuts are set to commence Friday.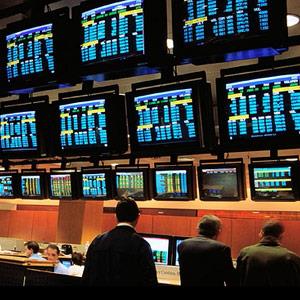 By Sam Mattera
U.S. equity futures were down in the premarket after Chinese PMI came in at 50.10 Thursday night, worse than the 50.2 that was expected. The fiscal sequestration is also set to go into effect today.
In other news, Italian PMI came in below expectations at 45.8; expectations were for 47.60.
French PMI was reported better than expected at 43.9; expectations were for 43.6.
German PMI beat expectations at 50.3, more than the 50.1 that economists were anticipating.
S&P 500 futures down about 8.50 points at 1504.75.
The EUR/USD was lower at 1.3002.
Asian markets
Asian shares were generally lower following the disappointing Chinese PMI report. The Hong Kong Hang Seng slipped 0.61%, while the Shanghai Composite was down 0.17%. The exception was Japan's Nikkei 225, which rallied 0.41%.
European markets
European shares were broadly lower. The FTSE shed about 0.73%, while the DAX fell 1.07%.
Commodities
Commodities largely down. Gold fell 0.59% to trade at $1568.80, while silver shed a more dramatic 1.25% to trade at $28.03. Crude oil dropped 1.68% to $90.50 and natural gas slumped 0.40% to trade at $3.4720. Copper and palladium were most severely hit. Copper fell 2.03% while palladium shed 2.17%.
Currencies
The U.S. dollar showed relative strength on Friday, with the dollar index rallying 0.44% to 82.36. The GBP/USD and EUR/USD were both big losers, falling 0.82% and 0.44%, respectively. At the same time, the USD/CHF rose 0.56% and EUR/GBP added 0.35%.
Premarket movers
Stocks moving in the premarket included:
Economics
On the economics calendar Friday, investors personal income and personal spending are due out at 8:30 a.m. ET At 9 a.m. ET, the U.S. manufacturing PMI will be released. At 9:55 a.m. ET, the University of Michigan consumer sentiment indicator will be reported. Then, at 10 a.m. ET, ISM manufacturing is set to be released.
More from Benzinga
Click here for your FREE trial of Benzinga Pro!

Its about time !! Let the cuts come ! A huge bloated defense dept! Two unpaid for wars for over 10 yrs ! And a super bloated federal government employees. Its time for all these people to feel what main street America has been feeling for over 8 yrs ..Time for these cuts are WAY OVER DUE.....Got to start somewhere.... YES>>>>>! Now all we need is the Feds Ben to kill the QE 3 program on wall street! You know that 85 billion a month to socialized wall street . Its time wall street lives on their own money !

The sequester is like a shot in the arm to the economy on life support.  Cutting government spending and allowing the private sector to keep it's money is always better than having government confiscate it and thus destroy jobs and economic growth.
Had Obama not slashed the take home pay of ALL Americans that work for a living to support his 47% that pay ZERO taxes, the economy would recover.   Every tax increase in history has been viewed as slamming on the economic  brakes.  I guess Obama feels the 'private sector is doing fine', so fine, that we need to reduce growth through higher taxes now...
Obama is a Lazy (7 minutes of meetings, 4 days for golf!), Arrogant, Corrupt (even by Chicago standards) imbecile!
More deep cuts are needed. Mostly we need deep cuts in all the satanic Repukelicans, Neo-Cons, Loonetarians and Teabagturds JUGULARS, and then we'd see America prosper exponentially. The Party of NO has to GO! The Party of NO has to GO! The Party of NO has to GO!
Cleansing America of these TREASONOUS IMBECILES is in the best interest of all true Americans.
Deep cuts you can believe in! FORWARD!
God bless America!

No need to worry about scumbags and manipulators today....
Probably not going to start out pretty anyway....
We have had some roller coastering....And today is just another day....Except,
It's Freaky Friday, the First of March, and the day of the Sequester..
This will probably be interesting...?
Doubt we shall be bored.....As an Investor.?
Or a Pundit.

Guys we cannot afford be the police of the World . Defense takes 40% of our GDP.. If other countries do not want to pay for our military ? We should leave ! Why do we have troops in Europe? Japan ? And so on ? 75 yrs after WW2 .. Soc sec ? Old peoples retirements ? They are entitled no matter what you say or think ! ... And SSI comes out of the general fund ! NOT SOC SEC for retirees. Medicare for old people ? Healthcare has been running 150% above inflation for 10 yrs plus idiots < That's what is bankrupting our country. Fox news won't tell you that DUH...Talk about sheeple.. . Food stamps comes out of FARM SUBSIDIES.. And Farm bills. Welfare is ran by the States ! And they almost all have time limits. Know what the hell you are talking about! Read ,  and skip FOX NEWS ! You might learn something..
Are you sure you want to delete this comment?
DATA PROVIDERS
Copyright © 2014 Microsoft. All rights reserved.
Fundamental company data and historical chart data provided by Morningstar Inc. Real-time index quotes and delayed quotes supplied by Morningstar Inc. Quotes delayed by up to 15 minutes, except where indicated otherwise. Fund summary, fund performance and dividend data provided by Morningstar Inc. Analyst recommendations provided by Zacks Investment Research. StockScouter data provided by Verus Analytics. IPO data provided by Hoover's Inc. Index membership data provided by Morningstar Inc.
ABOUT
Top Stocks provides analysis about the most noteworthy stocks in the market each day, combining some of the best content from around the MSN Money site and the rest of the Web.
Contributors include professional investors and journalists affiliated with MSN Money.
Follow us on Twitter @topstocksmsn.