Is this dip for buying?
Disappointing jobs data may initiate an overdue correction and present new buying opportunities, but only if indicators don't signal a lack of buyer conviction.
By Tom Aspray, MoneyShow.com
Monday's opening in the stock market is likely to stink as bad as a leftover Easter egg you could discover in your garden a few weeks from now. From last Thursday's close, the June E-mini S&P futures have lost 18 points, or 1.3%.
Over much of the past month or more, many financial analysts have been hoping for a correction before they begin new buying. The consensus seems to be for a 3% to 5% pullback in the major averages, which could take the S&P 500-tracking Spyder Trust (SPY) to the $138 to $135 zone.
But will investors really be buying? It seems as though the disappointing jobs number is already causing some to doubt the health of the economic recovery. This may mean that the stock market will see a deeper correction than most expect. That would help lower the too-high bullish sentiment of the financial newsletter writers, 52% of whom were bullish last week. Technically, however, there are no signs yet that the intermediate-term uptrend from last October's low has topped out.
Therefore, the market weakness should be a buying opportunity, but as I discussed last September (see "How to Properly Buy the Dips"), this to me means buying individual stocks on pullbacks to well-defined support levels. A review of both the weekly and daily technical outlook will illustrate why the first oversold bounce in the stock market may determine the depth or severity of the correction.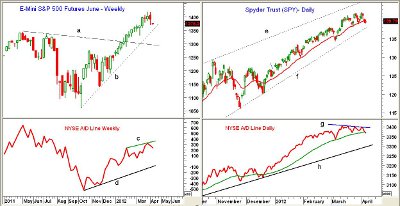 Chart Analysis: The weekly chart of the June E-mini S&P 500 futures shows that after closing at 1390.25 on Thursday, the futures traded as low as 1372 on Friday in reaction to the jobs report.
The futures have made marginal new lows early Monday at 1371.75
The weekly uptrend, line b, is now at 1348 with more important weekly support, line a, in the 1296 area
Weekly NYSE Advance/Decline (A/D) line made new highs at the end of March, line c. The higher weekly highs in the A/D line are positive for the intermediate trend
A/D line has first important support at the early-March lows and then at the uptrend, line d
Futures have initial resistance at 1388-1396 and then at 1405-1410.
The Spyder Trust (SPY) closed last Thursday just below the 20-day exponential moving average (EMA) with next support at $138.55, which was the March 23 low.
There is further support at $138 and the uptrend, line f, which is likely to be tested early Monday
More important chart support is in the $134.50-$135 area
Daily NYSE A/D line has made lower highs, line g, over the past three weeks, and is now slightly below its weighted moving average (WMA)
The A/D line has further support at the March 6 low and then at the long-term uptrend, line h
SPY has initial resistance at $139.50-$140.50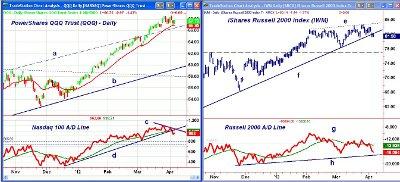 The PowerShares QQQ Trust (QQQ) broke through the upper boundaries of its trading channel, line a, in March. A retest of the breakout level in the $66-$66.50 area is likely this week.
QQQ closed above its 20-day EMA last week
There is a band of more important support now in the $63.50-$65 area
Nasdaq 100 A/D line formed a short-term negative divergence, line c, at the early-April highs
The A/D line has now broken its uptrend and closed below its weighted moving average
The weakness in the A/D line suggests it may drop down to test the early-March lows
Resistance is now in the $67.50-$68.50 area
The iShares Russell 2000 Index Fund (IWM) has just made marginal new highs, line e. It is up just over 10% in 2012, as compared to the 20% gain in QQQ.
The uptrend, line g, was broken on a closing basis last week
Next band of support is in the $79.50-$80.50 area with major support in the $77 area, line f
The Russell 2000 A/D line has been diverging since early February and has formed lower highs, line h
The A/D line has dropped well below its weighted moving average and has key support at line i
First resistance for IWM is now at $82.75-$83.50
What It Means: The major index ETFs and the stock index futures are already getting close to their daily Starc- bands. This makes it likely that we will see a rebound before the end of the week.
The A/D ratios on the first rally will be important, as they need to be quite strong to suggest that investors are buying on the correction. If the rally is accompanied by weak A/D ratios, it will likely set the stage for a further and possibly deeper decline.
How to Profit: I will be watching monthly support levels on select Dow stocks with positive on-balance volume (OBV) patterns, as they may become market leaders on the next rally. Monthly chart analysis can often help investors stay with their core long positions even during market corrections and also identify good risk/reward entry levels.

I think we saw this movie last Spring and Summer. It's the same old story of the economy looks good as production picks up after summer and we head towards holiday and the doubt and fear takes over after a good run up and we have an equally good correction. Only this time it will all be fresh in voters minds as they cast those votes and hopefully end all this uncertainly. Doesn't really matter which party takes over as long as we give one or the other a clear majority. The we can keep track of them and get rid of their butts in four more years.
Are you sure you want to delete this comment?
DATA PROVIDERS
Copyright © 2014 Microsoft. All rights reserved.
Fundamental company data and historical chart data provided by Morningstar Inc. Real-time index quotes and delayed quotes supplied by Morningstar Inc. Quotes delayed by up to 15 minutes, except where indicated otherwise. Fund summary, fund performance and dividend data provided by Morningstar Inc. Analyst recommendations provided by Zacks Investment Research. StockScouter data provided by Verus Analytics. IPO data provided by Hoover's Inc. Index membership data provided by Morningstar Inc.
ABOUT
Top Stocks provides analysis about the most noteworthy stocks in the market each day, combining some of the best content from around the MSN Money site and the rest of the Web.
Contributors include professional investors and journalists affiliated with MSN Money.
Follow us on Twitter @topstocksmsn.