CNN can reverse sagging ratings, profits
The Time Warner news channel has witnessed a decline in viewership during the past few years.
Quick take
CNN has had troubles with its ratings in recent years and MSNBC and Fox News are growing more quickly and remain well ahead of CNN in terms of viewership.
Both MSNBC and Fox have a higher percentage of opinion-based programming while CNN continues to focus more on global news coverage.
It appears that the network will benefit from spicing up its programming with more quality debates, interviews and commentaries as well as building a competitive advantage on its digital platform.
We estimate that CNN constitutes roughly 10% to Time Warner's value. If the ratings problems continues, the network could lose its negotiating power, which can affect both its subscription as well as advertising revenue growth.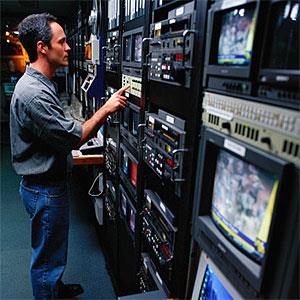 CNN has usually been a top choice for global news coverage, especially breaking news and major events. It accounts for nearly 10% of Time Warner's (TWX) stock, according to our estimates. Despite maintaining its standard in bringing the latest news coverage promptly, CNN has suffered a viewership decline in recent years. It appears that the relative lack of opinion-based programming is one of the reasons why the network hasn't done as well as News Corp's (NWS) Fox News. In this analysis, we'll take a brief look at CNN's problems and what the network could do better.
What problem is CNN facing?
CNN has not only witnessed a decline in viewership during the last few years but has also remained consistently below Fox News in terms of total and primetime viewership. Its median primetime viewership peaked in 2008, according to Pew, during the presidential elections and declined thereafter. The decline seemed sharper for CNN compared to its competitors Fox News, MSNBC and HLN. This indicates that while CNN does a good job of covering major events such as the U.S. presidential elections, there is something lacking in the rest of its programming.
Median Primetime Viewership Of News Networks
Some have suggested that CNN's overall programming does not seem as appealing as it used to be a couple of decades ago in terms of content as well as hosts and presenters. However, more specific results come from a poll conducted by Pew Research Center. The research sheds light on why CNN may be lagging behind its competitors. MSNBC is growing fast and Fox News is doing way better than CNN in terms of viewership. They both seem to have one common distinction against CNN -- their focus on opinion-based programming. According to the research, 85% of MSNBC's programming is opinion-based while the same figure for Fox News stands at around 55%. In comparison, CNN still mostly focuses on news coverage rather than commentary.
It appears that viewers are mostly interested in opinions, commentaries, interviews and debates that focus on the major issues rather than watching extensive coverage from around the globe.
What is the network doing to revive its ratings?

First, CNN needs to ensure that it continues to remain the top network in terms of global coverage and breaking news. Given its track record and heavy investments in this area, we don't think that the network will have any problems in doing so. The evidence is that despite the decline in its ratings in 2012, CNN did well in the fourth quarter due to its coverage of 2012 U.S. presidential elections. The network gained in total viewership and had its best quarter since the first quarter of 2009 in terms of primetime viewership (MediaBistro).
Second, CNN needs to increase meaningful opinion-based programming by bringing in popular hosts and experts who can stimulate viewers' thinking and keep them engaged. The company has already been doing so and there has been a significant increase in the amount of programming involving interviews. However, Pew Research Center also points out that the audience for such programming is aging, and from a long-term perspective, it may not be best for CNN to continue to become more like MSNBC and Fox. Perhaps the best way would be to balance extensive coverage with good quality opinion-based programming.
Third, CNN can leverage its digital platform to grow its audience. The network has been scouting for digital acquisitions that make sense (Bloomberg). A year and a half ago, CNN acquired Zite -- an iPad app that allows users to customize their news feed and create a personalized magazine experience. The network could leverage this app to promote its own news content and create a good user experience for its viewers. Going digital is a necessity and CNN must try to differentiate itself against other players in this arena and create a competitive advantage.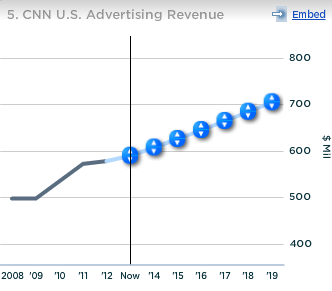 The significance of CNN for Time Warner

CNN constitutes a little under 10% of our estimated value for Time Warner. We further estimate than more than half of its revenues come from subscription. This revenue stream has shown decent growth as the subscriber base has remained fairly stable with subscription fee increasing each year. This annual increase is typically a part of long-term programming contracts between the pay-TV providers and media companies. However, CNN could lose its negotiating power if it continues to suffer a ratings decline, which would mean reduced demand. This, in turn, could affect its subscription fee growth. In addition to this, a ratings decline will directly put pressure on advertising revenue growth.
Our current price estimate for Time Warner stands at $62, implying a premium of about 10% to the market price.
Are you sure you want to delete this comment?
DATA PROVIDERS
Copyright © 2014 Microsoft. All rights reserved.
Fundamental company data and historical chart data provided by Morningstar Inc. Real-time index quotes and delayed quotes supplied by Morningstar Inc. Quotes delayed by up to 15 minutes, except where indicated otherwise. Fund summary, fund performance and dividend data provided by Morningstar Inc. Analyst recommendations provided by Zacks Investment Research. StockScouter data provided by Verus Analytics. IPO data provided by Hoover's Inc. Index membership data provided by Morningstar Inc.
ABOUT
Top Stocks provides analysis about the most noteworthy stocks in the market each day, combining some of the best content from around the MSN Money site and the rest of the Web.
Contributors include professional investors and journalists affiliated with MSN Money.
Follow us on Twitter @topstocksmsn.