The mystery of Herbalife deepens
A re-audit of the company's financial statements will need to be done by a new accounting firm.
As the unflappable rock-and-roller Jerry Lee Lewis might sing, "Goodness, gracious, great balls of controversy" if he wrote a song today about Herbalife (HLF).
Billionaire activist investor Carl Icahn, who indirectly owns over 16.35 million shares (as of March 8, 2013, making him a "beneficial owner," which signifies his stake exceeds 10% of the outstanding shares) may be singing a different part of the same song.
If I owned 10% or more of HLF, I might be singing, "You shake my nerves and you rattle my brain, too much love [think HLF] drives a man insane. ..." Icahn's big bet on HLF puts him in direct opposition to a longtime rival, hedge fund manager Bill Ackman, who took the "short side" of the HLF bet. 
Their ongoing feud is legendary, but the mystery that enshrouds Herbalife keeps getting more curious with every passing day. Back on Feb. 15, Icahn told CNBC that his investment in HLF wasn't about his unmasked dislike of Ackman.
"I'm not going to lie to you and say that if Ackman gets squeezed, I'll feel very sorry and cry and do penance," Icahn said on CNBC that Friday. "But that's not the reason I'm doing this." He described HLF as a financially fit company that had potential for continuing growth.
He even referred to HLF as "a quintessential example of a company that should be taken private." Then he added that it was his opinion (and he voted with his wallet on it) that Herbalife sold good, quality products.
Herbalife is a network marketing company (sometimes referred to as "multi-level marketing") that sells weight management, healthy meals and snacks, sports and fitness, energy and targeted nutritional products as well as personal care products worldwide.
Herbalife has been back in the headlines, this time due to news that broke April 9 that a partner at the accounting firm KPMG had allegedly been caught in some kind of insider trading scandal. This was the reason given for the auditor's resignation from both Herbalife and SkechersUSA (SKX).
Shares of HLF were temporarily halted on the news. It was also reported in April 10's Wall Street Journal that an email received late Tuesday from a former KPMG partner named Scott London, who had been in charge of the audits of Herbalife and Skechers, said he "regrets my actions in leaking non-public data to a third party."
The Journal story mentions that London said his "leaks ... started a few years back" and he added that KPMG bore "no responsibility" for his actions. The FBI and the SEC are reportedly "investigating allegations of insider trading in the shares of certain KPMG clients, said people familiar with those probes."
Since Herbalife has been mired in the much-publicized verbal sparring between Icahn and Ackman, the reports and the temporary halting of trading have put the kibosh on HLF's share price. On April 8, shares of HLF closed at $38.39 on only 859,400 shares traded. 

Once the rumors and news reports began flying April 9, a different picture unfolded: 5,877,800 shares traded in a range between $36.21 and $38.95 and finally closed at $36.95. On April 10, the stock closed at $37.20 on less than half of the average daily volume of 6.4 million shares.
Herbalife reports first-quarter earnings April 29 after the market closes. Analysts estimate, on average, an increase in earnings per share of over 20% to $1.06. Revenue will rise more than 15% to $1.11 billion, they say.
Looking at the one-year chart of HLF, you can see the effects of the dichotomy between the diluted, year-over-year EPS and the trailing 12-month revenue-per-share. Add in the saga of Icahn versus Ackman, and you have a picture that's either fraught with peril or ripe with opportunity.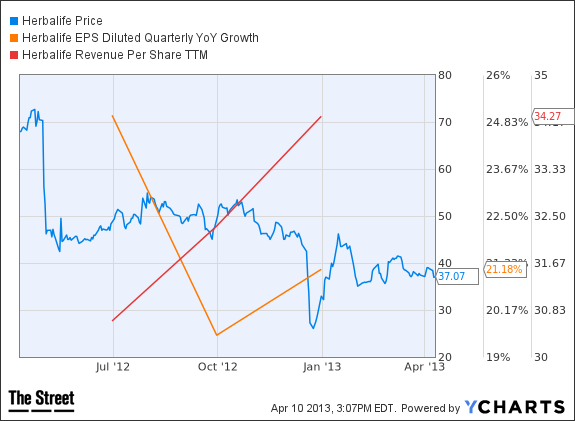 This is an ongoing story that offers both entertainment value and possible volatility for shareholders and potential investors. The importance for publicly traded companies like HLF and SKX to produce confirmations of the audited financial statements under these circumstances seems essential.
Most likely a re-audit of their financial statements will need to be done by a new accounting firm, which will no doubt be rather expensive. Look for news from both as to how, when and at whose expense this process will be completed.
Traders may find many opportunities to "buy the rumors and sell the news," as this situation and the yet-to-be-resolved tug-of-war between the mighty activist investors continues. I'm putting a note on my desk to keep a close eye on HLF, especially between now and April 29. Get ready, get set, not quite yet!
Disclosure: As of the time of publication, the author wasn't long or short shares of any of the companies mentioned in this article.
More from TheStreet.com
DATA PROVIDERS
Copyright © 2014 Microsoft. All rights reserved.
Fundamental company data and historical chart data provided by Morningstar Inc. Real-time index quotes and delayed quotes supplied by Morningstar Inc. Quotes delayed by up to 15 minutes, except where indicated otherwise. Fund summary, fund performance and dividend data provided by Morningstar Inc. Analyst recommendations provided by Zacks Investment Research. StockScouter data provided by Verus Analytics. IPO data provided by Hoover's Inc. Index membership data provided by Morningstar Inc.
ABOUT
Top Stocks provides analysis about the most noteworthy stocks in the market each day, combining some of the best content from around the MSN Money site and the rest of the Web.
Contributors include professional investors and journalists affiliated with MSN Money.
Follow us on Twitter @topstocksmsn.