The public spanking of IBM's sales people
Was CEO Rometty right to publicly critique the company's sales organization for moving too slowly?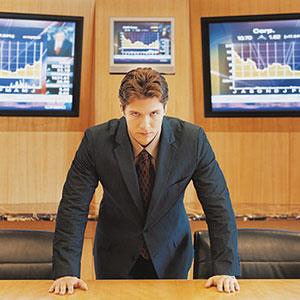 By Robert Sher
IBM'ers were under that lash last Wednesday as CEO Ginni Rometty publicly criticized her sales organization for moving too slowly, effectively pinning the blame on them for IBM's (IBM) first quarterly results miss in eight years. Is a public spanking a helpful approach to getting better performance from IBM or any other company?
Disappointing performance happens at all companies, and is an issue that CEOs often face. The underlying question is how CEOs should react when their organization falls short. In IBM's case, its hardware division's sales fell 17% below prior year results, and that amounted to a key cause for the earnings miss. Rometty also reassigned the top executive leading that division, presumably because of the poor results.
In contrast to IBM's $105 billion annual revenues in 2012 (and 434,000 employees), mid-market companies (revenues between $10 million and $1 billion) must deal with poor performance more quickly. Middle market companies tend to have weaker balance sheets, less market momentum than big companies, and are dealing with competition from both small and big companies.
Too often, teams face few consequences for poor performance. In my consulting experience, I have seen three common CEO "cop-outs."
The "shoulder shrug," where the CEO and leadership team barely note the shortfall and go on to set new targets (likely to be missed again).

"Spinning" the news to look positive for employees and investors (arguably to keep the team motivated, or to keep the stock price up).

Closed door discussions among management where there is debate but no new course of action is chosen. This lack of consequence creates an environment that allows -- even encourages -- low performance.
Consistent high performance comes when CEOs actively manage the performance environment. That requires the CEO to be much more than a cheerleader and morale booster. It requires them to make underperformers feel uncomfortable. To Rometty's credit, she did just that last Wednesday. By shining a light on the sub-par performance of the sales team, she exposed them to their peers and in fact, to the world at large. By reassigning the top executive, she showed that she won't tolerate low performance. You can be sure that every executive at IBM took notice, especially the ones with below average performance. She is increasing the performance pressure, and all investors in IBM should be glad.
The truth is, increasing the pressure correlates well with increasing performance -- so long as the top performers don't head for the exits. Big rewards for success are just as important as consequences for failure, and both increase pressure. Having clear, accepted measures of performance are critical too, because without measures, increasing the pressure will create chaos (since people won't be sure what to do to relieve the pressure). Meaning, there is another way to offset pressure. In IBM's case, Rometty made it clear that one measure -- responding to client needs within 24 hours -- is now a priority.
However, did she have to do it publicly? Exposing performance (both good and bad) is critical. If performance isn't measured, or if no-one sees the results, a big element of pressure is missing. In many mid-market companies, exposing performance is best started simply; monthly performance review meetings, where each c-suite executive presents results to their peers. Many such companies also have quarterly all-hands meetings to expose performance to all employees. Typically, increasing pressure through exposure is done incrementally, ratcheting up pressure.

While I am not an IBM insider, I must assume that this was not Rometty's first attempt to make it known that moving faster and being more responsive to customers was needed. I wonder if her messages had not been carried effectively through the management ranks. She chose to go directly to her 434,000 employees and deliver a high impact message. I applaud that she was comfortable making the underperforming team uncomfortable. I don't care if her honest and direct approach made the stock dip -- it will make the company healthier in the mid-term.
Most mid-market companies don't have to go public to step up the pressure. One $60 million revenue engineering services firm increased exposure by having monthly Key Performance Indicator (KPI) review meetings at the c-level, where each executive presented his/her results. Over a four month period, most were doing well, but one executive was lagging. The CEO kicked off a spontaneous brainstorming session at the KPI review meeting focused on helping that executive hit his numbers. Although grateful, he later commented privately, "I never, ever want to be the focus of a discussion like that!" It made him uncomfortable, and he redoubled his efforts to hit his numbers.
One way to avoid having to take dramatic action is to monitor the performance environment closely and to make earlier, incremental adjustments. An Australian firm, Elkiem, developed one such assessment tool that is my favorite.
The CEO must thoughtfully and consistently communicate with their employees. While positive messages are more fun to deliver, there are times when teams need to hear things that make them uncomfortable. It is that perception that they may fall short and suffer consequences that increases pressure, which leads to innovation and higher performance.
More From Forbes
DATA PROVIDERS
Copyright © 2014 Microsoft. All rights reserved.
Fundamental company data and historical chart data provided by Morningstar Inc. Real-time index quotes and delayed quotes supplied by Morningstar Inc. Quotes delayed by up to 15 minutes, except where indicated otherwise. Fund summary, fund performance and dividend data provided by Morningstar Inc. Analyst recommendations provided by Zacks Investment Research. StockScouter data provided by Verus Analytics. IPO data provided by Hoover's Inc. Index membership data provided by Morningstar Inc.
ABOUT
Top Stocks provides analysis about the most noteworthy stocks in the market each day, combining some of the best content from around the MSN Money site and the rest of the Web.
Contributors include professional investors and journalists affiliated with MSN Money.
Follow us on Twitter @topstocksmsn.