Apple, Netflix share the seesaw of greed and fear
The sharp movements in both stocks may reflect a value reality -- then again, maybe not.
By Jonathan Heller

Nearly every trading day, I see more and more examples of what makes the markets so fascinating. Thought by many to be quite efficient overall, we often see quite the opposite as it applies to individual names. 
For a value investor, that's what can create opportunity; inefficiency is a positive.
The sometimes incredible gyrations in stock prices are the result of what market efficiency theories can't adequately measure; human beings, with all of our biases, fears, and assumptions making decisions on what to buy and what to sell. We react to new "information" quickly; we tend to follow the herd. It's the "oscillation between greed and fear" (see TheStreet) as applied to individual stocks.
Thursday, we saw Apple (AAPL) fall more than 12%, primarily due to slightly diminished expectations. The company went from being the darling of Wall Street to a pariah nearly overnight. This is not a high-flying tech-bubble-era name, with little revenue and no earnings; this company trades for less than 9 times trailing 2014 consensus estimates, and has net margins in the mid-20% range.

It's also "followed" by more than 40 analysts, so there should not be that many surprises in terms of new information. In September, shares breached the $700 mark, and this was a "must-own." Four months and a 35% drop later, and some believe that the company's best days are behind it.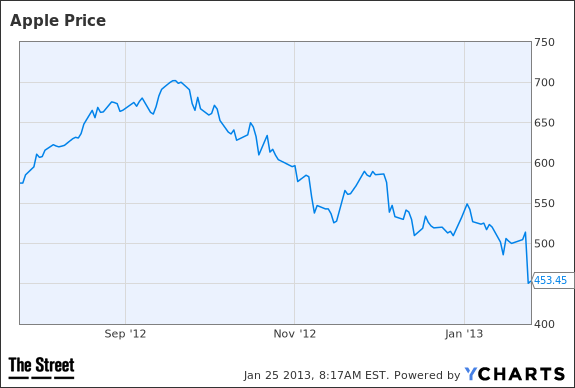 Now Apple is a "mistake" made by investors, because they picked up some shares for $650 in November that are currently worth $450. Apple shares now trade at nearly the same level as one year ago; what happened in between was a circus of greed and fear. Was Apple really worth $700 just four months ago? Is it worth $450 now?
Netflix (NFLX), on the other hand, has gone from rock star to pariah back to rock star. Shares jumped 42% Thursday alone, and are up more than 170% since October. The company was expected to report a loss for its latest quarter, but instead reported a modest profit, revenue slightly ahead of the consensus, and now, prospects are bright.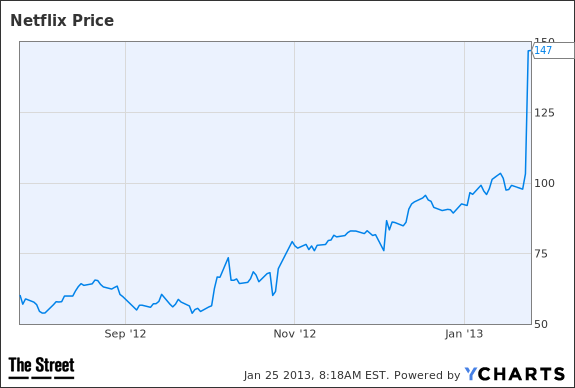 All of a sudden, Netflix is back in with Wall Street, which rewarded the company by nearly doubling its market cap in one day. It was not all that long ago that some high-profile players were shorting this name; its best days were "clearly" behind it. Now, it's a "must-own" name. Overnight.
The truth, for both of these companies may be somewhere in the middle. I don't own either, and am not writing this column to tout or pan them, but rather to make a point. Small investors need to be careful of the information that they act on, and especially in taking a very short-term focus.
When everyone and their brother is buying, when the hype is at its height, it's usually after the "easy" money, if there is such a thing, has already been made. Neither Apple nor Netflix as companies, are probably all that different than they were a few months ago. The stock prices however are remarkably different.
There are probably a lot of small investors kicking themselves today because they bought Apple at the "top." After all, it was a "must own," everyone was talking about it, and it was clearly going much higher. There may also be renewed interest in piling into Netflix, now that it is again back in favor.
I honestly don't know what either of these companies is worth, or where they are headed from here. What I do know is that as investors, in the short-term, we tend to bid up companies up beyond their true value, pricing them for perfection. Then we punish them too harshly when we realize that perfection is unachievable.
It's the oscillation between greed and fear, and too often, it's the small investor that gets hurt in the aftermath.
At the time of publication, the author held no positions in any of the stocks mentioned.
More from TheStreet.com
Are you sure you want to delete this comment?
DATA PROVIDERS
Copyright © 2014 Microsoft. All rights reserved.
Fundamental company data and historical chart data provided by Morningstar Inc. Real-time index quotes and delayed quotes supplied by Morningstar Inc. Quotes delayed by up to 15 minutes, except where indicated otherwise. Fund summary, fund performance and dividend data provided by Morningstar Inc. Analyst recommendations provided by Zacks Investment Research. StockScouter data provided by Verus Analytics. IPO data provided by Hoover's Inc. Index membership data provided by Morningstar Inc.
ABOUT
Top Stocks provides analysis about the most noteworthy stocks in the market each day, combining some of the best content from around the MSN Money site and the rest of the Web.
Contributors include professional investors and journalists affiliated with MSN Money.
Follow us on Twitter @topstocksmsn.