David Einhorn vs. the Apple goliath
The hedge fund manager, once a huge supporter of the tech giant, is now asking shareholders to fight against it.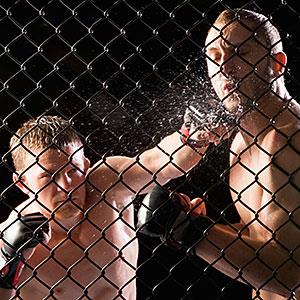 By Chris Ciaccia
Apple (AAPL) has had plenty of fights on its hands over the years. Now it looks like one of its biggest supporters is also going up against the tech titan.
Hedge fund manager David Einhorn has been a noted Apple bull in the past, but now he's asking shareholders to fight against the company. He's put out a letter asking shareholders to vote against Apple's proposal to do away with preferred stock, which he says restricts "the Board's ability to unlock the value on Apple's balance sheet."
Einhorn first mentioned this topic in May 2012 at an investment conference (see TheStreet). He proposed a solution that could eventually cause Apple to rise 62% (from May prices), where the company would offer perpetual preferred stock at a dividend rate of 4% to 6%.
Apple could not be immediately reached for comment for this story.

"We believe Apple must examine all of its options to unlock the growing value of its balance sheet for all shareholders," said the Greenlight Capital president in the letter. "Over the past several months, we have had an ongoing dialogue with Apple regarding one option to do so, namely the creation of a new security, a perpetual preferred stock that would be distributed at no cost to Apple's existing shareholders, and would provide an attractive, sustainable dividend while preserving Apple's financial resources to pursue its business strategy."
Einhorn took to CNBC Thursday morning to further push his case. "Apple has gone through a couple traumas," he said. "It has a mentality of depression. Apple seems to feel like it can never have enough cash. We've come up with a solution where Apple can maintain its cash, and at the same time, shareholders can reap the value of its balance sheet."
"We own more Apple today than we ever have," Einhorn said, when asked if he still has a large position in the tech giant. Einhorn's most recent 13F showed that he trimmed some of his Apple stake, reports TheStreet, but a recent investor letter noted that Einhorn and his fund "used the lower prices as an opportunity to repurchase the shares we sold in the third quarter." (Also see TheStreet's Kass: getting to the core of Apple.)
Apple shares have vastly underperformed recently, falling 26.5% over the past six months for a variety of reasons. Einhorn is trying to reinvigorate the share price with this maneuver.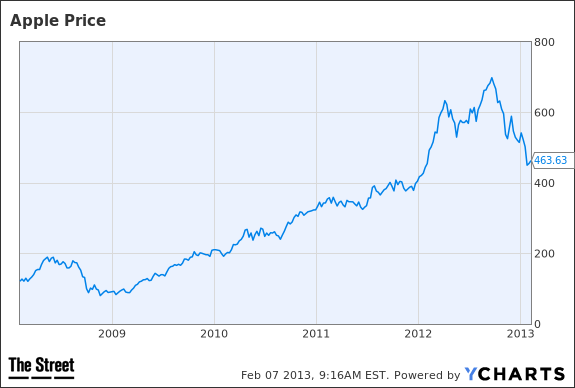 When I first heard this case made in May, I thought it was a creative idea, but just an idea. I agree with Einhorn that Apple's management, led by CEO Tim Cook, CFO Peter Oppenheimer and Treasurer Gary Wipfler, are conservative when it comes to cash, a stance which may stem from the near bankruptcy Apple experienced in the late 1990's. I just don't think Apple will cave to Einhorn's activism here.
Apple has $145 a share in cash, and Einhorn notes that every $50 billion in preferred stock would unlock $32 a share in cash. He also believes that Apple shares would appreciate further, with a higher earnings multiple, as the "market appreciates a more shareholder friendly capital allocation policy." There's one major caveat with this solution. Most of Apple's cash hoard is overseas. You can't pay the dividend with overseas cash unless there's a repatriation of that cash, which seems highly unlikely.
Einhorn notes that the preferred shares "represent a simple, low-risk way to reward shareholders without compromising the financial and strategic flexibility of the Company, or forcing the company to incur tax on repatriating its offshore cash balances." I'm not sure how he arrives at this given the dividend would have to be paid on the preferred shares. There's always the possibility that there could be an inter-company loan set up to avoid repatriating the cash, but that would a complex structure. Apple has been working on increasing transparency, so I'm not sure how that would work.
The issue of falling stock price has been talked about before. Morgan Stanley analyst Katy Huberty recently asked about Apple's growing cash hoard and the possibility of buying back more stock than Apple originally planned, reports TheStreet. Oppenheimer noted "this is something that we continuously assess - the opportunities to both invest in the business and return cash." He noted that Apple is considering increasing its buyback and dividend programs, and would do "what we think is in the best interest of our shareholders."
Einhorn issuing a press release to try to raise the share price is showmanship at its best. Apple's style when it comes to managing its cash is understated, not flashy. It does not make major acquisitions for the sake of acquisitions, and only last year started giving back some of its cash to shareholders.
David is going up against Goliath on this one. Even with Einhorn's penchant for publicity and his friends on Wall Street, it's going to be a tough battle. Ultimately, I think Apple will win, and eliminate the preferred stock. Perhaps there is a dividend increase in the future, but it won't be because Einhorn wants it. It'll be because Apple wants it.
Place your bets.
More from TheStreet.com
DATA PROVIDERS
Copyright © 2014 Microsoft. All rights reserved.
Fundamental company data and historical chart data provided by Morningstar Inc. Real-time index quotes and delayed quotes supplied by Morningstar Inc. Quotes delayed by up to 15 minutes, except where indicated otherwise. Fund summary, fund performance and dividend data provided by Morningstar Inc. Analyst recommendations provided by Zacks Investment Research. StockScouter data provided by Verus Analytics. IPO data provided by Hoover's Inc. Index membership data provided by Morningstar Inc.
ABOUT
Top Stocks provides analysis about the most noteworthy stocks in the market each day, combining some of the best content from around the MSN Money site and the rest of the Web.
Contributors include professional investors and journalists affiliated with MSN Money.
Follow us on Twitter @topstocksmsn.