Latest returns: The races that matter
Obama's late-night victory capped an evening of solid returns for Democrats in several significant races.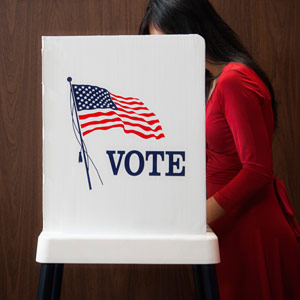 Updated 11:40 p.m. ET
We've seen a pretty crushing Republican defeat Tuesday night, from Mitt Romney's loss at the top down to key Congressional races across the country.
Now, the focus of the nation will quickly shift to the so-called fiscal cliff. Can President Obama avert disaster? Will Republicans and Democrats work together moving forward?
We saw a historic election play out. Obama clinched victory fairly early in the night, capping a rise that seemed inconceivable to Republicans and even some Democrats not too long ago.
Obama won handily even in a stumbling economy that may get worse before it gets better. He won even as the unemployment rate still hovers close to 8%. He won even amid severe criticism of his handling of the economy.
But will anything be different Wednesday morning? America still has significant problems, and perhaps now realizes more than ever how fractured its electorate appears to be. Obama has a long four years ahead of him, and the glow from the election will wear off quickly.
Called for Obama
11:15 p.m.
Even with four states still left to report, the media has called it for Obama. This wrapped up far earlier than I expected; some pundits worried the election would still be undecided by Wednesday morning.
Ohio brought the goods for Obama, pushing him above the 270 electoral votes he needed to win.
Did Springsteen help?
10:58 p.m.
Bruce Springsteen campaigned for Obama and spent nearly an entire day with him on Air Force One this week, hopping to rallies in Wisconsin, Ohio and Iowa. Another artist, Jay-Z, also made a well-publicized appearance. "Bruce Springsteen, and some other celebrities who have been helping us, reach a broad audience that sometimes tune out what's being said by politicians," an Obama spokeswoman
told
The New York Daily News.
Did Springsteen help that much? "If Obama wins, what will he owe Springsteen. How about 'The Oval Office Recording Studio?'"
joked
CNBC's Steve Liesman on Twitter.
From the Twitterverse
"America really is split straight down the middle, and almost certainly politically gridlocked. Not good for America. Not good for the world." --
Matthew Bishop
, The Economist.
Nate Silver's revenge?
10:45 p.m. ET
One of the running controversies throughout the campaign has been the steadfast projections of Nate Silver of the
FiveThirtyEight
blog. A proud statistics nerd, Silver has analyzed and summarized the polls and forecast an Obama victory pretty much from the beginning.
His steady predictions, seemingly contrarian at times, won criticism from many parts of the Republican party and from other pollsters and news sites.
But as the results come back, Silver is mostly being proven correct. Is this a victory for statistical analysis over punditry?
Medical marijuana passes
10:27 p.m. ET
Massachusetts is now the 18th state to legalize medical marijuana. This wasn't much of a surprise, as polls showed pretty solid support for the measure known as Question 3.
Unlike voters in Washington and Colorado, Massachusetts voters were not voting to allow the recreational use of marijuana. The results from those other states have not come in yet.
Marijuana use of any type is still against federal law. But a full-blown industry has sprung up in response to the medical marijuana measures that have already passed across the country.
Christie's bet pays off?
10:15 p.m. ET
So far, it looks like New Jersey Gov. Chris Christie seems to have made a politically smart call when he praised President Obama's response to Superstorm Sandy, irritating Republicans across the board.
Christie was responding to the federal aid coming into his state at a time when residents badly needed it. But there were political motivations as well -- New Jersey is a blue state and Christie needs to think about 2016.
"The Romney supporters in my twitter feed are expressing rage at" Christie right now,
wrote
Jeffrey Goldberg of The Atlantic on Twitter.
From the Twitterverse
"So far, turnout among young voters is HIGHER than 2008. Those who talked about disenchanted youth can shove it." --
Sally Kohn
, Fox News contributor.
"Speaking for everyone who would love to vote for a fiscal conservative who is also pro-freedom, here's hoping GOP moves to center" --
Henry Blodget
, Business Insider founder.
"Looks like we're going to get Obama, Dem Senate & GOP House again. What could go wrong?" --
Matt O'Brien
, associate editor at The Atlantic.
Elizabeth Warren wins Massachusetts
9:53 p.m. ET
NBC has called the U.S. Senate race for Democrat Elizabeth Warren, who ran a fierce and closely watched campaign against Republican Scott Brown.
A Warren victory is a huge win and likely a significant worry for Wall Street. Warren may work to break up the banks, and reportedly suggested as much in a call with volunteers on Sunday.
"They have been lobbying the regulators to try to weaken the rules, to put loopholes in them, to try to delay them and try to get rid of them outright," she said,
according to
the Raw Story. "If they [regulations] are not strong enough, then I think we need to take another look at Glass-Steagall, separating the commercial banking activities from the investment activities."
The vote has generated intense analysis on Twitter. "Pundits who lament the decline of moderates in the political system should be mourning Scott Brown's exodus,"
wrote
Matt Lewis, a columnist for The Week.
Read my colleague Charley Blaine's election night observations here.
DATA PROVIDERS
Copyright © 2014 Microsoft. All rights reserved.
Fundamental company data and historical chart data provided by Morningstar Inc. Real-time index quotes and delayed quotes supplied by Morningstar Inc. Quotes delayed by up to 15 minutes, except where indicated otherwise. Fund summary, fund performance and dividend data provided by Morningstar Inc. Analyst recommendations provided by Zacks Investment Research. StockScouter data provided by Verus Analytics. IPO data provided by Hoover's Inc. Index membership data provided by Morningstar Inc.
ABOUT
Top Stocks provides analysis about the most noteworthy stocks in the market each day, combining some of the best content from around the MSN Money site and the rest of the Web.
Contributors include professional investors and journalists affiliated with MSN Money.
Follow us on Twitter @topstocksmsn.