3 banks: 2 to buy, 1 to consider
This review of financial stocks highlights the differences between the firms.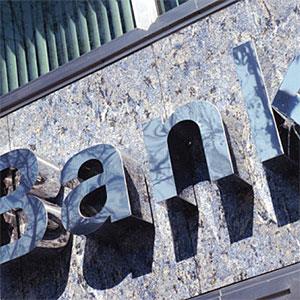 By Nihar Patel
Getting updated on bank stocks is always nice. By knowing the grand strategy of a company you can review the results as they come down the information pipes. In the gleaming Internet age all the numbers are crunched for us and the metrics delivered in manageable packages. The four big banks have all reported earnings and had their conference calls. My favorites have not changed much, but I am willing to consider a new one in light of recent events.
1. Wells Fargo helps form the base of the risk pyramid
Low risk does not mean no risk. With that said, I consider Wells Fargo (WFC) to be low risk, lower in fact than other banks. It is a classic bank to the extent it is possible in these heady days. It loans out money and makes a profit on the difference between the interest it collects on loans and the interest paid to depositors. It also has a growing investment banking arm, which is likely to increase volatility of revenue somewhat. Wells Fargo avoided many of the most dangerous practices of the other banks prior to the financial meltdown, and that gives it some extra points as a safe investment.
This stock is not for the impatient. The company is priced a bit higher compared to its book than it peers. However, for profitable companies I do not find the price-to-book value as meaningful. Wells Fargo has a 1.26 price-to-book ratio, while the other banks are below 1. It is the return on the book that matters. An inflated acquisition that still occupies an expensive line on the balance sheet, while only costing the company money will inflate the book and weigh down returns. The company has strong and consistent revenue growth and earnings growth (YChart links) that has been consistent sequentially for over a year, though revenue growth has only been consistently positive for about one year. Even when revenue declined earnings increased, which is a strong sign.
I know the company has been wanting to boost dividends and buy back shares. According to the conference call, it is currently in the midst of a stock buyback, and I expect dividends will grow in the future. The company is a Buffett favorite, which means that it receives a lot of positive attention. It deserves the attention, but that means the near-term outlook is flat to moderate decline should earnings results flatten out instead of growing impressively. Wells Fargo is a long-term buy and hold. You can wait for a decline or go with puts at $34 or $33, or just avoid all that and buy it with a three to five year outlook.
2. Bank of America has more to give
I liked Bank of America (BAC) last year when it struggled to hold $9 a share. Back then I preferred putting less than $100 into buying a bunch of call options on the off chance the stock just took off. Now that the company has crossed that extremely difficult $9-$10 range, a straight buy seems more plausible. My fear was that once it would hit $10, it would fail to hold it and drop down below $8 as people got frustrated with the lack of movement.
A share price of around $15 seems plausible for the next year. That might be a conservative outlook, but even conservatively that is not a terrible return since it is over 30% from the current levels. The earnings call had little in the way of grand strategy for the company. It is continuing on its current path of expense cutting and streamlining. The goal is to create a strong framework to produce revenue. It has a massive cash pile of over half a trillion dollars, so it definitely has the breathing room to accomplish its goals.
With Bank of America you are looking for the market to believe in the turnaround. It is not for sure that you can call BAC a turnaround play, but revenue and earnings are eroding. BAC also needs is a growing economy with the market confident in the economic growth. That should create fertile ground for share price growth. There is still much fear regarding legal problems that weigh on the stock, and the company does incur costs associated with real legal issues. Once legal concerns clear away the stock should see a nice bump.
3. Citigroup worth buying on market negativity
My interest in Citigroup (C) sounds completely contrarian, but I try not to espouse any specific philosophy. The recent earnings weakness led to a decline in the share price. If you look at a five-day chart it looks dramatic, but the decline was just over $1 and the price has recovered a little in the last two days.
Legal expenses ballooned last quarter, which explains some of the weakness. It was the bottom line that was the problem and not necessarily the top line. Revenue has been flat the last few quarters, and while that is not ideal, it could be worse. Expenses need to be reigned in, but litigation expenses probably will not be $1.3 billion every quarter. Expense control will really be useful when revenue recovers. Citigroup is worth considering only because the market has punished the stock for the earnings drop, but it might not be enough to really turn it into a buy on negative sentiment. Had it fallen to $40 or below it would make a fantastic medium-term position.
Final thoughts
Citigroup is my least favorite, and for a bank on the mend I would go with BAC. I like Wells Fargo hands down, which is why I do not go over JPMorgan (JPM) here despite it having higher returns in 2012 and so far in 2013. My fire and forget stock is Wells Fargo, and my turnaround stock is Bank of America. Citigroup is something you could trade if you think the next earnings report will beat, which should create a positive surprise considering the last earnings report.
DATA PROVIDERS
Copyright © 2014 Microsoft. All rights reserved.
Fundamental company data and historical chart data provided by Morningstar Inc. Real-time index quotes and delayed quotes supplied by Morningstar Inc. Quotes delayed by up to 15 minutes, except where indicated otherwise. Fund summary, fund performance and dividend data provided by Morningstar Inc. Analyst recommendations provided by Zacks Investment Research. StockScouter data provided by Verus Analytics. IPO data provided by Hoover's Inc. Index membership data provided by Morningstar Inc.
ABOUT
Top Stocks provides analysis about the most noteworthy stocks in the market each day, combining some of the best content from around the MSN Money site and the rest of the Web.
Contributors include professional investors and journalists affiliated with MSN Money.
Follow us on Twitter @topstocksmsn.