Russia tries to kick the habit
A proposed smoking ban in country would outlaw cigarette advertising and eventually limit tobacco use in public areas. The move could hurt Philip Morris International, a major player in the region.
Philip Morris International
(
PM
) has become a major player in Russia, but a strict proposed smoking ban threatens to tar its business there.
Philip Morris is one of four big tobacco companies in Russia, with 26% of the market, and has been furiously lobbying against the proposed ban, but with no luck. A bill that bans cigarette advertising and limits smoking in restaurants and other areas is set to go to parliament on Nov. 1 for a vote early next year, The Wall Street Journal
reports
.
It's a major cultural change for Russia, the world's No. 2 market for cigarettes. Nearly 40% of Russians (and 60% of the men) smoke, The Journal reports, and half of the smokers go through at least a pack a day. Even though the U.S. has twice Russia's population, Russia still goes through 20% more cigarettes a year.
You can buy a pack of Marlboros for about $2 in Russia.
The government began pushing for change after watching growing numbers of residents die from smoking-related diseases. Nearly 400,000 residents, including 23% of Russian men, die from the effects of smoking, and the Health Ministry estimates the habit's economic damages are equal to about 6.3% of the gross domestic product, Bloomberg
reports
.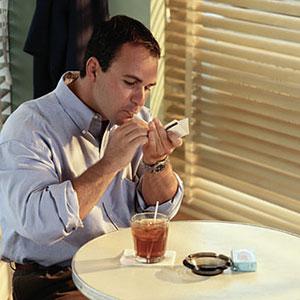 The bill would immediately ban all cigarette advertising. It would ban cigarette kiosk sales and smoking in public places by 2015. Separately, Russia's Health Ministry wants to place fairly hefty new taxes on cigarettes, taxes that some analysts estimate could cut smoking by as much as 20% by 2015, Bloomberg
reports
.
Tobacco companies have been fighting the bill, hiring "very expensive lobbyists" to change government minds, one Moscow expert told Bloomberg. Japan Tobacco is the leader in Russia, with about 37% of the cigarette business, followed by Philip Morris with a 26% share,
British American Tobacco
(
BTI
) with 21% and
Imperial Tobacco Group
(
ITYBY
) with 9%.
The bill comes just as Philip Morris has seen business boom in Russia. In a July 19 earnings call, Philip Morris' recently retired chief financial officer, Hermann Waldemer, said Russia was leading the company's strong results. He said the Russian cigarette market may have grown in the first half of 2012 as the economy improved and foreign workers returned to construction jobs.
Philip Morris' sales volume in Russia rose 8.7% in the second quarter, Waldemer said, as smokers traded up to the company's brands. The company launched the smoother-tasting Marlboro ClearTaste in Russia in June and raised prices on its cigarettes in July.
Investors seem unconcerned about the impact of the smoking bill. Philip Morris shares have been on fire over the last year, rising to $92.08 Wednesday from the $66 range a year ago.
More from Top Stocks


They can talk how business is fine.....But not from the HONEST owners I know..
And Casinos seem to be the "hottest" places anymore..
Many bars have lost half or better of their business, tried putting in better food that has helped.
Some restaurants have made it, "many have closed up."
And bowling alleys have suffered for several years going by the wayside, maybe smoking bans have been the final nail or coffin nail..?
Another big loss has been the State gambling losses in those establishments..That​ have gaming.
Lottery,Keno,pull-ta​bs/rip-offs...Smoker​s or drinkers..like to gamble.
Now they do it in a Casino.

Don't do it Russia, no matter how much you hate smoking or its effects.  It only opens the window for the Bloombergs of the world to ban everything they see fit. 
Countless bars, bowling alleys, casinos, and restaurants went out of business in Colorado after smoking bans.  We're all now smoke-free and unemployed.  Now depression runs rampant, which is just as deadly as heart disease and lung cancer.
its nobodys buisness but heres what they drink smoke or shoot up, to bad america doesn't wake up and realize his is a free country.
and the smoking bans are the start of n agenda 21. the cdc declared a second hand smoke emergency. how does a 1.8% higher risk of heart
problems or cancer . relate to a public health emergency. he american public have tuned into sheep. e need o start supporting freedom and stop suporting there lies.
Are you sure you want to delete this comment?
DATA PROVIDERS
Copyright © 2014 Microsoft. All rights reserved.
Fundamental company data and historical chart data provided by Morningstar Inc. Real-time index quotes and delayed quotes supplied by Morningstar Inc. Quotes delayed by up to 15 minutes, except where indicated otherwise. Fund summary, fund performance and dividend data provided by Morningstar Inc. Analyst recommendations provided by Zacks Investment Research. StockScouter data provided by Verus Analytics. IPO data provided by Hoover's Inc. Index membership data provided by Morningstar Inc.
ABOUT
Top Stocks provides analysis about the most noteworthy stocks in the market each day, combining some of the best content from around the MSN Money site and the rest of the Web.
Contributors include professional investors and journalists affiliated with MSN Money.
Follow us on Twitter @topstocksmsn.