New Wall Street nightmare begins
Its presidential pick loses big, and one of its harshest critics heads to the US Senate. Where do bankers go from here?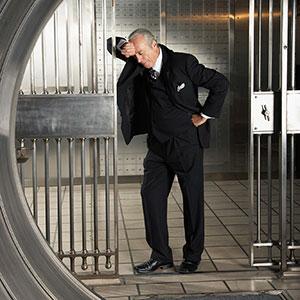 Wall Street is in a bit of a political pickle these days. It made a large, risky bet on Mitt Romney's presidential campaign, and now must try to fix its fractured relationship with President Obama.
Even worse, one of its biggest fears has come true -- Elizabeth Warren as Senator -- which may lead to an even bigger nightmare: Elizabeth Warren on the Senate's banking committee.
What's an embattled banker to do? Make nice, and fast. One Wall Street lawyer
told
The New York Times that the industry "made a bad mistake" in backing Romney so completely. "They are going to pay a price," he said. "It will soften over time, but there will be a price."
Romney's top five contributors were
Goldman Sachs
(
GS
),
Bank of America
(
BAC
),
Morgan Stanley
(
MS
),
JPMorgan Chase
(
JPM
) and
Credit Suisse
(
CS
).
But as Romney fades into history, Warren is coming on strong. It's kind of amazing to see one woman so completely rattle the industry, but that's what's happening after Warren's decisive victory over incumbent Sen. Scott Brown in Massachusetts. She helped create the new Consumer Financial Protection Bureau, but backed away from it when Congressional Republicans revolted at the idea of her as its first director.
She moved quickly into the political arena. "Wall Street CEOs -- the same ones who wrecked our economy and destroyed millions of jobs -- still strut around Congress, no shame, demanding favors, and acting like we should thank them," she said at the Democratic National Convention. "Anyone here have a problem with that? Well I do."
Now there are two questions surrounding Warren's entry into the U.S. Senate. Will she soften her tone in order to legislate effectively? And will she get a seat on the Senate Banking, Housing and Urban Affairs Committee, which oversees the financial services sector? A senior aide on that committee told Bloomberg that it's not a sure thing, and that a decision won't happen until January.
Senate Democrats, who watched Republicans block Warren from the consumer bureau she worked hard to create, may end up giving her the seat she wants.
But one Hill watcher -- perhaps a lobbyist hoping to sway the situation --
told
Politico this week that the Senate Finance Committee would be a better fit. "The banks all have tax issues that are at least as important as regulations, and that's a better committee in terms of fundraising," said the anonymous insider, noting that Warren will be in high demand as a Democratic fundraiser. Plus, placing Warren on the finance committee instead of banking could be viewed as an olive branch of sorts to Wall Street.
That leaves Wall Street's powerful lobbyists with a clear mission: Get Warren as far away from the banking committee as possible.
As for the industry itself? It needs to mend fences with Obama, and then try not to get steamrolled over the next four years. As Warren and other new senators -- including Tammy Baldwin and Angus King -- flesh out their political and legislative ambitions, Wall Street will continue to be a prime target.

More from Top Stocks
DATA PROVIDERS
Copyright © 2014 Microsoft. All rights reserved.
Fundamental company data and historical chart data provided by Morningstar Inc. Real-time index quotes and delayed quotes supplied by Morningstar Inc. Quotes delayed by up to 15 minutes, except where indicated otherwise. Fund summary, fund performance and dividend data provided by Morningstar Inc. Analyst recommendations provided by Zacks Investment Research. StockScouter data provided by Verus Analytics. IPO data provided by Hoover's Inc. Index membership data provided by Morningstar Inc.
ABOUT
Top Stocks provides analysis about the most noteworthy stocks in the market each day, combining some of the best content from around the MSN Money site and the rest of the Web.
Contributors include professional investors and journalists affiliated with MSN Money.
Follow us on Twitter @topstocksmsn.