Netflix earnings slump as content costs jump
Once a cord cutter's dream, the streaming service settles for fans of commercial-free TV.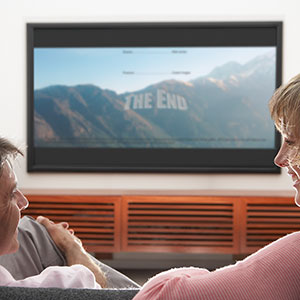 Netflix (NFLX) and its slow slog toward a completely streaming-based service offer potential subscribers an important lesson: If you're going to cut the cord, make sure you have a safe place to land.
While Netflix added 1.16 million streaming subscribers in the third quarter and bumped up its streaming revenue by $36 million, its overall earnings plummeted 88% from a year ago as content costs jumped from $3.5 billion to $5 billion during the same span. 
That has Netflix management speculating that net income losses early next quarter could be as much as $13 million. This quarter's $0.13 earnings per share, meanwhile, could turn into as much as a $0.23-per-share loss.
Why is this happening? 
Just look at what's on Netflix streaming. The company considered an exclusive deal with movie channel Epix too expensive and justified letting it stream content on Amazon (AMZN), as well, by saying Epix made up only 5% of its viewing. Netflix told investors that the money it would have cost to keep Epix exclusive was better spent on high-profile television titles, since two-thirds of Netflix streaming content consists of TV shows anyway.
Great. So instead of fending off a smaller competitors, like Redbox (CSTR), and costly video-on-demand services from Apple's (AAPL) iTunes and cable companies, it would rather pick a fight with News Corp. (NWS), Disney (DIS) and Comcast's (CMCSA) Hulu, Time Warner's (TWX) HBO Go, Amazon Prime Instant Video and just about every cable and satellite service's DVR box. What's the prize? A portion of a pie whose pieces all start to look the same to consumers.
For many "cord-cuddling" viewers, Netflix is just another channel in the mix. Even in the company's letter to shareholders, Netflix brass labeled their service a "supplemental entertainment choice" for consumers already subscribed to DirecTV (DTV), Dish Network (DISH) or Verizon FiOS (VZ) for $50 to $100 a month. Variety's Andrew Wallenstein Thursday used a PricewaterhouseCoope​rs survey to show why once customers have cable or satellite service, it's easier to stay the course if it's already bundled with the Internet.
Wallenstein noted that nearly three-quarters of those polled in the PwC survey had no plans to change providers in the next year, while 59% hadn't bothered switching providers within the past year. The survey finds that complacency has kept folks from switching to Netflix or similar services outright, but other findings suggest Netflix has become little more than a pleasant redundancy for those consumers.
A new survey released at an Advertising Age conference last week found that 42% of TV viewers reported watching more streamed content this year than last year. While 8% did so because they were cutting back on cable and 10% had canceled cable and satellite altogether, a whopping 73% said they were streaming just to catch up on episodes of their favorite shows.
Even when viewers do cut the cord, it's not in numbers significant enough to boost one streaming service over another. According to Nielsen, the number of households subscribing to pay-TV services dropped 1.5% (or roughly 1.5 million) in 2011. Analysts are predicting that nearly 420,000 video subscribers will do away with pay TV this quarter, a jump from the 400,000 subscribers Sanford C. Bernstein says cable and satellite providers lost in the second quarter and the 348,000 IHS Screen Digest says they lost during the same quarter a year ago.
With Netflix looking to add nearly double those numbers next quarter alone, that means dedicating a lot of time and resources to little things. It means spending roughly $2.1 billion for the year on costly original content like new episodes of "Arrested Development" before Amazon and Hulu crank out titles of their own. It means reminding investors that Hulu Plus's pay service still has commercials and that, for now, HBO Go still requires a cable subscription. It means opening up markets overseas even when they cost you $284 million in losses in the last nine months and help put you about $20 million in debt.
It means admitting two-thirds of your streaming viewers watch you simply because you have a different selection of television shows than Hulu and Amazon, and you show them commercial-free.

"For serialized TV shows, however, we do offer an amazingly better experience, because our members can start right from the pilot episode of season one and watch multiple seasons at their own pace," the company told investors, who responded by sending share prices plummeting. "Neither Redbox DVD nor the DVR truly offers this capability."

It means being part of the a-la-carte entertainment solution instead of The Answer both investors and cord-cutting subscribers once believed you were.
More from Top Stocks

DATA PROVIDERS
Copyright © 2014 Microsoft. All rights reserved.
Fundamental company data and historical chart data provided by Morningstar Inc. Real-time index quotes and delayed quotes supplied by Morningstar Inc. Quotes delayed by up to 15 minutes, except where indicated otherwise. Fund summary, fund performance and dividend data provided by Morningstar Inc. Analyst recommendations provided by Zacks Investment Research. StockScouter data provided by Verus Analytics. IPO data provided by Hoover's Inc. Index membership data provided by Morningstar Inc.
ABOUT
Top Stocks provides analysis about the most noteworthy stocks in the market each day, combining some of the best content from around the MSN Money site and the rest of the Web.
Contributors include professional investors and journalists affiliated with MSN Money.
Follow us on Twitter @topstocksmsn.