Time for a commodity rally?
With the twin U.S. fiscal cliff and euro debt crisis worries out of the way, commodities get another boost as investors are now freer to focus on growth stories in economies such as China.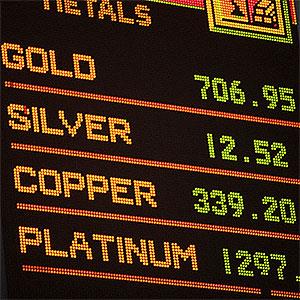 A weaker U.S. dollar, stronger growth in China and the rest of Asia (yes, maybe even Japan), temporary relief from macro worries over the U.S. fiscal cliff and the euro debt crisis. . . could this be time for a commodity rally?
Sure looked that way Wednesday with pretty much everything -- with the exception of natural gas -- moving up. The Brent crude benchmark price climbed 1.3%. Copper was up 2.2%. Gold rose 0.66%.
A weaker dollar pushes up the price of commodities traded in dollars, since it takes more dollars to buy an ounce of gold or a barrel of oil. The end of worries over the fiscal cliff and the euro debt crisis, even if only temporary, would reduce demand for dollars and other safe-haven currencies such as the yen (and assets priced in them such as U.S. Treasuries) because investors feel more comfortable about the risk of owning assets priced in the Brazilian real or the Canadian dollar. (Both the Brazilian and Canadian stock markets were up Wednesday, 2.9% and 0.6%, respectively.)
With the twin U.S. fiscal cliff and euro debt crisis worries out of the way, commodities get another boost as investors are now freer to focus on growth stories in economies such as China. The stories aren't new, but while investors fretted over the possibility that either of these crises might take down the global economy, relatively few investors felt able to put their money behind these stories. But now it's far less risky to put money to work in industrial commodities such as copper, aluminum, or iron ore -- and the shares of companies that produce them.
You can put commodities and commodity producers into two categories on this basis.
First, there are the commodities that will benefit from weakness in the dollar. I'd put gold in this category and suggest taking a look at lower cost gold producers that are expanding production such as
Goldcorp
(
GG
) and
Yamana Gold
(
AUY
). (Both stocks are members of my Jubak's Picks 
portfolio
.) Goldcorp closed up 2.2% Wednesday and Yamana Gold closed up 0.70%.
Second, there are commodities such as copper and iron ore that will benefit from weakness in the dollar and the growth story in Asia. I'd suggest taking a look at
Vale
(
VALE
) in Brazil, 
Thompson Creek Metals
(
TC
) in Canada,
Southern Copper
(
SCCO
) in Peru and Mexico, and 
Jiangxi Copper
(
JIXAY
) in China.

At the time of this writing, Jim Jubak didn't own shares of any companies mentioned in this post in personal portfolios. The mutual fund he manages, Jubak Global Equity Fund (JUBAX), may or may not own positions in any stock mentioned. The fund did own shares of Goldcorp, Jiangxi Copper, and Yamana Gold as of the end of September.
For a full list of the stocks in the fund as of the end of the most recent quarter, 
see the fund's portfolio here
. 

But I don't see the dollar weakening, Jim.
- "UUP" (US Dollar Index bullish) has been on the up trend in the last 10 days.
- The Euro versus the Dollar ("EURUSD") is stuck in a range (same time frame) and is threatening to fall and break down (it fell today).
Also, the rally on China seems to be overbought at this time.
- Your colleague columnist on MSN Anthony Mirhaydari is even shorting China and recommended today the ETF "YANG" (short , x3), but to be fair he has tended to be wrong in the last couple of months.
Tomorrow will tell if this rally has legs ...

OK Jim,
There is NO commodity rally because of a weakening Dollar.
In fact, the Dollar is strengthening and the Euro is tumbling, as the short term (10 days) trends were already indicating yesterday (Wednesday).
Further the US Dollar Index has clearly broken upward from its 6 weeks slide down, suggesting that the Dollar is now on an uptrend path. Also the 6 weeks rising Euro has tumbled today below its support line, suggesting also further decline.
The results are that GG, AUY and TC tumbled between 4% to 5% today, and just have or are about to break down below their own longer term support lines...
We may argue that the Fed Meeting minute reveals that there is no real guarantee that the last QE and current monetary policy (long term cause of inflation and favorable to Precious Metals) is going to be sustained as long as expected (therefore the tumble in PM and the rally in the Dollar) and that the technical could not know about that turn of event.
Was it coincidental or did the market anticipated it ?  Could it have sensed what was coming up ?
But we cannot say it is completely unexpected. So I'll stick with the technical first, as my primary guide for investment.
And if the Dollar wants to weaken tomorrow, sure we'll look again at what commodities are doing.

"With the twin U.S. fiscal cliff and euro debt crisis worries out of the way",....are you kidding?  Nothings been really accomplished here on both fronts, and also the debt ceiling debacle will take center stage soon.  I am watching commodities, but more so, just hanging loose so to speak.  There will be a market setback within 3 months, so I would be playing cautious now, (and I am a very aggressive investor). Until some real facts are dealt with, this market is still a  ponzi scheme.  Know when to get in, and get out is par for the course. DO NOT LET GREED rule your investments now.

  I do have some nice long term holds on some 5%+ large cap dividend stocks. With that approach, I can weather the storm, and bank on those dividends.   I am holding 40% cash, and will pounce, when the storm starts to rock.  For now, just coast and watch.  New money is flowing into the markets now, and managers in my opinion are taking large risks with clients money.. I am my own manager, and hanging on the side of caution.

Are you sure you want to delete this comment?
DATA PROVIDERS
Copyright © 2014 Microsoft. All rights reserved.
Fundamental company data and historical chart data provided by Morningstar Inc. Real-time index quotes and delayed quotes supplied by Morningstar Inc. Quotes delayed by up to 15 minutes, except where indicated otherwise. Fund summary, fund performance and dividend data provided by Morningstar Inc. Analyst recommendations provided by Zacks Investment Research. StockScouter data provided by Verus Analytics. IPO data provided by Hoover's Inc. Index membership data provided by Morningstar Inc.
ABOUT
Top Stocks provides analysis about the most noteworthy stocks in the market each day, combining some of the best content from around the MSN Money site and the rest of the Web.
Contributors include professional investors and journalists affiliated with MSN Money.
Follow us on Twitter @topstocksmsn.