Are these the biotech stars of tomorrow?
Great strides are being made at these off-the-radar drug development companies. Here are 3 emerging players to watch.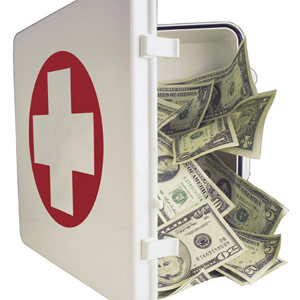 By David Sterman
In the past 30 years, hundreds of thousands of people have been given a second chance after battling cancer. Many of these cancer survivors have long been in remission, but there's still reason for concern.
Cancer kills more than 500,000 Americans every year, and that figure is dropping by less than 1% a year, as
I noted in my first look at the war on cancer
. Yet there's a growing sense of excitement among cancer surgeons because of promising breakthroughs, thanks to new and novel approaches.
To be sure, some of these breakthroughs can seem quite promising in the early stages of clinical testing, only to appear less effective or more dangerous as clinical trials are expanded. Still, very few new treatments get a thumbs-up from the Food and Drug Administration (FDA) each year. In some instances, these can go on to save thousands of lives -- and generate ample profits for investors.
Much of the leading-edge cancer research is being conducted by major drug companies that possess billion-dollar research budgets. For example,
Merck
(
MRK
),
Sanofi
(
SNY
), and
Roche Holdings
(
RHHBY
) are all focusing on reversing changes in the cell mutation process, which may be applicable to many types of cancers, The New York Times has reported.
Reducing toxicity
Even promising cancer drugs can sometimes bring side effects so awful that the FDA will either refuse to approve the drugs or greatly restrict their use. Thankfully, a new class of drugs, known as antibody-drug conjugates (ADC), are hitting the market. These new drugs help existing drugs focus more on tumors and turn away from other non-diseased tissue.
Seattle Genetics
(
SGEN
) is currently the ADC leader. Its Adcetris drug, which was launched in 2011, is racking up more than $100 million in annual sales. Licensing partners such as
Pfizer
(
PFE
),
Bayer
(
BAYRY
) and
GlaxoSmithKline
(
GSK
) could lift that figure much higher if their Adcetris-enabled drugs currently in development come to market.
In a similar vein,
ImmunoGen
(
IMGN
) is pairing its own ADC, known as DM-1, with popular drugs such as Roche's Herceptin (in a combo drug known as TDM-1) to help boost Herceptin's efficacy and reduce its toxicity. Other drugmakers are also testing DM-1 with their own existing drugs, perhaps giving second life to drugs previously deemed too toxic for most patients.
Away from the industry's top headline makers, other major breakthroughs are being pursued. Here's a look at three small companies that are showing great promise in the battle against cancer.
Exelixis
(
EXEL
): This company's Cabozantinib drug targets cancer by inhibiting the growth of small-molecule cancer cells. The drug, which was approved for the treatment of thyroid cancer in 2011, is currently undergoing Phase III clinical trials for prostate cancer. Ovarian, breast, lung and kidney cancers may also prove to be good targets for this drug.
Still, this stock is down from $11 in 2011 to a recent $5 on concerns that Cabozantinib has had some safety issues (six patient deaths in one trial) along with possible competition from a rival drug being developed by Bayer.
Nevertheless, it's important to track this company's progress. Its entire drug development platform received a huge endorsement in November 2011 when the National Cancer Institute agreed to bankroll a number of studies for Cabozantinib. Although Exelixis has drifted off of many biotech investors' radars, the company's drug pipeline still appears to hold blockbuster potential.
Threshold Pharmaceuticals
(
THLD
): I first profiled this stock in October 2011 and provided a deeper look at its Hypoxia-focused drug delivery technology a few months later when Threshold signed a far-reaching distribution deal with Germany's Merck KGaA (not to be confused with the U.S. pharmaceutical giant of the same name). That deal led to a hefty amount of upfront and ongoing milestone payments, which initially led shares to surge to $9. Since then, shares have steadily drifted lower.
What went wrong? Nothing, really -- except for the dawning realization that Threshold's TH-302 technology was still several years away from commercialization.
To recap, Threshold's TH-302 cuts off oxygen to tumors. This targeted approach can focus on small areas, leaving surrounding healthy tissue intact. Most competitive drug approaches have failed, though
Celgene's
(
CELG
) Abraxane, which is currently in Phase III trials, has also shown promise.
Investors should track the progress of Threshold's and Celgene's drugs. There may well be room for both drugs in the market, though an FDA rejection of Celgene's Abraxane may leave this market all to Threshold. As is the case with any biotech, Threshold carries considerable risk, but I remain convinced that its TH-302 drug could be a blockbuster in the making.
Oncothyreon
(
ONTY
): Whenever a biotech company's leading drug delivers poor Phase III clinical trial results, shares can stumble badly.
That's precisely what happened to this company when marketing partner Merck KGaA said in late 2012 that Oncothyreon's L-BLP25 failed to attack tumors as hoped. Oncothyreon's shares -- which had briefly moved above $10 in summer 2011 -- collapsed on the news; they now trade for around $2.50.
Yet this is a biotech company worth tracking, as it has a number of other drugs that are earlier in the clinical testing process, some of which are yielding impressive results.
Oncothyreon is one of a handful of companies that are trying to develop vaccines against tumors by generating immune system response. (Our bodies don't usually see tumors as a problem, as they evolve from regular cells and are not seen as alien bodies.)
Another plus: Oncothyreon has more than $80 million in cash, which should be enough to last into 2015 at current burn rates. The rest of this year will see a series of clinical trial updates, and positive data could put this stock right back on investors' radars.
Risks to consider:
Due to their
high-risk/high-rewar​d
nature, biotech stocks should individually compose just a small portion of your portfolio.
Action to take --> Oncothyreon, Exelixis and Threshold are each pursuing far-reaching drug platforms and not just one-hit wonders. It's this broad-based approach that could help these stocks become the biotech stars of tomorrow.
David Sterman does not personally hold positions in any securities mentioned in this article. 
More from StreetAuthority
DATA PROVIDERS
Copyright © 2014 Microsoft. All rights reserved.
Fundamental company data and historical chart data provided by Morningstar Inc. Real-time index quotes and delayed quotes supplied by Morningstar Inc. Quotes delayed by up to 15 minutes, except where indicated otherwise. Fund summary, fund performance and dividend data provided by Morningstar Inc. Analyst recommendations provided by Zacks Investment Research. StockScouter data provided by Verus Analytics. IPO data provided by Hoover's Inc. Index membership data provided by Morningstar Inc.
ABOUT
Top Stocks provides analysis about the most noteworthy stocks in the market each day, combining some of the best content from around the MSN Money site and the rest of the Web.
Contributors include professional investors and journalists affiliated with MSN Money.
Follow us on Twitter @topstocksmsn.