Stocks break higher as fear wanes
Hopes for new Fed stimulus push equities and other risky assets out of a long funk.
It's been a good week for the bulls. First, Greece voted Sunday to stay in the euro. Then it was reported that Germany is softening its resistance to using eurozone bailout funds to reduce borrowing costs for countries like Spain. And now hopes are high for another round of policy easing from the Fed on Wednesday.
The results have been impressive. Small-cap stocks are breaking up and out of a two-month head-and-shoulders reversal pattern. Emerging-market stocks have jumped above their 50-day average. Precious-metals mining stocks are ending a long downtrend. The evidence suggests the rise will continue.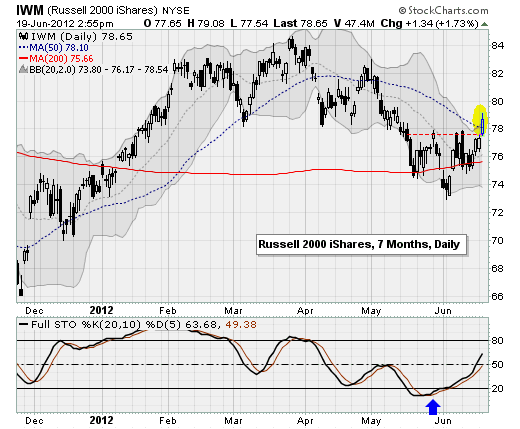 For one, the Fed is very likely to take some kind of easing action. A big drop in crude has cooled inflationary pressures. Unemployment is creeping higher again. And much of Europe has already fallen back into recession.
Opinions on what Fed action will be taken differ across Wall Street, from a short extension of the nearly finished $400 billion Operation Twist to a extension of near-zero interest rates or a "sterilized" bond purchase program funded by short-term bank deposits.
Also, technical strength looks very good as overly dour sentiment is worked off and hedge fund types scramble to cover short-euro/long-doll​ar currency trades. Futures markets suggest this trade has been extremely popular lately, with positioning moving beyond the extremes seen in the wake of the panic over the initial Greek bailout in 2010.
You can also see this reflected in the options market. Despite the recent rebound we've seen in risky assets, small options traders continue to pile into put option protection against continued declines. Given the extreme bullishness these folks demonstrated just a few months ago, the whipsaw from greed to fear has been quite dramatic.
In fact, an analysis of put/call trading volumes suggests these speculative options traders have been this fearful on only one other occasion since the March 2009 bear market low: June 2010. Then, as now, people were worried about the situation in Greece. And then, as now, risky assets were bottoming and beginning to push higher.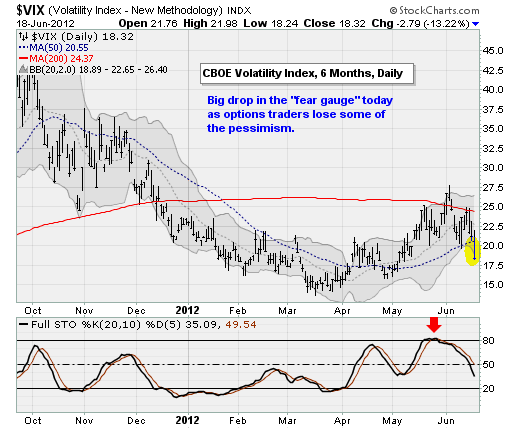 Just look at the way the CBOE Volatility Index (VIX), Wall Street's fear gauge based on S&P 500 options premiums, has sliced below its 50-day moving average in a big way for the first time since March. The VIX below its 50-day is a precondition for sustainable medium-term market uptrends.
While I believe stocks will be in trouble later this year as the fiscal cliff approaches, for now, it's time to play.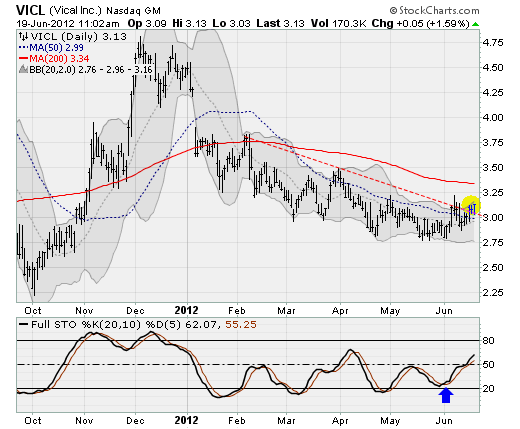 Trading update
After concentrating on silver and gold mining stocks, I've shifted the focus of the Edge Letter Sample Portfolio to new movers, including semiconductor stocks, emerging-market issues and fast-moving "high-beta" picks in the pharmaceuticals/biot​echnology space. Examples include the Direxion 3x Emerging Markets Bull (EDC), up 15% since I added it on June 6, and Spectrum Pharmaceuticals (SPPI), up 7.1% since Friday.
I want to add one new pick to my list: genetic drug developer Vical Inc. (VICL).

Disclosure: Anthony has recommended VICL to his newsletter subscribers.

Check out Anthony's investment advisory service The Edge. A two-week free trial has been extended to MSN Money readers. Click here to sign up. Contact Anthony at anthony@edgeletter.c​​om and follow him on Twitter at @EdgeLetter. You can view his current stock picks here. Feel free to comment below.
 

this guy is smart, but in the end he is a day-trading dufus.  here are the thursday results mid-day:
Examples include the Direxion 3x Emerging Markets Bull (EDC): DOWN 8.5% JUST FOR TODAY!!!
Spectrum Pharmaceuticals (SPPI): DOWN OVER 3.0% TODAY 
genetic drug developer Vical Inc. (vicl):  FLAT TODAY
following this guy's advice is a recipe for repeated day-trading whipsaw.  ouch.

Dear Representative: Jim McGovern
I agree with the mandate for America to cover our bases and not use the Federal Reserve Oil.  It would be wise though, to have a higher concentration on exploration for natural gas.  It is more abundant and cleaner energy and will bring down the price of gas, which will in-turn bring down the need for oil, bringing down the price of oil (with less pollutants occurring, as well as oil spills).
Exxon/Mobil desires to only lobby for the  $1.3 Trillion dollar deficit with oil exploration alone.  Greed is in their eyes for expensive oil, and not cheaper natural gas.  Oil and Gas are needed in the event of warfare, but oil refineries would be targets of thee enemy, verse underground gas lines, that are more secure.  This is also an opportune time for solar energy, with no commitments from big energy firms (that we know of) assuming they want to corner the market in solar farms as well, like Conoco.

Dear Europe or Euro:
Want a sleeping stock in play?  Go to my old pal LEXG or Lithium  Exploration Group Inc. with lithium brines in Canada and South America.  Lithium batteries are a major component in creating deep-cell batteries for solar panels, batteries for laptops and cameras and electric cars.  The stock can be played to enforce your economic endeavors, without thee aid of China who needs the lithium and the USA who also needs the charging power.  You can parlee this into a fortune of needs met.  Build the batteries by taking possession of the lithium and quadruple your money.  God Bless! 
Are you sure you want to delete this comment?
DATA PROVIDERS
Copyright © 2014 Microsoft. All rights reserved.
Fundamental company data and historical chart data provided by Morningstar Inc. Real-time index quotes and delayed quotes supplied by Morningstar Inc. Quotes delayed by up to 15 minutes, except where indicated otherwise. Fund summary, fund performance and dividend data provided by Morningstar Inc. Analyst recommendations provided by Zacks Investment Research. StockScouter data provided by Verus Analytics. IPO data provided by Hoover's Inc. Index membership data provided by Morningstar Inc.
ABOUT
Top Stocks provides analysis about the most noteworthy stocks in the market each day, combining some of the best content from around the MSN Money site and the rest of the Web.
Contributors include professional investors and journalists affiliated with MSN Money.
Follow us on Twitter @topstocksmsn.