How to buy Apple stock
The company is bulletproof and will be for a while. But be careful how you invest in it.
By James Brumley
If it sounds too good to be true, it is. That axiom seems to be especially true for stocks. Yet as much as I'd like to say Apple (AAPL) is too good to be true, it isn't.
Believe me. I looked for ways to find fault in Apple: flawed technology, unattainable expectations, weakening sales, anything. The company is bulletproof and will be for at least a couple of more years. That doesn't mean you should buy into Apple indiscriminately, though.


When Apple unveiled the iPod back in 2001, did any of us really foresee how miniature music players would plant the seeds for the world-changing proliferation of smartphones and tablets, a race Apple has led the entire time? It's just been one hit after another -- the iPod, then the iPhone, then the iPad. Even the failed Apple TV effort from 2007 is being revived, and now it has the technological architecture to support the service in place.
It's just hard to believe one company can be that dominant in multiple areas for so long. Yet Apple has done it. After a decade's worth of it, what's a couple of more years?
Post continues below:
Then there's the valuation question.
We've seen growth stories before where a frothy price/earnings ratio and a bloated price/sales ratio didn't matter … until they did. The tech meltdown of 2000 comes to mind, though Netflix (NFLX) is a more recent example.
Few would argue that Netflix has a massive amount of consumer appeal, and investors didn't seem to mind a P/E ratio that exceeded 60 for the better part of 2011 since earnings were growing like crazy. And to be fair, the numbers weren't fudged. Netflix really did generate earnings of $3.28 per share over the 12 months between mid-2010 and mid-2011, which was more than four times the company's earnings rate from 2007.
However, Netflix also was a case that indeed was too good to be true.
When the organization's content suppliers saw how well the company was doing using their television shows and movies, these same content suppliers wanted a bigger piece of the pie simply because they knew Netflix could afford it. Thing is, it ultimately would be coming out of the shareholders' cut. Goodbye earnings!
In other words, it was too good to last. So it didn't. NFLX shares fell from more than $300 in July to $62 in November -- pushing that high P/E ratio down to the teens -- following Netflix's ill-advised decision to change its plan pricing rather than share some more wealth with its providers.
What's this got to do with Apple? Well, nothing. That's the point. Despite stunning earnings growth from $3.93 per share in 2007 to $27.67 for the past four quarters, the stock's gains actually have trailed that growth pace. As such, the P/E ratio has fallen from 50 then to a mere 15.2 now -- a valuation few should have any problem with, and the cheapest the stock has been in years.
More than any of the key "like it or not" criteria, though, the AAPL's earnings aren't in jeopardy the way Netflix's earnings ended up being. Apple's products are in sustainable demand.
All good things come to an end, but I just don't see this happening for Apple anytime in the near future.
Yes, at some point we'll all own a smartphone, and the need for a new one will become crimped; the supply will be enormous. Only 90 million of the 300 million Americans have a smartphone right now, though, which means the other 210 million are potential customers, and it could take years to get them in everyone's hands. The market penetration opportunity is even bigger overseas. And while the need for tablets isn't as firm as the need for mobile phones, it's still a clear growth opportunity.
But just how big is the combined opportunity? Triple-digit-growth big, and still underestimated. Barclays' (BCS) Ben Reitzes thinks Apple could ship 136 million iPhones in 2012, versus 86 million in 2011. JPMorgan (JPM) expects the company to ship 45 million iPads this year. Not only does this represent unit sales, but each of those device owners also becomes a potential customer of the App Store.
And here's the kicker ... Apple now is making progress in the corporate/enterprise​ world -- an arena it didn't even go after. Corporate technology departments plan to spend $19 billion on Apple products this year, with $10 billion worth of that on iPads.

Timing is everything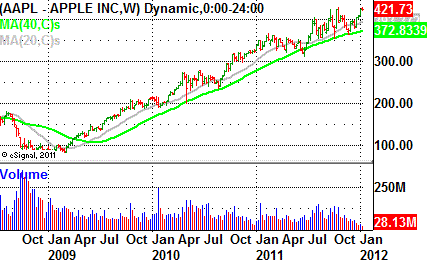 Don't misunderstand. Apple is a great company and can be a great investment for the next couple years. But you don't have to pay a premium to get it.
Almost as assuredly as Apple has grown earnings since 2005, the stock has ebbed and flowed for years. The 16% run-up to $426 we've seen since late November? Yeah, well, we've seen it before … once in September and once in October. In both prior instances, AAPL had fallen back to $370 within a matter of days, retesting the 200-day moving average line (green) in the process before the next leg higher. Indeed, the 200-day line seems to have been a great entry point since 2010. Kind of funny how that tends to be the case for the truly great companies.
The point is, while Apple is one of the few stocks I think you can buy and hold and not worry about constantly, you still can tweak your entry. And given how wide the swings tend to be, it's worth the effort.
Either way, AAPL is a genuinely impressive name that I can't dislike no matter how hard I try. Better to be penny-wise than pound-foolish with any entry.
As of this writing, James Brumley did not hold a position in any of the aforementioned stocks.
Related Articles
Are you sure you want to delete this comment?
DATA PROVIDERS
Copyright © 2014 Microsoft. All rights reserved.
Fundamental company data and historical chart data provided by Morningstar Inc. Real-time index quotes and delayed quotes supplied by Morningstar Inc. Quotes delayed by up to 15 minutes, except where indicated otherwise. Fund summary, fund performance and dividend data provided by Morningstar Inc. Analyst recommendations provided by Zacks Investment Research. StockScouter data provided by Verus Analytics. IPO data provided by Hoover's Inc. Index membership data provided by Morningstar Inc.
ABOUT
Top Stocks provides analysis about the most noteworthy stocks in the market each day, combining some of the best content from around the MSN Money site and the rest of the Web.
Contributors include professional investors and journalists affiliated with MSN Money.
Follow us on Twitter @topstocksmsn.