Defense stocks rise despite possible cuts
Sequestration means defense spending may be reduced by some $46 billion a year. Wall Street seems to be betting that many of the cuts won't materialize. The gains come as stocks rebound from Monday's slump.
There are just days left until sequestration hits, imposing $85 billion of cuts in federal spending, and defense stocks are up -- at least for the moment.
The group rebounded Tuesday after Monday's drubbing, even as it appears that there's no chance anyone will start to do some serious talking.The gains weren't huge, but they seem to reflect Wall Street's belief that a resolution will be found that mitigates the effects of sequestration.


Northrop Grumman
(
NOC
) was up 28 cents to $65.03.
General Dynamics
(
GD
) gained 22 cents to $66.91.
L-3 Communications
(
LLL
) has gained 57 cents to $75.89.
Boeing
(
BA
), which generates nearly half of its revenue from military contracts, was up 62 cents to $75.65.
Huntington-Ingalls Industries
(
HII
), the largest naval shipbuilder, was up $1.28 to $45.47.
The
NYSE Arca Defense Index
(
$DFI
) is up nearly 8 points to 1,704.
The catalyst for the gains was a rebound for the stock market overall, in part because of decent reports on new-home sales and consumer confidence. The
Dow Jones industrials
(
$INDU
) jumped 127 points to 13,911, a day after losing 216 points.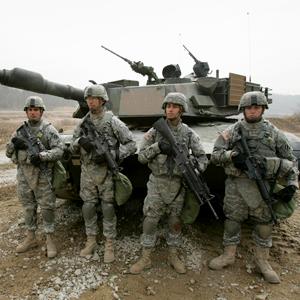 Apple
(
AAPL
) was a boost as well after hedge-fund manager Doug Cass predicted the company will announce a stock split at its annual meeting on Wednesday and possibly a special dividend. Shares struggled early in the day but jumped $6.17 to $448.97 on the Kass comments.
Defense spending would be hardest hit under the sequestration rules. Some $46 billion will be axed from defense budgets alone, and adding sequestration to existing defense cuts would result in a reduction of $50 billion in defense spending over the next 10 years.
In the near-term, the Pentagon has frozen employment and warned that it will fulfill contracts only slowly. It is also pulling aircraft carriers close to home to save money.
And despite all that, the stocks are holding up. The NYSE Defense index may be down about 1.2% on the week, but it is up 1.2% for February and 2.3% for the year. The
iShares Dow Jones Aerospace & Defense
(
ITA
) exchange-traded fund is down 2.1% from a peak in January.
These companies have their champions in Congress and in the Defense Department, and no one sees them getting seriously hurt. So the F-35 fighter jet, which is seven years behind schedule and 70% over its original cost estimate, will continue to be built at a cost of around $137-million each. The lead contractor on the plane is
Lockheed Martin
(
LMT
).
It has parts from 1,300 suppliers operating in 45 states and provides 41,000 jobs in Texas alone. But the entire fleet was grounded last week after the discovery of a cracked turbine blade in one plane.
The fighter represents about 13% of Lockheed Martin's revenue,
according to Bloomberg News
. Lockheed was a rare decliner on Tuesday, down 58 cents to $87.30, and its shares are down 9.1% since hitting $96.07 in January. But the stock is up some 370% since the end of 1999.

More on Top Stocks

The ever powerful Military - Industrial complex will not only survive but flourish despite the scheduled cuts. It's a drop in the bucket for the defense industry and these cutbacks are long overdue. It's about time to stop  depending upon military/defense spending to stimulate or perpetuate our economy. The scare tactics of the complex are well known to be fabricated lies or half-truths for purely selfish purposes. Can you imagine any private sector company going over budget by 70% and still remain in business with an almost unlimited source of funding. Unfortunately, the politicians are owned and controlled by the complex and only a spontaneous course of action such as the sequestration can make a dent in the political process since the pols have neither the desire nor the balls to do it .

Did anyone think the Defense Industrial complex was going to be stalled by this little cuts - of course not.  It will cost the government more to delay then to continue to fund existing contracts.  It will be much easier to take the cuts from the operating budget of the services and to reduce the Federal workforce - which exactly what is happening - the sequester is long overdue!
I think the whole drama associated with the military and it's contractors needs investigation. You've got Boehner wetting his panties with anger fist drawn-- over $85 billion in cuts. You've got every pathetic worm on government paid salary or contractual benefit whining about cuts. What did you think (or are you incapable of doing that on your own)? The mass job and career terminations were largely male and in the worker states. The artificial prosperity funded by Bernanke has largely benefited Republican and Tea Party states. All attempts to correct and stabilize have been blocked by Terrorist Pledgers to the lobbies-- many of which are military contract recipients! Time for CHANGE. Take your Limbaugh and Beck and get the Fox out of here. Go find some other country to F-up. It looks like the sequester has more value than cancer effect. Remember nut cases-- without a WHOLE America, your half-assed part is easy prey for the other powers of the world. Not all stupid people are Republican, but Republicans are absolutely the stupidest people on Earth.
Are you sure you want to delete this comment?
DATA PROVIDERS
Copyright © 2014 Microsoft. All rights reserved.
Fundamental company data and historical chart data provided by Morningstar Inc. Real-time index quotes and delayed quotes supplied by Morningstar Inc. Quotes delayed by up to 15 minutes, except where indicated otherwise. Fund summary, fund performance and dividend data provided by Morningstar Inc. Analyst recommendations provided by Zacks Investment Research. StockScouter data provided by Verus Analytics. IPO data provided by Hoover's Inc. Index membership data provided by Morningstar Inc.
ABOUT
Top Stocks provides analysis about the most noteworthy stocks in the market each day, combining some of the best content from around the MSN Money site and the rest of the Web.
Contributors include professional investors and journalists affiliated with MSN Money.
Follow us on Twitter @topstocksmsn.