Can Delta afford its plan to return capital?
The airline will have to maintain stable operating cash flows to be able to make pension contributions and give cash back to shareholders.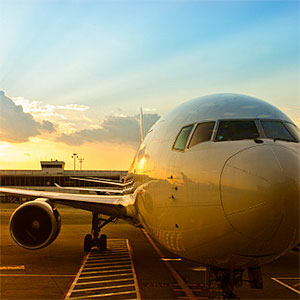 Delta Airlines (DAL) initiated a shareholder cash return plan in its capital deployment strategy announced Wednesday, May 8. The carrier will be paying out a quarterly dividend of 6 cents a share beginning Sept. 10 for shareholders on record as of Aug. 9. 
At the end of the first quarter, Delta had 855 million shares outstanding, and will be paying out dividends worth approximately $50 million every quarter or $200 million every year at the current payout rate. In addition, the carrier announced a share buyback program worth $500 million that ends in June 2016. Together, through these two channels, Delta plans to return over $1 billion to its shareholders over the next three years.
These developments send out a positive message to the investor community that Delta has sufficiently de-leveraged and therefore de-risked its balance sheet and that it sees stable earnings in the foreseeable future. Trefis currently has a stock price estimate of $16.30 for Delta, approximately 10% below its current market price.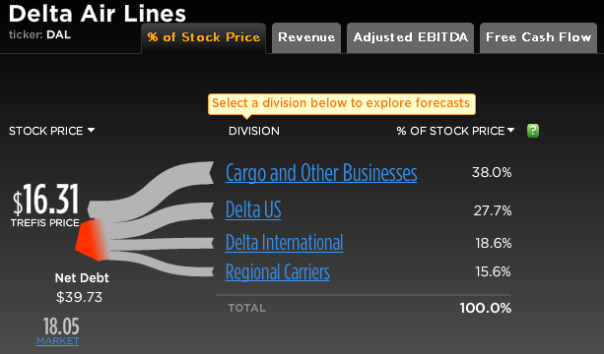 Strong earnings growth enabled Delta to restart dividend payouts
Delta will be restarting its dividend program after nearly a decade. This is the result of strong earnings growth over the past three years which has enabled it to pay off a large portion of its debt. Delta's earnings improved steadily from a loss of $1.50 per share in 2009 to a profit of $1.19 per share in 2012. This enabled it to reduce its adjusted net debt from $17 billion in 2009 to under $12 billion in 2012. This adjusted net debt represents total debt, capital lease obligations and aircraft rent for the previous twelve months, net of cash holdings. Delta targets to further reduce its adjusted net debt to $10 billion by the end of 2013.

Stable operating cash flow will be critical in fulfilling promised cash return to shareholders
Looking ahead, Delta anticipates continuing to grow its earnings on revenue opportunities arising from investments in Virgin Atlantic and New York (at LaGuardia and JFK airports) and on cost savings from investments in the Trainer refinery and other structural cost initiatives. This earnings growth will help the carrier in improving cash flow from operations.
Currently, Delta expects operating cash flow of around $4 to $5 billion a year over the next five years. It plans to reinvest half of this -- $2 to $2.5 billion a year -- in its fleet, airport lounges and other products and technology, and use the other half for returning cash to shareholders, reducing its debt further and making contributions to pension plans. Delta aims to pay down its adjusted net debt to $7 billion over the next few years. This decline is also expected to halve its interest payments to $500 million from around $1 billion in 2012, contributing to earnings growth. The carrier also plans to make incremental pension contributions of around $1 billion over the next five years to lower its long-term pension liabilities. This will be in addition to the $650-$700 million in mandatory annual pension contributions required of Delta.
Thus, as evident, in order to maintain annual capital investments of $2 to $2.5 billion, reduce debt by $5 billion, make pension contributions of the stated amount and return cash to shareholders, Delta will have to maintain stable operating cash flows. However, operating cash flows of airlines are highly vulnerable to increases in crude oil prices or fare discounts from competitors. On the bright side, Delta will likely benefit from the recent industry consolidation, particularly the United-Continental integration and the ongoing American-US Airways merger, which will reduce the industry flying capacity and thereby competition and thus aid its profit growth.
To the investor community, the cash return program is a positive step, which indicates that Delta has come a long way from its bankruptcy and losses in the last decade. Apart from Delta, Southwest (LUV) is the only other U.S. airline which has both dividend payout and share buyback programs. Southwest pays a quarterly dividend of 1 cent a share to its shareholders. Alaska Air Group (ALK) is another airline that has a share buyback program but not a dividend payout program currently.

Years ago, when I travelled; I had one brief/attache, with personal papers, book, toothbrush and change of underwear and socks in it....Maybe a laptop occassionally?..Golf​ clubs a couple times.
A small duffel with comfortable clothes seldom a suit..And I only travelled/flew for business or training.
If going for over a week, I might pack an extra case.
Only thing I ever carried on plane was one brief, 90% of time...Luggage misplaced one time for about 2-days..retrieved..A​rrived home late another time about, delivered after 4 days.
That was maybe 40-50 flights..
Half the time there was always some pompous business man or a fat bitch that would bring 3-4 carry-ons and fill the overheads...They should have charged them by the pound.
After putting up with hassles and delays for years, I started driving a personal or company vechicle anywhere under a 1000 miles it was much better for peace of mind and I carried what I wanted.
That was almost 25 years ago...And I've only flown once since.
I believe Airlines are an outdated transportation, except for crossing Oceans; And a big pain in the azz going anywhere else.... I Don't fly and I don't invest in Airlines..
Are you sure you want to delete this comment?
DATA PROVIDERS
Copyright © 2014 Microsoft. All rights reserved.
Fundamental company data and historical chart data provided by Morningstar Inc. Real-time index quotes and delayed quotes supplied by Morningstar Inc. Quotes delayed by up to 15 minutes, except where indicated otherwise. Fund summary, fund performance and dividend data provided by Morningstar Inc. Analyst recommendations provided by Zacks Investment Research. StockScouter data provided by Verus Analytics. IPO data provided by Hoover's Inc. Index membership data provided by Morningstar Inc.
ABOUT
Top Stocks provides analysis about the most noteworthy stocks in the market each day, combining some of the best content from around the MSN Money site and the rest of the Web.
Contributors include professional investors and journalists affiliated with MSN Money.
Follow us on Twitter @topstocksmsn.