Amarin off the hook with Vascepa launch
The company's fish-oil pill is finally on pharmacy shelves 6 months after approval.
It's been a rough six months for Amarin (AMRN), but the commercial launch of the fish-oil pill Vascepa is an opportunity for a fresh start.
Amarin's stock price has been almost cut in half since the Federal Drug Administration approved Vascepa on July 26. 
It's not unusual these days to see a drug company's shares fall immediately after an FDA approval. Amarin was an extreme case, though, exacerbated by the lingering uncertainty surrounding Vascepa's market exclusivity and management's inability to land a marketing partner or sell the company outright.
But the national commercial launch of Vascepa today gives Amarin a chance to put all the negativity and doubt of the past six months behind it. Vascepa reduces high triglyceride levels in the blood without causing elevations of LDL-C -- the so-called "bad cholesterol." GlaxoSmithKline's (GSK) competing fish-oil pill Lovaza also lowers triglycerides but at the expense of rising bad cholesterol.
Lovaza is a blockbuster drug, generating $725 million for Glaxo in the first nine months of 2012 and $926 million in 2011. Vascepa could also be a blockbuster, if Amarin can market the drug successfully. That means finding new patients to try Vascepa and convincing doctors to switch patients from Lovaza.
Easier said than done. Amarin launches Vascepa on its own, without a Big Pharma partner's financial resources and marketing expertise. Vascepa also enters the lipid-lowering market at a time when, according to Forbes, some doctors have been dialing back their use of prescription-grade fish oil because of doubts raised about the drugs' true cardiovascular benefit.
Amarin management has cautioned investors not to expect Vascepa to rocket out of the starting gate but the company is providing co-pay subsidies, discounts and free Vascepa samples to spur early demand during the launch.
No one said Amarin's job would be easy, which is why its stock trades for $8 per share today and not $15 per share when Vascepa was approved. At a $1.2 billion market value, Amarin already prices in approximately $200 to $300 million in Vascepa sales. But if early sales are strong, Amarin's share price can, and likely will, rebound. 
How will investors know if Vascepa's launch is a success?
Amarin has decided to block wholesaler prescription data from third-party data services IMS Health and Wolters Kluwer. This makes it difficult, if not impossible, for analysts and institutional investors to measure weekly and monthly Vascepa prescriptions.
Absent these independent data sources, investors will rely on Amarin's quarterly financial reports, and they will look to see if Vascepa sales meet Wall Street's expectations. Five sell-side analysts have published estimates for quarterly Vascepa sales during 2013, according to Bloomberg. The mean consensus and the range from these five analysts are as follows:
1st quarter: $10 million (range $5-$15 million) 
2nd quarter: $18 million (range $10-$25 million) 
3rd quarter: $46 million (range $8-$69 million) 
4th quarter: $54 million (range $37-$101 million)
For all of 2013, the Vascepa consensus sales estimate is $114 million from nine sell-side analysts, according to Bloomberg.
It's not necessarily a fair comparison, but investors will be using the early months of the 2005 Lovaza launch as a yardstick by which to judge the performance of Amarin and Vascepa. Here is a chart of Lovaza U.S. sales from the launch in the third quarter 2005 through the second quarter 2008. The chart comes from a Pronova Biopharma slide deck. Pronova made Lovaza for Reliant Pharmaceuticals and later Glaxo, which bought Reliant in 2007.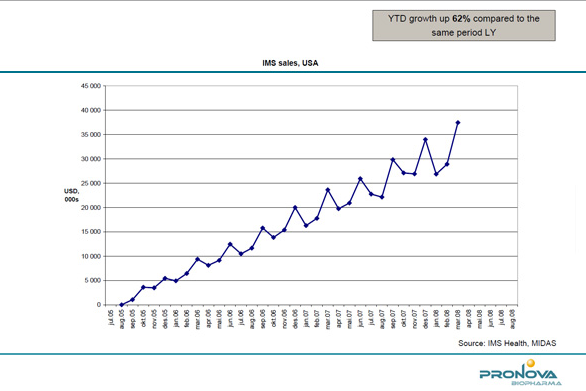 From the chart, Lovaza U.S. sales totaled approximately $100 million during its first 12 months -- very close to analyst projections for Vascepa during its first year.
Separately, Lovaza U.S. sales in 2006 and 2007 totaled $138 million and $287 million, respectively, according to a Pronovo annual report from 2007.
Analysts from J.P. Morgan and Jefferies project 2014 Vascepa sales of $290 million and $358 million, respectively -- which align fairly well with Lovaza's second-year sales.
By 2014, Amarin may have more of an advantage over Glaxo if FDA approves an expanded indication for Vascepa allowing the drug to be marketed for patients with high (as opposed to very high) triglyceride levels. Significant use in this larger patient population may not really ramp, however, until Amarin can prove that the combination of Vascepa and a statin reduces the incidence and risk of cardiovascular disease. An ongoing study designed to demonstrate this benefit isn't expect to be completed until 2016.
More from TheStreet.com
DATA PROVIDERS
Copyright © 2014 Microsoft. All rights reserved.
Fundamental company data and historical chart data provided by Morningstar Inc. Real-time index quotes and delayed quotes supplied by Morningstar Inc. Quotes delayed by up to 15 minutes, except where indicated otherwise. Fund summary, fund performance and dividend data provided by Morningstar Inc. Analyst recommendations provided by Zacks Investment Research. StockScouter data provided by Verus Analytics. IPO data provided by Hoover's Inc. Index membership data provided by Morningstar Inc.
ABOUT
Top Stocks provides analysis about the most noteworthy stocks in the market each day, combining some of the best content from around the MSN Money site and the rest of the Web.
Contributors include professional investors and journalists affiliated with MSN Money.
Follow us on Twitter @topstocksmsn.