Dow 20,000? It's not such a big stretch
Thanks to the power of compounding, the market doesn't have to grow that much to reach this by 2020.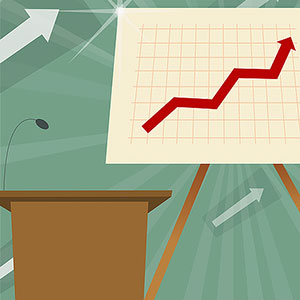 Recently, fund and markets expert Daniel Wiener sat down with Nancy Zambell of MoneyShow.com to discuss the returning phenomenon of blockbuster Dow predictions.
Dan, as we sit here, the market is over 15,000. It seems to be going up just about every day, 15 out of the last 19 sessions or something. Recently, The New York Times had an article, "Dow 20,000 by 2020." Are you a believer?

Right, I love that.
Are you a believer?
I love these round numbers, because it is a little depressing that the financial press doesn't do the math, Maybe they don't know how to do it. But 20,000 on the Dow sounds fantastic.
As we are talking, the Dow is at around 15,200, so 20,000 sounds great, but you know, 2020 is almost seven years away. Do you know what that compounds out at?
Is it around 6%?
No.
What is it?
4.1% is all you need to compound over seven years to get to 20,000 in 2020. I don't consider that a very outrageous forecast, but to just use this number 20,000...it sounds sexy, it sounds great.
I think the other thing that people are not realizing until you do the math is, as we hit these 1,000 mark levels, these sort of hurdles on the Dow, getting to the next 1,000 gets easier every time, right? The percentage goes down every time. We only need, I believe around a 6% return to get over 16,000. That doesn't sound so outrageous.
No, but do you think ... I mean, is your gut feeling right now that the market is overvalued, or do you still think that fundamentally earnings are not barn burners right now? I mean, if earnings continue going up and as the economy gets better, one would think that the earnings would really start going up again, so the market should be able to go up even further.
Well, first of all, the market is a discounting mechanism, so in the market investors are looking ahead and saying there is better news coming, earnings are still growing.
We don't have the kind of speedy growth that we saw in the beginning of the recovery, but I believe the last time you and I spoke, I said investors have to get beyond the expectation that they are going to see double-digit earnings growth quarter after quarter. 
That is not what happens as the economy has expanded, has begun to recover, or as I would say has recovered pretty much everywhere except in the employment situation. So you will see growing earnings, but not growing super-fast.
A nice, calm growth in the economy may not help jobs a lot, but it certainly doesn't get you into an overheated situation. We have got no inflation in the economy; we have very low interest rates, and that also is one of the reasons you are going to see stock prices continue to go up, or at least remain at these high levels, because the competition from bonds is nonexistent.
More from The MoneyShow
Time to Cash In?

The Dow's 10 Most Overbought Stocks

Let's Not Call it a Meltdown


DANIEL IS QUITE CORRECT.
At 10,000, DJI needed to grow 10% to get to 11,000.
From 15,000, DJI only needs to grow +6.67% to get to 16,000;
another +6.25% to get to 17,000;
another +5.88% to get to 18,000;
another +5.55% to get to 19,000;
and a final +5.26% to get to 20,000.
What can't be forecast is what the particular growth rate will actually be for any given span of time, because coincidentally, we also seem to have periods with negative growth rates as well.

Wow, do you like to spread disinformation.  Most P/E ratios are not over 25 or 30.  The current forward P/E for the S&P 500 is 14.23.  The current forward P/E for the Nasdaq is 17.36.  The current forward P/E for the entire Russell 3000 is 14.8.  And yes, as a matter of fact, the Fed does give money away to the US government for free.  The Fed sends it's profits (interest paid on the government debt it holds) directly to the US Treasury - in 2012 the Fed remitted $88.9 billion.

With most P/E ratios over 25 and a lot over 30
we are over valued by a factor of 2.5 to 3 for the stock market
a major crash is coming and that is going to be on top of the US government defaulting on it's US T-bills when the Fed quits buying them. After all the Fed Reserve is out to make money not give money away for free to the US government.
More like the DOW at 200 by 2020
Are you sure you want to delete this comment?
DATA PROVIDERS
Copyright © 2014 Microsoft. All rights reserved.
Fundamental company data and historical chart data provided by Morningstar Inc. Real-time index quotes and delayed quotes supplied by Morningstar Inc. Quotes delayed by up to 15 minutes, except where indicated otherwise. Fund summary, fund performance and dividend data provided by Morningstar Inc. Analyst recommendations provided by Zacks Investment Research. StockScouter data provided by Verus Analytics. IPO data provided by Hoover's Inc. Index membership data provided by Morningstar Inc.
ABOUT
Top Stocks provides analysis about the most noteworthy stocks in the market each day, combining some of the best content from around the MSN Money site and the rest of the Web.
Contributors include professional investors and journalists affiliated with MSN Money.
Follow us on Twitter @topstocksmsn.