Natural resources giant flashes a 'buy' signal
Crunch the numbers, and it's apparent that BHP Billiton is cheap and attractive.
I'm one of those analysts who "eats his own cooking." However, I like to remind readers to always do their own thorough due diligence before investing a dime.
I should also tell you that I proclaimed the death of gold and silver stocks (TheStreet) in an ironic and perhaps desperate attempt to jump-start this comatose sector. So don't automatically do as I do, for I'm often early to the sector "resurrections."
Now that I've said all that, I've also seen "bottoming" formations where the stock of a cash-generating sector leader gets so oversold that I want to start accumulating shares and collecting dividends. And that's the way I'm starting to see BHP Billiton (BHP). 

BHP is a leading global resource company, and I like the way the company describes itself at its user-friendly website: "We are among the world's largest producers of major commodities, including aluminum, copper, energy coal, iron ore, manganese, metallurgical coal, nickel, silver [gold] and uranium along with substantial interests in oil and gas."
Where else could you get those essential commodities by buying shares of just one company?The company continues: "We are a global organization [headquartered in Australia] and with over 100 locations throughout the world, our success is underpinned by the 100,000 employees and contractors that work at BHP Billiton."
That's how they can pay a 3.26% dividend, which represents a payout ratio of only 38%. With well over $5.2 billion in total cash as of the end of 2012 and trailing 12-month operating cash flow of more than $18.5 billion, it is reasonable to expect future rising dividend payouts.
"We have an unrivaled portfolio of high-quality growth opportunities that will ensure we continue to meet the changing needs of our customers and the resources demand of emerging economies at every stage of their growth," BHP's leadership proclaims. The company also boasts some impressive company credibility.
"We have a proven record of delivering superior shareholder returns. We do this through the disciplined execution of our unchanged strategy of owning and operating large, long-life, low-cost, expandable, upstream assets diversified by commodity, geography and market."
Now's a good time to look at a five-year chart of BHP shares with the focus on price and year-over-year retained quarterly earnings, which as of the end of 2012 was higher than 17%.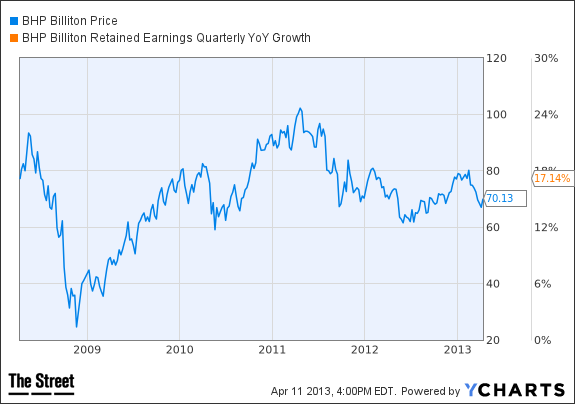 While the S&P 500 ($INX) and the Dow Jones Industrial Average ($INDU)  keep knocking the ball out of the park day-after-day, so does the MSCI Australia Index of Stocks as represented by the iShares Australia ETF (EWA) with the same name. Take a look at its five-year chart below. It's time for BHP to catch up as there appears to be a "disconnect" that few are taking notice of.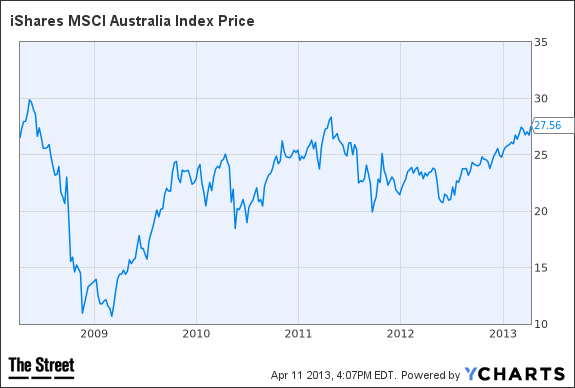 Here's the big news about BHP's share price. On April 10, Matt Badiali, the editor of The S&A Resource Report, pointed out in The Growth Stock Wire that BHP's stock is down 30% from its 2011 peak and that its price-to-book value is quite attractive. 
Badiali wrote: "Take a look at the chart below. It tracks the last 13 years of BHP's price-to-book ratio. Book value is simple. It's essentially the value of all its mines. And right now, BHP is trading at an extreme low compared to book value.
"BHP is trading at about 2.7 times book value. Its price-to-book ratio has fallen below that level five times in the past 13 years. If you bought BHP stock at those points, you made double-digit gains every time."
That is a noteworthy observation. I would add that another compelling reason to consider BHP is its corporate strategy: "Our strategy is to own and operate large, long-life, low-cost, expandable, upstream assets diversified by commodity, geography and market. Our strategy has remained unchanged for over a decade and has enabled us to deliver superior margins throughout economic and commodity cycles for many years.
"Our diversified, low cost, tier one asset base enhances the resilience of our cash flow by reducing our exposure to any one commodity or currency and provides for more predictable and robust financial performance. It allows us to invest in and grow our business throughout economic cycles thereby delivering superior long-term value to our shareholders."
BHP is not in an uptrend yet, and it briefly broke below $70 on April 11. It may have further to fall before moving higher. Many of the metals and minerals it mines and produces are in price-correction mode, and that may be one of the reasons to be cautious about owning the shares yet.
As Badiali points out: "The average bottom in the price-to-book value is 2.44. At today's book value, that works out to $62 per share, about 10% below its current price. The low in the price-to-book value over the last 13 years is 2.16. That would be 18% below its current price." 
Yet if you're willing to average down, now may be an opportunistic point to begin doing a bit of "schnitzeling" as our own Jim Cramer likes to call it. For those of you who don't know what "schnitzeling" is, it is Cramer's way of buying a little at a time.
If shares drop much lower, you can buy in larger increments. In the meantime, you'll be getting paid to wait with a rewarding dividend and nice upside potential. With a forward (one-year) PE ratio of 15 and its impressive trailing 12-month operating margin of nearly 30%, BHP looks very promising.
Disclosure: As of the time of publication, the author bought a LEAP call and sold a LEAP put on shares of BHP, but does not own any other stock or ETF mentioned in this article.
More from TheStreet.com
"That's how they can pay a 3.26% dividend..."   WHAT is how they can pay?  All we're told is multiple commodities, 100 locations and 100,000 workers and then the quote.  Right away I feel insulted and wonder if I'm being conned.

Then we're told it has $5.2B in total cash in 2012 - but we're NOT told it had (according to S&P Reports) $10.1B in 2011 and $12.7B in 2010!   Now I more than wonder if I'm being conned!

We're told in the article "We have a proven record of delivering superior shareholder returns."  In 2011 the stock price reached $104.59.  It's $69.07 right now.  "Proven Record"?  The price was $87.43 in 2007!  And based on what I'll tell you next it will be lucky to be in the $50's through 2014.

In 2011 earnings were $8.54/share, in 2012 $5.77 per share, and analysts (source: Yahoo charts) consensus estimate expect $3.76 and $4.62 per share for the next two years.

And the article avoids mentioning the alarming fact Long Term Debt went from $12.388B in 2011 to $24.799B in 2012.

Analysts -generously- expect an average 6% earnings growth over the next 5 years.  But with next couple years projections and a P/E of 19 (around 30 after this year's earnings!) this is a BAD stock to own.

Sorry, The Street: I "crunched the numbers" and BHP is NOT "cheap and attractive."  I'm very concerned as to why The Street would withhold so much bad key information while drumming up a very bad stock to own!


The miners have yet to bottom.  Demand for their commodities continues to shrink and they have all reeled in current and forward outlook for capital spending.  Look across the sector and to organizations that supply equipment; CAT, JOY, etc.  Their sales are falling and the order boards drying up.  Layoffs are increasing at key plants that manufacture mining products.

This is a valid idea who's time has yet to come.  Watch for a bottom to form and then jump in.




Are you sure you want to delete this comment?
DATA PROVIDERS
Copyright © 2014 Microsoft. All rights reserved.
Fundamental company data and historical chart data provided by Morningstar Inc. Real-time index quotes and delayed quotes supplied by Morningstar Inc. Quotes delayed by up to 15 minutes, except where indicated otherwise. Fund summary, fund performance and dividend data provided by Morningstar Inc. Analyst recommendations provided by Zacks Investment Research. StockScouter data provided by Verus Analytics. IPO data provided by Hoover's Inc. Index membership data provided by Morningstar Inc.
ABOUT
Top Stocks provides analysis about the most noteworthy stocks in the market each day, combining some of the best content from around the MSN Money site and the rest of the Web.
Contributors include professional investors and journalists affiliated with MSN Money.
Follow us on Twitter @topstocksmsn.