Inside Wall Street: An enticing buyout bet
Shares of AutoZone, the largest US car-parts specialty retailer, are driving up to near their highs on fast lane.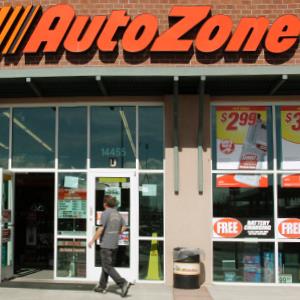 With its stock racing up at high speeds over the past five years, AutoZone (AZO) is making some investors uneasy -- because its steadfast advance has avoided big bumps along the way. After all, AutoZone shares have done what only a few others have done over a long stretch.
But there are bulls on the stock, with deep faith it will continue to climb higher. After trading at $84 a share in 2008, AutoZone has sped up year after year, reaching an all-time high of $399.10 – yes, nearly $400 a share – in April 2012.
So can AutoZone keep going up at this speed? Over the short term, some Wall Street AutoZone watchers remain optimistic, as they see the stock revving up to as high as $460 in 12 months. Rising demand for spare parts plus the possibility of AutoZone becoming an acquisition target are the major reasons behind their upbeat outlook.
Some M&A analysts, who prefer not to be identified, say that AutoZone -- with a market capitalization of $13 billion and trading at a modest price-earnings ratio of 15 -- is a very attractive stock for activist investment managers and hedge fund looking for targets, because of the company's dominance in the highly fragmented $215 billion industry.

Its major peers include O'Reilly Automotive (ORLY) with a market cap of more than $12 billion and p/e ratio of 21, and AutoNation (AN), which has a market value of $6 billion and is trading at a multiple of 18. One M&A analyst believes several larger companies in the auto industry could among the potential suitors.   
Apart from the possible takeover factor fast-improving industry fundamentals, including AutoZone's well-oiled organic and integrated system in automotive parts, have powered the stock's advance. AutoZone operates about 5,000 stores in 49 states and Puerto Rico, plus 321 more in Mexico. The stores primarily focus is on do-it-yourself consumers – people who try to fix what's wrong with their own cars or trucks.
AutoZone's products include almost everything you would need for your vehicles – such as hard auto parts like alternators, starters, water pumps, brake shoes and pads, carburetors, clutches and power steering fluids. The company also offers accessories such as stereo systems, floor mats, and waxes.
"AutoZone remains a top pick," says Alan M. Rifkin, analyst at Barclays Capital who follows the U.S. retail hard-lines industry. "We believe additional upside to AutoZone's shares is possible due to current business initiatives, improving fundamentals, supportive industry dynamics, the company's strong return-on-invested capital focus and aggressive share repurchase."

Rifkin rates the stock as overweight, based largely on fundamentals. He forecasts earnings for fiscal 2013, ending Aug. 31, will jump 18%, to $27.65 a share, on sales of $9.12 billion, and by 12% in fiscal 2014, to $31 a share on $9.44 billion. In fiscal 2012, AutoZone earned $23.48 a share on revenues of $8.60 billion.
Rifkin believes AutoZone will exceed analysts' forecasts when it reports its fiscal second-quarter results on Tuesday. He figures it will post earnings of $4.85 a share, up from last year's  $4.15. The consensus Wall Street estimate is $4.75. He also believes that management will remain committed to its buyback strategy, having repurchased between $250 million and $300 million in shares in the fiscal second quarter.
Aram Rubinson, analyst at Nomura Group, who rates the stock as a buy with a 12-month price target of $460 a share, says the company will report "what we believe will be the last ugly quarter for a while." He concedes that the industry will face some headwinds ahead, but he believes the do-it-yourself (DIY) market will be a steady big positive for AutoZone.
Contrary to the notion that DIY spending on vehicles peaks at 7 to 9 years old, Rubinson asserts that that isn't the case at all. "We estimate that 33% of DIY parts are bought for vehicles 15 years or older and that 65% are for cars over 10," says the analyst.
So he believes DIY spending has a "long tail," based on his estimate that DIY owners spend as much on a 12-year old cars as they do on an 8-year old one. "With no cliff (in per car spending) in sight, "we think the industry has years before aging becomes a meaningful drag," says Rubinson. "We think investors should jump at the chance for a 23% potential upside," he advises, "even as some clouds linger."
S&P Capital IQ's analyst Michael Souers is among those who rate the stock as a hold based on the stock's "fairly valued" valuation. He thinks part of the problem is the higher gasoline prices which, he believes, will slow the recent jump in vehicle maintenance spending.
Even so, the analyst concedes AutoZone leads the industry in sales per square foot, as well as in gross, operating and net margins -- which, he notes, are higher than in any of its peers.
In addition, he says, "we think long-term trends for the automotive aftermarket retail industry are extremely favorable, with an aging vehicle population and pent-up demand from recent maintenance deferrals." AutoZone's recent comparative performance has been quite solid, given the macro-challenges facing consumers," says Souers.

Gene Marcial wrote the column "Inside Wall Street" for Business Week for 28 years and now writes for MSN Money's Top Stocks. He also wrote the book "Seven Commandments of Stock Investing," published by FT Press.
More on Top Stocks
ABOUT
Top Stocks provides analysis about the most noteworthy stocks in the market each day, combining some of the best content from around the MSN Money site and the rest of the Web.
Contributors include professional investors and journalists affiliated with MSN Money.
Follow us on Twitter @topstocksmsn.