Traders fret over Federal Reserve disagreements
Markets responded to the release of the minutes of the December meeting of the Fed's Open Market Committee.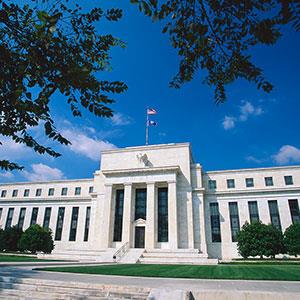 It's not that the financial markets don't know that one day the Federal Reserve will take away the liquidity punch bowl called Quantitative Easing 1, 2 and 3.
It's just that the financial markets don't like to be reminded that the party does have to come to an end.
And that's just what Thursday's release of the minutes of the Dec. 11-12 meeting of the Federal Reserve's Open Market Committee did. The 
Standard & Poor's 500 Index
(
$INX
), which had been up by as much as 0.2% Thursday, fell starting around 2 p.m. ET to close down 0.21%.
The problem, as far as markets were concerned, is that the minutes revealed a Fed very much divided about how long the current bond-buying program of $85 billion a month ($45 billion in Treasuries and $40 billion in mortgage-backed securities) should run. 
Some members of the Open Market Committee thought this program of quantitative easing should continue until the end of 2013. Others thought that there was a need to continue this program but didn't give a specific time frame for the Fed's purchases or rule out continuing the program at a lower level of bond buying. A few members said that given the growth in the Fed's balance sheet, it would be appropriate to slow or stop purchases before the end of 2013. (And, as was known before the release of the minutes, one member voted against any additional purchases.)
The immediate response by traders was to dump the longest-dated Treasuries. The 30-year bond continued its recent downward path in price (and therefore its upward trajectory in yield) to close at a yield of 3.125%. That's up from a yield of 2.86762% on Dec. 28.
Bonds were likely to move lower and yields higher anyway on worry about the negotiations over raising the debt ceiling. Credit-rating companies such as Moody's have already noted that the recently completed fiscal cliff deal did nothing to deal with the long-term deterioration of the financial position of the U.S. government. And bond traders know that the last debt ceiling battle produced a cut in the U.S. credit rating to AA from AAA.
Thursday's release of the Fed's minutes, with its reminder that the Fed isn't guaranteed to keep
putting cash into the financial markets until the end of 2013, didn't settle any already jangled
nerves.

At the time of this writing, Jim Jubak didn't own shares of any companies mentioned in this post in personal portfolios. The mutual fund he manages, Jubak Global Equity Fund (JUBAX), may or may not own positions in any stock mentioned. For a full list of the stocks in the fund as of the end of the most recent quarter, 
see the fund's portfolio here
. 
Don't worry, Be happy.
 "Don't pay any attention to that man behind the curtain" - the Great Oz. 
The FED will be around longer than "twinkie" dust. 
Quantitve Easing - This is our economy on "Crack".
If the government had to meet the same financial standards as a first time home buyer that owns a small business that just celebrated it's first anniversary ----- we wouldn't have a debt problem.
Ben "Sugar Daddy" Bernanke RIP
Examples of headlines you never want to see but are possible.

The moment the Fed decides it cannot print our way to prosperity, the market will tank big time.
Factoring out the 58% money printing the last 4 years means that the market huge rise is really all smoke and mirrors...
Of course we have the imbecile Obama continuing to try to Borrow and Spend our way out of debt...
And now he wants to Tax our way to prosperity.  History has shown and most economists know that raising taxes is like slamming on the economic brakes.  So now we will try to tax our way to riches...
Please tell us how fleecing the Taxpayers more will create demand?   LOL  Are democrats really this stupid?

Wow the Fed said it was going to tie monetary policy to inflation and unemployment. The Fed minutes show that given any change that marks those occurrences  the Fed could moderate or reverse it's policy. This has traders worried because it may happen before the end of 2013? It could've already happen and we could have 6% UE with 2% inflation and rates would be already going up to 4% or more. WTF where have these traders had their heads?

Bernanke is an idiot. Oh did I fail to mention his IRA had doubled in the last 3 years? Raise rates and replace all of Congress with sensible, MATURE, logical, non elected,apolitical folks.
Give the savers (that Bernanke and his cadre of wealthy morons have tried to destroy)  their just do and watch the toilet called the stock market die.
It's called justice.
Are you sure you want to delete this comment?
DATA PROVIDERS
Copyright © 2014 Microsoft. All rights reserved.
Fundamental company data and historical chart data provided by Morningstar Inc. Real-time index quotes and delayed quotes supplied by Morningstar Inc. Quotes delayed by up to 15 minutes, except where indicated otherwise. Fund summary, fund performance and dividend data provided by Morningstar Inc. Analyst recommendations provided by Zacks Investment Research. StockScouter data provided by Verus Analytics. IPO data provided by Hoover's Inc. Index membership data provided by Morningstar Inc.
LATEST POSTS
Tech stocks still aren't out of the woods
The fall in this sector has been so precipitous and lurking that we are just one more big miss and one more ugly deal away from taking down a good portion of the S&P 500.
ABOUT
Top Stocks provides analysis about the most noteworthy stocks in the market each day, combining some of the best content from around the MSN Money site and the rest of the Web.
Contributors include professional investors and journalists affiliated with MSN Money.
Follow us on Twitter @topstocksmsn.